Inspirational Soundwave jewelry: Unique gift idea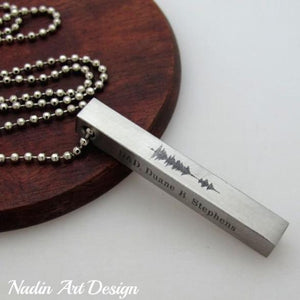 Do you think, you know everything about personalized jewelry? Are you sure? Let's have a look at sound wave jewelry!
There are some jewelry pieces and accessories that may add that unforgettable note to the whole image. Such creations make also a one-of-a-kind gift to remember. If you are interested, then pay attention to soundwave jewelry. It's a kind of personalized jewelry that can be created with your voice message.
Custom Engraved Sound Wave Pendant - Personalized Jewelry for him or her
Haven't you heard of it before? Well, let's look, how it works, it's quite easy. You record a short message on your smartphone and make a Print Screen. So you get a sound message that can be engraved to personalize a jewelry piece.
Be sure, the unique technology the bracelet is made with enables to engrave the exact copy of the print screen of your voice message. Every voice is unique and has its own visual signature. Even the same message will look unique when spoken by different people. Thus you will get a really one-of-a-kind sound picture!
One of kind Mens Gift Idea - Custom Heartbeat Bracelet for him

Let's have a look at wonderful options how the idea works. You certainly have an idea of what custom jewelry is. Usually jewelry is personalized with initials, names, dates or a quote. You may choose the same idea but in the new interpretation. This may be a message carrying something important for you, like a personal message expressing what you love or what you think of. It will be transformed into the sound form so that nobody else will be able to read it except of you. The same idea is perfect to send your special one a secret message. Turn the idea of the perfect gift into the reality!
Personalized voice recording Sound Message Bracelet for men
You may engrave an inspirational quote or some words of love to turn the piece into the romantic gift. You can record a wish or some sacred words to turn the piece into a talisman. This could become a touching engagement or wedding gift with just one word recorded - 'Yes'. You may also order a gorgeous wedding ring with some notes of your wedding song engraved. The ring can be two sides customized: with a 'translation' of the sound message, a date or any other words inside.
Soundwave jewelry makes the best gift ever for a new mom or new dad. A piece can be engraved with Ultrasound, the child's heartbeating! One more idea is to engrave the first baby's word to make a lovely gift for parents.

What to add the message to? It can be any jewelry piece: a bracelet, some cuffs can be both sides engraved. A pendant, a fine necklace. These can be rings and earrings. You may also choose an accessory, such as keychains, cufflinks etc. When choosing the piece, don't get lost in the idea. It means that the idea is so great that your attention may be attracted with it from other important moments. First of all, this is the quality of jewelry piece. Make sure, it is made of quality materials only. When ordering such a thing you certainly want to keep it forever, so it must keep the original look too. Pay attention that the piece is customized in the way of the engraving not just with a print.

Soundwave engraved jewelry is an unusual and beautiful gift idea to any occasion: birthday, anniversary, wedding etc. Such a gift is created with your idea, so you may feel like a real co-creator of the unique gift that will be certainly loved!
1 Response
Leave a comment
Comments will be approved before showing up.