Guide for Choosing Anniversary Jewelry: 6 Tips for You
Fine Personalized Jewelry Gift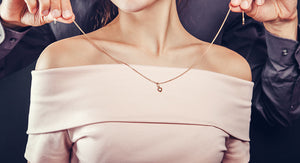 Anniversary is a very special occasion that should be celebrated.

Are you celebrating your first, 10th or 50th anniversary? In any case the day is worth making great gifts. From rings to necklaces, charms and earrings, we are here to see that fine personalized jewelry is something for every taste and style.

If you're stuck choosing the perfect jewelry for your anniversary, follow these simple tips to get started:

Ring or necklace?
The first step in choosing the perfect jewelry gift for your anniversary is actually choosing the type of jewelry.

If your spouse doesn't wear a lot of jewelry but never leaves home without a wedding ring, an anniversary ring to complement the wedding ring is a very good idea.

For those who wear a necklace or bracelet every day, a pendant or a layering necklace, stacking bracelet makes a good gift.
Layered jewelry is a trend, the more is better! So one more necklace or bracelet is always welcomed. Just if it is meant to be for layering style, make sure you choose one to match the jewelry your loved one already has.
Some ideas? 
Look at the delicate Gold ID Necklace consisting of a long chain and a vertical pendant. I can engrave a name, initials, date or any message to customize the ID bar and turn it into a gift to remember!
Perfect birthday gift with a personalized quote. The silver birthstone bracelet is ready to be customized any inspiring words. Add a hidden message inside to make a romantic gift. One more sparkling detail to add is a birthstone.
Make her day with this delightful personalized pendant necklace. Fashioned in sterling silver, this stylish jewelry piece is sure to be loved.The design features a polished look highlighting the engraving of your choice. If this is meant to be a gift for mom, engrave the pendant with the initials of her children. I can create a monogram of initials for a lovely initials necklace gift for her. Buffed to a brilliant luster and sure to be worn often, the shiny pendant suspends along a delicate chain.
What about budget?
Estimating of how much you can spend on a gift makes shopping easier.
However your budget doesn't determine the type of jewelry you can buy as there is a rich variety of jewelry for almost every price point, but it can limit the size or type of stone you can buy or the metal you choose. In any case we'd recommend to choose the piece made of high quality materials, and then... a good quality and beautiful jewelry piece doesn't necessarily means very expensive.

Personalize it!
If personalized, it becomes more valuable in a much more important sense than money. Add a unique note to the piece.
You can keep it simple and just get a ring, engraved with initials or names. Or put some phantasy into the process of creating a fine custom gift: choose an unusual engraving to keep the meaningful piece forever.
Here are some wonderful engraving ideas for you.
Engraved gifts for husband

Sleek and on-trend, this cuff bracelet adds a personal touch to the stylish look. Custom silver bracelet to any wear.
Crafted in solid sterling silver, this elegant minimalist design is accented with an engraving you choose. These can be words for inspiration and motivation, or just names and initials in Old English or a different font you like. I can both sides engrave the band.
This cuff can complement any wear well and make a fine gift to any occasion! Makes a wonderful gift to anniversary for husband!  
Make him a wonderful gift with this Sterling Silver Round Pendant necklace! Motivation engraved gift for him!
Handcrafted in sterling silver, this chain necklace features a round pendant with the engraving you choose. This could be a name necklace or a piece to inspire or motivate!
Fine personalized jewelry that makes a perfect gift for men, lovely gitt idea for boyfriend, or the very best birthday gift for dad etc.
Engraved gifts for wife
She will surely love the simple elegance of this band ring. Promise Ring to keep forever!
The band ring is crafted of high quality sterling silver and polished for shine! Engrave it with a little heart outside and a hidden promise message inside to make a romantic gift for her. The cutest Christmas gift idea!
She'll admire the personalized details of this glistening bracelet. Dainty gold bracelet as a perfect friendship gift!
Are you looking for a personal gift for your best friend? Engraved with names, the gold filled bracelet will make a piece to treasure. You can add inspiring words on the back plate side. Delicate bracelet looks shiny in its polished finish. The minimalist design makes it great to any wear.

Stones and metals
So you have decided on the type of jewelry and set your budget, after that consider what type of stones and metals to choose.

Does your spouse really love precious stones? Do they prefer a splash of color that can be obtained from a ruby, emerald, or any other colored stone? Does she prefer classics such as pearls? Does he like minimalist jewelry only, made from silver, steel, and nothing else?
Pay attention, what metals are currently in your spouse's treasury and what style they do prefer.

For example, you might not want to buy your spouse anything in yellow gold if all of the jewelry is silver.
If you are attentive to general tastes and style, this makes your chances bigger to get a gift that will be treasured.

Get some reviews
It can be really helpful, especially if you don't buy jewelry gifts often, to ask a friend or family member of your spouse for help.
This could be someone who knows his or her personal tastes and style and can help you to figure out what will really meet the taste of your special (any maybe demanding) partner.

Design it!
If you have a great idea and a little more time, consider designing a special jewelry piece for your anniversary gift.
You can work with a jewelry designer to choose metals, stones, engraving possibilities and so design what suits your vision.
Custom jewelry is great: it's personal, important, and unique. And with the ability to personalize your favorite piece of jewelry with any message, design or motif, you have the creative freedom to achieve whatever you want!


Leave a comment
Comments will be approved before showing up.