Why it's great to celebrate the 5th anniversary and how to make it beautiful! Most wonderful gift ideas to present for the 5th anniversary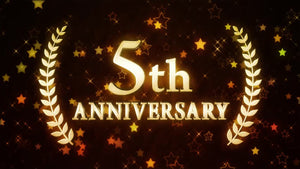 Looking for the perfect 5-year anniversary gift for your wife, husband or favorite friends? Shop the best traditional, modern and totally unique presents here, choosing from the very best ideas.
Personalized Anniversary Gifts
Let's speak about the occasion to celebrate love, about a chance just to celebrate nicely, and about the day to give beautiful gifts for a reason! Let's speak about anniversary, more precisely - about the 5th wedding anniversary!
Here you will find answers to some questions you may have according to the topic. And don't forget to share with us your opinion!
The first question to answer is: why to celebrate anniversary? Is this really a worthy occasion? 
Here are 5 reasons for you!
1. This is a milestone.
Nowadays the divorce is common. So the fact that you have been together for 5 years means that you have reached a very important milestone in your marriage, many couples don't get it in our modern culture. This deserves to be celebrated!
2. Chance to connect.
Celebrating the anniversary can be a great opportunity to reunite as a couple. Our life is often so crazy, all of us feel time to time that we can barely catch the breath, no time..hustle..So such an occasion can give you a break and a chance to connect with each other and spend more time together, not just on the celebration, but also after..rethinking the priorities.
3. Time for reflection.
Good chance for thinking about the past years. When looking back, you see how many roads you have traveled along.
Seeing how many problems you have overcome gives the hope for the future and and for dealing with other obstacles yet to overcome as a couple.
Reflection can remind of the power of the marriage and encourage to continue going together.
4. Time to escape.
Yes, go away! Many couples have not left for a trip since the children were born. Even if you enjoy travelling with children, or just are fans of being home, it's necessary for couples to travel without children from time to time.
Your anniversary is a great opportunity. Especially 5th anniversary is a great opportunity to travel for a longer time. If you must plan ahead and save some money, do it, cause it's worth it. Investing in your marriage makes a difference. This can become one of your best memories: nice trip to a dream destination, staying in a good bed, enjoying long breakfast. And most important: not caring about household and work responsibilities.
5. Glance to the future.
Looking back can be useful for your relationship, as well as looking forward. Don't miss the opportunity to discuss hopes and dreams for the future, make it romantic and fun.
This is especially necessary when you are in a difficult marriage period. If you have problems, taking time to think about how your relationship should look in the future can be invaluable.
Look for Personalized Anniversary Gift
Best Anniversary Gift for Husband
So! Let's speak about the 5th anniversary itself.
Here you will find answers to the question:
What is traditional symbolic connected with the anniversary?

Here are some 5th anniversary symbols to help you choose gifts associated with this event. 

TRADITIONAL SYMBOL: Wood is a traditional symbol and gift for the 5th anniversary. Wood, also everything that is connected with a tree is the symbol of the day!
MODERN GIFT: Silver is a modern symbol and gift for the 5th anniversary. This may be jewelry, silverware or a silver photo frame to frame a particular photo.
Custom gift for Wife
GEMSTONE: Sapphire is a strong stone, which history goes back to biblical times. In ancient times people believed, the earth rested on a huge piece of sapphire, which in turn reflected the sun and gave the sky a bluish color. Kings wore sapphire as a symbol of wisdom, holiness, virtue and happiness. 

FLOWER: Daisies are flowers associated with the 5th anniversary. Daisy symbolizes love, purity, loyalty and innocence. Women love flowers at any time, but to choose these flowers to the celebration of the 5th anniversary also shows that you have taken the time to learn the traditional floral gift.
What are lovely ways to celebrate the 5th anniversary?
Come to the symbols with fantasy! Consider to bring flowers in a silver vase to your wife. Decorate your home with wooden decorations and lanterns. Plan a picnic in nature using silver plates and cups. The chances to use the symbols are many...

So! What to give for your loved one to the 5th anniversary?

Let's consider not 5 ideas, but five approaches to the gift. One approach - one example. But feel free to take it just as some inspiration to choose your best gift!

1. The gift to remember.
Number one among romantic gifts to remember is certainly personalized, custom jewelry. Engraved with words of love bracelet or pendant is the thing your loved one can keep forever, not a gift for one day enjoying.
What to engrave?
If you find it's boring to give a name or initials bracelet, there are much more ideas, what to engrave the jewelry piece with. These can be some dates: of your first date, marriage, the birth of the children.. or maybe more 'difficult to decipher' ones, your partner won't remember at once, but having remembered would smile widely.
You may engrave a quote to motivate, words of gratitude or even a confession. Make inside engraving on the cuff or back pendant side for his or her eyes only.
GPS coordinates. Find the coordinates of your dream destination. Let the gift engraved with them be your first step towards it.
Heartbeating. Engrave the band with your heartbeat, yes, it's quite possible! Say, you want your hearts beating in unison, 20 times more years to come...
Custom handwriting Cuff
2. Crazy gift.
Buy tickets to China or any other distant dream place for the travel of the lifetime, or at least of past 5 years. Book a private, romantic tour to China for just the two of you. And the trip may include many small surprises for remembering next 50 years.
3. Traditional gift.
Exchange silver rings, give silver plates for your dinners, a beautiful vase.. Present her sapphire earrings, or silver cuff-links for him. A present with the traditional symbolic is beautiful and not banal at all.. These kept traditions add a special flavor to the day.
4. Most original gift.
Don't you want to give things, neither you are interested in symbolic? Then just add some fantasy and creativity to the day! Reconstruct your first date! Was it more than 5 years ago? Really? We know! Surely, you have forgot many details, but we believe, you still remember some! Music that played, dishes you ate at the restaurant.. clothes you had on, flowers... Try to reconstruct all what happened that day, invite your loved one for the date 5 years later, with the same details.. and be sure, your kiss will bring you the emotions of the very first one...
5. Party hard!
The anniversary may be a fine occasion to gather all the people you love: children, relatives, friends who live far away. Make a big party, with taste food, beautiful music, cozy light, at a beautiful place! Make this time to remember, not just for you, but for all people you share something special!
6. 50 things
50 is a nice number! Create a gift: 50 reasons why I love you. But not just as words, but like little surprises. You may even prepare a quest, where your partner will discover those reasons.
50 kisses.. Pick up 50 pictures, ten of each marriage year, where you kiss. Say, you want to have at least 50 more such pictures, next 50 years..and then you will keep kissing without counting...
50 reasons to be together. Even if you don't need any reasons, cause that is just because of love and family and precious feelings.. make it fun! Find 50 things, small details of your everyday life that you don't speak loud, but you appreciate in each other!
Your friends celebrate this big milestone and you have no idea, what to give? Pick one of our ideas!

1. I Love You Necklace or Bracelet 5 Languages Engraved
These three simple words are said to express all your feeling more than 100 others. Give them necklaces or bracelets on the 5th wedding anniversary with these words engraved in 5 languages. Remind them to keep loving and saying that loud!
Love Gift Ideas for Anniversary
2. Personalized Anniversary World Map
There might have been many adventures they had in 5 years. Personalize the world map to show all the places where they've been, or where they still want to go, by using the pushpins.
3. 5th Wedding Anniversary Memory Book
Fill in a nice album for making a unique 5th anniversary gift. One of a kind, including pictures, memories and facts, this will be a lovely keepsake not only for the couple to store but show the grandchildren one day.
4. Personalized Couple Sound Wave Art
Recorder a special phrase, their wedding song or even their heart beatings to make an awesome framed gift with the unique sound waves. Choose the colors for the waves and a special message to add.
5. Rings
Rings are infinite symbol of love.. A ring has no beginning, nor ending. Engraved rings make a wonderful gift for a couple. Give rings in platinum, or in the platinum color, engraved with a monogram of their initials.
Customize your anniversary gifts with special words. Take your time to find those words that would tell best about your feelings, and then find a suiting personalized jewelry design.
What about you? Do you celebrate anniversaries? What is your favorite idea of the gifts you found here? Share with us!
4 Responses
Leave a comment
Comments will be approved before showing up.