Must-haves for stylish men
Personalized Mens jewelry of every type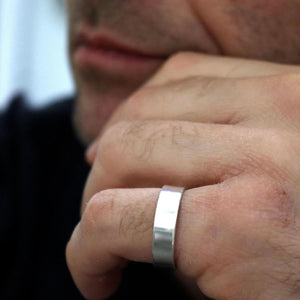 They say: Diamonds are a girl's best friend - but men can also wear sparkling accessories in silver or gold without losing any "masculinity"! From bracelets to men's chains - there is a lot to discover in the world of men's jewelry!

Here we will show you which custom mens jewelry is in trend, what suits you and how you can stylishly combine your accessories.
What about mens necklaces?
Men's necklaces are of course available in a wide variety of styles, lengths and materials, so that they go perfectly with other accessories, and more importantly, with your style! Classic, simple gold chains or stylish necklaces with a cross pendant now come along with massive chunky necklaces on the fashion stage.
Chains with pendants are a little longer, and therefore particularly cool with T-shirts with a wider neckline. The so-called dog tags are eternal classics.
Look at the cross Necklace for men, a fashionable accessory to make a statement! Symbolic jewelry to shine or to make a birthday present!
The piece consists of a delicate chain and a cross pendant in silver or gold. The minimalist style will match any outfit well.
The cross is a symbol of the Christian religion, but in different cultures it is also associated with the symbolism of the sun and stands for the highest values: life, eternity, immortality.
Why do men wear jewelry so seldom?
Jewelry used to be a clear sign of power, wealth - and style. The kings' treasuries overflowed many centuries long with precious gold jewelry. But then there were barren times. Like so many other beauty topics, jewelry was for a long time an almost entirely woman's deal.
However, since David Beckham and Co have been proving that beauty, jewelry and masculinity go together, men's jewelry has become very trendy.

There's something for your ears - earrings for men!

Earrings or studs are a clearly visible accessory, especially for men with short hair. Small hoops or studs can be kept simple or combined in multiple piercings. Depending on the look, you can choose classic or colored designs!

Look at the classic design of fine black Huggie hoop earrings for men. They are made of quality oxidized sterling silver with tiny 14K gold filled balls for the accent. Elegant and comfy hoops for everyday wear.
Earrings for cool guys

In the meantime, earrings with pendants, as we actually know them from the women's department, are increasingly looking for their way to men. Often, however, an earring is only worn on one side, which is then a real eye-catcher. Is that too flashy for you? Then start with a classic hoop and slowly work your way towards bolder looks.
Like this cool accessory for men, silver feather pendant earring. Dangle earring for him.
This Designer Earring for Men features a feather pendant in sterling silver. Lightweight and just perfect for casual wear.
Feathers symbolize wisdom, hope, lightness and faith. They also stand for truth and speed. Great gift idea for your boyfriend!

So-called tunnels represent a special variant of the ear jewelry: Here the ear hole is stretched to any size, so that from a certain angle you can even look through it. You can find these pieces of jewelry from simply gold-plated to monochrome black to studded with stones or glittering. Wooden tunnels are also available.
Leather bracelets for stylish man
Not just for old rockers
A lot has happened in fashion during last years when it comes to modern bracelets for men: There is also a large range for men, from leather bracelets to metal bangles. Trendy metal pieces are becoming more and more suitable for everyday use - whether discreetly with a suit or as a highlight for a biker look, the bracelet can be easily integrated into your outfit.

If you have decided on a bracelet as jewelry for yourself, you should pay attention to the following tips:

With bracelets, whether made of leather or rope, the following applies: more is more! Braided leather bracelets look very stylish when you combine them in a layered look, just give them a try!

Showcase a fashionable style with this double layer bracelet. Elegant cuff in quality leather with a magnetic clasp!
This is a braided bracelet, high quality is guaranteed. Crafted of leather in three colors to your choice: blue, black or brown and accented with bright gold details. A safe magnetic clasp finishes the design. Perfect choice for everyday wear. Fine gift idea for husband, gift for boyfriend etc.
Consider the custom engraved bracelet! The adjustable bracelet is crafted of top quality leather in black or brown color and stainless steel metal. This is a custom bracelet that will be unique as you choose the engraving. It can be customized with a date, names, or a motivational quote. A special symbol can turn it into the best gift for a surfer, or Ocean lover!


But be careful, this motto "more is more" does not apply to metal bracelets! You should only wear one of these, otherwise it can quickly look overloaded. If you still want to convert a wider men's bracelet, wear it on your wrist without any additional jewelry, because a wide men's bracelet is meaningful enough on its own!

Meaningful jewelry for men, custom bracelet to add some shine to his outfit. Finest birthday gift idea for your special one.
Do you have a plan to order a name bracelet for him? Well, here it is. Or maybe you look for a jewelry piece to carry some motivation for your days? This sterling silver bracelet can be personalized with a name, a quote or message on the both sides. Looks great on its own as well as layered with some other simple cuffs, with or without engraving.
Stylish and understated, this wide bracelet for men makes a statement. Fine gift idea for your loved man to any occasion.
This is an oxidized sterling silver cuff bracelet personalized outside and with a hidden inside engraved message. Choose any words to share your love, or inspiration to send them to your special one. This custom engraved bracelet features a brushed texture and looks with any wear great.
If you combine a bracelet with a wristwatch, you should also chose a minimalist style band not to steal the sight from the watch.

Just like with wristwatches, bracelets are worn under clothing, directly on the skin.

Avoid the no-go:
never wear the same bracelets on both wrists at the same time. Ideally, you decide which side you want to wear the bracelets on.

Rings for men

Rings are popular with men of all ages: The small pieces of jewelry on the finger are discreet enough for everyday use and still reflect your style. You have different models to choose from:

Simple rings: no stone, no engraving, no pattern - simple models are usually solid gold or silver. Depending on your preference, the edges of the ring are round or distinctive and angular.

This custom pinky ring for a stylish look. Message ring to make a wonderful gift for him.
The ring is perfect for a man who prefers simple-yet-powerful expressions of love. Fashioned in high quality sterling silver, the signet ring looks great as it is, or can be both sides custom engraved. Send him your love message, for him only, inside the ring engraved.
Rings with stones or other attachments: A splendid ring with stones not only looks good on a fairy tale king, but also on you! These chic rings often have a subtly decorated setting and a larger stone in black, red or blue. If you're a rocker inside, rings with skulls or animals on them are the hit.

Stylish biker ring, sterling silver signet ring for men. Meaningful ring for him!
The big ring is crafted of sterling silver. The design features a skull. The skull is often used in biker culture as long as there have been bikers. It is often used as a symbol of nonconformity, free-thinking, and rebelliousness. Perfect men's ring, regardless of wear and accessories style. Its adjustable size is one more advantage to choose it!
Individually personalized rings: Here you can choose, for example, between an outside or inner engraving - a custom engraved men's ring adds a wonderful individual touch to the style!

Give a gift your friend will cherish always, a shiny band ring with a message. Fashioned in sterling silver 925, the both sides are engravable. These would be wonderful friendship rings with a motivation or inspiration words engraved. Created in unisex style, the band is great both for guys and girls. The band makes a fine birthday, wedding, graduation gift!
Which is better: gold or silver?
The choice between gold and silver (platinum, white gold or stainless steel) is less a question of quality than of personal taste. The rule and choice can also be based on your hair and skin type: the darker your complexion is, the more gold men's jewelry would suit you. For Nordic types, jewelry in silver or stainless steel harmonizes better. Men's jewelry, especially necklaces, often consists of a mix of metal and natural material, such as a stainless steel pendant on a leather cord. With such mixed accessories, you choose the metal color according to your taste. Just make sure, the colors suit well your overall image.

If you choose a black wristwatch, you should also choose your belt and shoes in the same tone. The problem quickly arises, especially with shades of brown, because when you compare the pieces of jewelry, you can quickly see how many different shades of brown there are. Therefore try to combine the same tones as much as possible in order to create a coherent overall image of your outfit.
1 Response
Leave a comment
Comments will be approved before showing up.