Minimalist style jewelry. Perfectly simple or simply perfect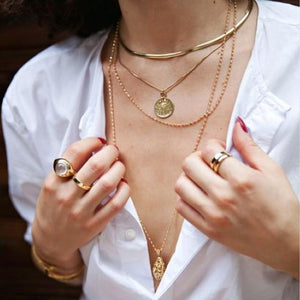 If you prefer minimalist style for your accessories, this article is certainly for you. 
There are a lot of rules on how to wear and combine jewelry to look stylish, not overdo, keep style, etc. But there is a simple secret ... Perfection is in simplicity. If you choose minimalist style jewelry, it will be difficult to make a mistake, because how can you make a mistake in perfection?

Our selection of the top 5 minimalist jewelry is in front of you:

- layered rings
- simple layered necklaces
- hoop earrings
- bracelets
- ear studs
Sophistication of 
Minimalist style jewelry

Minimalist jewelry is easy to combine to accentuate your outfit or just to revive your image! These elegant jewelry pieces can complement each outfit well, regardless of style.

What we really like about chic, minimalist jewelry is the ability to combine gold with silver as well as other metals! You can forget the old rules that you should not combine your gold and silver jewelry, when it comes to minimalist style. Nowadays it is much more tasteful and fashionable to combine different metals and create your own style.

Regardless of whether you have your own style or are still creating it piece by piece, lt's focus on how minimalist designed jewelry can help you to create a particular style.


Rings
Playing with simple rings is fun! Combine you rings on different phalanxes of your fingers! Mix rose gold with silver, hammered metals with smooth finishes, geometric shapes with hearts or waves. In fact, the combination options here are endless!
Personalized Silver Jewelry


Necklaces
The best way is to play with different minimalist necklaces at once, with length, forms, textures, colors, to experiment and combine layer by layer! You simply choose chains of different lengths with different pendants and play with what suits you best.


Hoops
Hoop earrings look perfect in every size, of all metals. Regardless of whether you're going to work or a party, minimalist hoop earrings are the best choice. When you play with these earrings, you can emphasize the beauty of your face and neck.
Hoops are not just round or oval. There are several geometrical variations that make it possible to choose a suitable shape for every face!
Perfectly simple jewelry

Bracelets
Combine simple bracelets of different widths, different metals or different shades of the same metal.
You can choose a bracelet accent in this combination. This can be an unusual geometric bracelet or an engraved bracelet.


Studs
Studs should definitely be in every jewelry collection. If you have several piercings in your ears, combine cute gold and silver hearts, stars or teardrops. This is the jewelry that gives your everyday style a bright note.


Even with minimalist jewelry, it is worth not to overdo. You should not wear all necklaces and bracelets at the same time. First consider the clothes, the overall style and the mood, because that is like a dish. Jewelry is spice. Minimalist jewelry is, as I said, flavored with a delicate, unobtrusive aroma, but also here you can mix in too much.

Simple but stylish jewelry in a beautiful combination - the key to your individual style, guaranteed to complement any outfit!

Please tell us which of these jewelry pieces are favorites in your collection?
3 Responses
Leave a comment
Comments will be approved before showing up.