Best ideas for Personal Military gifts - Veteran's Day gift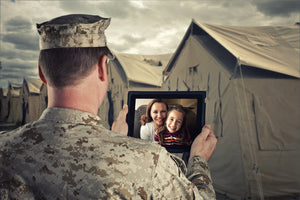 What is the essence of being an authentic hero? If you have a friend who is currently in the military, you're undoubtedly acquainted with this concept. How can you effectively convey your admiration and pride to your friend? Is there a way to do so through a thoughtful gift? Let's explore these ideas!
The military men and women are unique people. The reason they stay in uniform is something inside them that binds them to the cause of self and societal improvement, and to the people whom they have sworn to protect. The people stay to make a better world. To show your gratitude is easy when saying thank you and sending the person in uniform a gift or two. Gifts for a military graduate or retirement from a person who has never served can be difficult to choose. Whether for Christmas, birthday, anniversary, or other special occasion, it's not easy to choose that special gift for a military one. We'd like to help you pick up some ideas with the post!
Here are some fine gift ideas for the military person no matter what the occasion is.

JEWELRY and ACCESSORIES

Military jewelry represent rings, necklaces, and pendants, as well as such accessories like cuff links, watches. Choose personalized designs that can be engraved with a motto, a patriotic symbol, or some words to show your support or pride. Military jewelry is offered in a wide choice of metals and styles, like those made of brass, gold filled, stainless steel, and silver. Choose the piece made from durable materials to get an accessory to last. Minimalist style pieces suit both uniform and casual wear.
You can engrave a special sign such as a marines sign or of the special departure and a hidden message to send your hero a prayer or some words to let him or her know you are proud of them. As you decide what to engrave, the piece is getting a unique touch. ID items are becoming the most popular gift. It's possible to order a design and engraving just as you want them to be. Process of customizing is nice by itself. You decide what words to send your friend or loved one, or what symbols you'd like to decorate the piece with.
Veteran's Day gift- marine corps bracelet
The KIA, POW jewelry may be your remembrance piece to honor the memory of your friend, a victim, hero of terrorism.
Jewelry also makes a fine Veterans Day Gift. This is a gift to remember, the one that can be treasured for many years.
ENTERTAINMENT GIFTS

Military life is exciting and sometimes very dangerous. But sometimes everyday life in uniform can be quite lonely and boring. Make entertainment gifts to brighten up the recipient's days!
Movies, both classics and new releases, make awesome military gifts. Books, magazines, journals can make a gift if chosen right. Even if your own soldier, sailor, airman, or Marine isn't the literary type, if you choose him or her the collected thoughts of Washington, Lee, or Julius Caesar such presents could be interesing for them.

Video games are one of the favorite gifts, especially if you choose a new one he or she has never heard of before.
Music is always a good gift idea, beginning of CDs to even an instrument like a guitar or harmonica if the person plays the instrument or dreams to learn it.

STUFF FROM HOME

If the person is serving far away form home, nothing will make him or her smile more than a gift that comes from home. These could be handwritten letters and handmade cards, audio messages, photos of friends and family, handmade items, local newspapers.. and don't forget to add some sweets!

You may also send a gift basket filled with various tasty things he or she adores. Pack the basket beautifully so that it could bring a piece of holiday and your love. Your attention to the likes of the person is the most precious gift.
The gift ideas are meant to start you off and inspire you! Use your imagination when coming up with gift ideas as the best presents come surely from the heart!
This is a custom order from one of my clients, please read his story.:
Hi Nadin,
My name is Andy,
How do I see what type of special symbols are available for this?  I am having a bracelet made in memory of a fighter aircraft pilot.  I was wondering if you had any symbols in mind that might have to do with aviation.  Or perhaps a tiny military jet symbol?
Can you do an image like this?  I know it has a lot of detail, but it is the specific fighter aircraft that the person flew, and it would be so special if I could capture that on the bracelet.  If not, can you offer me suggestions on how I must edit the photo in order to make it possible.
I am going to do some work at my end to provide you a simplified one that will hopefully easy to size down with clarity. I was really hoping that I could get the tail number of the aircraft included in the image.

It would be very special to the person that I am having this made for if it was an image of the actual aircraft with details such as the tail number ...

So I will work on getting you a different photo that will be easier to scale down. Thank you for your patience. I definitely intend to order a bracelet through your shop, since your work is beautiful. I just want all the details and images that I provide to be perfect before I order.
------------
After some additional correspondence, we crafted a bracelet with a design very similar to a plane.
A week after he received the order, we received the most delightful thing: a favorable review that made it all worthwhile.
1 Response
Leave a comment
Comments will be approved before showing up.