Best Gift Ideas to Make Your Sister Smile. Sister's Birthday Gift Ideas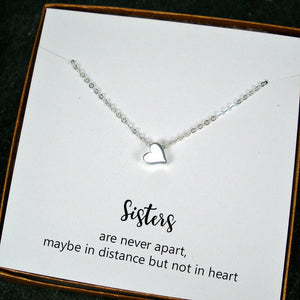 I know, that your sister is your nearest and dearest friend. That's why it is important to make sure, she is happy and joyful. Are you looking for a nice birthday gift for her? Or maybe not just nice but one-of-a-kind one? I would be happy if you find here an idea you would like and turn it into a wonderful gift!
So let's start! I would like to introduce first cute personalized jewelry gift ideas for sister.
Personalized jewelry gifts for sisters
Why should we consider them? Well, there is at least a couple of reasons. I could bet, any woman will be glad to get a new fashion jewelry piece. But then if it is made specially for her, like with thoughtful engraving, or including some symbols, then it's a win-win choice. One more fact that speaks for such a gift: jewelry can become a family treasure and be even a symbol of your family for years to come.

So, here are lovely gift ideas that carry symbolic meaning or may become meaningful according to a chosen engraving.

Here is a wonderful monogram pendant necklace, a personalized sterling silver jewelry piece. The pendant makes a perfect background for the engraving of your choice. Thus you may choose to make a one-of-a-kind monogram from initials to get a personal gift for sister! The monogram looks lovely and will give a fine aesthetical touch to an image.
Monogram Necklace
One more custom gift idea to delight your sister is a sleek and sophisticated personalized sister bracelet. Sure to be an instant favorite, this adds a personal touch to any look! Sterling silver bracelet to stack with more cuffs for a fancy look. With a custom message for her, this is sure to be adored. The cuff can be both sides engraved: with names, dates, or an inspirational quote. Add a hidden message inside to make the gift even more special - for your very best sis.
Soul Sister Gift
Is your sister living far away from you, so that you miss her much? Consider then the following engraving idea. This engraved coordinates bracelet will bring your message to her, with the engraving of the place you want to travel with her to or to live in! The open cuff is created of the finest sterling silver and polished for a shiny finish. It can be engraved with GPS coordinates of any place. This can be your hometown, a place where your heart or dreams live, as well as of the place that carries special memories of yours and the person the gift is for. With inside engraving you can send a secret message. Just perfect gift idea!
Coordinates Bracelet
What about different jewelry gifts?
Symbolic Jewelry Gifts
Beauty, symbol, and simplicity in one protection Necklace. Beautiful gift idea for sister!
This is an evil eye necklace that shines awesomely. The delicate design is fashioned in sterling silver with a small evil eye pendant. The talisman brings positive energies and protection against the evil eye. A lovely gift for sister, best friend, or special one to birthday or any other occasion!
Evi Eye Protect Necklace
Studs are a universal gift idea! There can't be too many studs! Each girl will be pleased to add a new pair of lovely studs to the collection.
These solid sterling silver studs are hypoallergenic, great for everyday wear. The stars add that lovely shine to any outfit and any occasion. Make the gift with the studs for your sister, daughter, or best friend with the wish to shine bright like a star!
Stars Studs
What about cool Sterling Silver studs to add a distinctive note to the image? The stud earrings are a great choice both for the first and second piercing. The design features a skull that is a powerful symbol. It is seen as a means of obtaining good luck or avoiding bad luck, as a symbol of toughness, machismo, courage, bravery or indifference to death and danger, as well as a symbol of nonconformity, free-thinking, and rebelliousness.
Fashion Studs
Here you can see one more cute gift idea. Perfect for spring or summer. A delicate ring, shiny gift idea for your best friend or sister! This branch ring is handcrafted in sterling silver and features an adjustable size to fit any finger well. The ring looks great on its own as well as layered with different rings. Dainty nature jewelry to make a lovely birthday or just because gift!
Spring ring
Do you want more?
Here are 15 more amazing gift ideas for your sis
Insta Pictures Set
Choose the funniest Instagram pictures of hers and print them in the square polaroid format. You may also add Instant Glass Coasters to the present that allows personalizing the pictures. You may take photos of friends, family, her favorite places, favorite quotes, the possibilities are endless!
Ceramic Tea Set
Sentiment-themed gifts for special people in your life are always a good idea. Choose the cutest ceramic tea set to wish her warm evenings in a cozy armchair with the tastiest tea (don't forget to add it to your gift).

A Cozy Cardigan
Choose a soft cardigan made from high quality material, with big pockets, and a relaxed cardigan fit. She will want to live in this thing! Wearing with jeans, this can become her favorite basic style. You might even want to get one for yourself too.
Audible Subscription
Audiobooks are a great alternative to a good old gift known as a paper book.. ; ) The gift for those who love to read but can't seem to find the time. So give her a membership to enjoy audiobooks at home, in the car, or the gym.

Pasta Maker
If she is fond of cooking, the home pasta maker is one of the best gift ideas ever! Making spaghetti, farfalle, or fettuccine will turn her into a pasta queen. Complete the pasta machines with a pasta recipe book to expand her pasta repertoire easier. Choose an exclusive, elegant, and easy to use pasta machine with useful pasta attachments.
Fuji Mini InstaCamera
There's always this magical feeling about being able to take a photo and get it immediately printed. Let your sister capture special moments with Fujifilm Instax camera, cute and simple to use. If you want a gift with a creative touch, this is probably a very good option.
Makeup Organizer
Choose a cute and compact makeup case to ensure the safety and good organization of her cosmetics and tools. Of course, the design should be versatile to store different art products and fashion accessories.

Lists For Happiness
You can find many options of beautiful, hardcover journals with listing prompts that are meant to encourage readers to reflect, get inspired, conscious, invest in themselves, and so transform their lives by learning exactly what makes them happy. Pair the gift with some nice pens. This is a new age of diaries, you could have had when you played with dolls as little girls. Inspirational diaries for grown-up ladies.
Indoor Herb Garden
If she loves gardening, but her space is limited, give her a self-watering garden to grow her own veggies from now on. An indoor garden is ideal for indoor use, on the kitchen counter, window, or in a living room. A great gift to let her grow favorite culinary herbs all year long and invite you then to a tasty lunch.
Macrame Photo Wall Art
Create your friendship photo display! This is a lovely wall decor to artistically show your favorite photos, pictures, postcards, or even artwork. Simple and warm eco-friendly decor, great for indoor use. A beautiful way to display photos, so it's both a home decor and picture frames in one.

Weekender Bag
Get a great travel bag for her to fit everything she would need for her next adventure. Get one with enough pockets to organize well cosmetics, hair products, jewelry, and other toiletries. Perfect for a weekend out or for a car trip.

Magical Coffee Mug or Martini Glasses
Choose small inspirational gifts, such as a magical mug that could become her favorite friend by every morning coffee. Choose a funny print and make sure, it is 100% safe for dishwasher and microwave. No doubt, this will become their favorite mug, given with love by you.
Drink your next Martini together from new Martini glasses you will present. Must be set for drinking cocktails with friends in summer.

Vintage Kitchen Bread Box
Lovely retro-inspired design will give her kitchen a chic, special aura. Such a functional home decor makes the perfect storage for bread, baguettes, and assures, the air circulates inside. Choose the boxes in her favorite colors, and pair the gift with some matching retro kitchen items!
Coloring Book
Coloring is a great tool against blue moods. It's a kind of meditation. Choose one for your sister, with many pages of exotic flowers or animals, or whatever you'd want, so that she has enough what to do if she feels sad, or just needs to shift to something to get away from bad thoughts.


Personalized Cutting Board
Yes, it's not just jewelry that can be personalized. There are also other nice custom gifts. If your sister loves cooking, an engraved personalized cutting board would be a perfect gift idea for any occasion. You may personalize it with coordinates to visualize her travel goal, and so this can also be used as home decor. The perfect component for her next dinner party!
What is the best gift you have ever chosen for your sister? 
Inspirational necklace
If you're looking for a meaningful gift, Inspirational necklaces are the perfect way to show someone you care. Featuring inspiring messages and positive affirmations, these necklaces make the perfect present for any occasion.
1 Response
Leave a comment
Comments will be approved before showing up.