8 Best Christmas Gift Ideas for Him: Unique and one-of-a-kind presents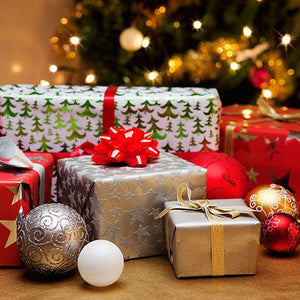 It's incredible, how the time flies..and Christmas is coming again! Get ready to the holidays! 
Christmas is that wonderful day of the year demanding our preparations long time before. If you're beginning to choose unforgettable Christmas gifts, here are some ideas, you might not think of. They say, it is the most difficult to choose those presents for men. Well, it's definitely a more complicated task than to pick up a gift for her. But there is a plenty of options to make a nice gift for men too. Let's have a look at the best of them for this Christmas!

1. Sound Wave Bracelet. When it comes to personalized jewelry there are so many ideas to make your gift unique and truly personal. Order to a engrave a bracelet for him with a voice message. This may be a piece of your friend's favorite song, or a baby sonogram, baby's heartbeat for a new dad. Every voice is unique and so it has an one-of-a-kind visual signature. Even the same words will look unique when spoken by different people. So you will get a really one-of-a-kind gift!

2. Text band ring. If you want to get a jewelry piece he will always have with him, give him a ring personalized with a custom text. This can be an inspirational quote, some words to motivate. This can also become an ID ring with his name engraved. Or send him a secret message inside the band.

3. Give him an accessory he needs every day, so that he could think of you each time he takes the accessory in his hand. Thus you may order a personalized Latitude Longitude leather key chain. This means it can be engraved with GPS coordinates of a place. This can be a city connected with sweet memories or a place you dream of, to spend there some time together.

4. Soundwave Cufflinks are one more unique accessory to choose. Customize them with "I love you" words or some other words that will be hidden in a creative sound wave engraving.

5. Is your man a traveler? If so, give him a map to track his travels in a fun and innovative way. He will enjoy the map using colorful stickers to mark how many countries he visits or is going to go to.


6. The 10 must-have tools—including a hammer—is the thing he will certainly appreciate! Such a set may include a hammer, pliers, blade, saw blade with file, flat head screwdriver, bottle opener, reamer and wire cutter.So compact it fits in a pocket or purse.


7. Christmas time is the time for cosy evernings. What cosy evening may stay without a bottle of good wine? Give him must-have tools for an easier and more enjoyable tasting experience: wine opener, foil cutter, wine stopper, drop-stop collar and wine spout.


8. Handmade present. Create something with your own hands, cause you time, love and attention is the most precious gift!
Leave a comment
Comments will be approved before showing up.