7 Bridesmaid Gifts Your Girls Will Love. What you should pay attention for?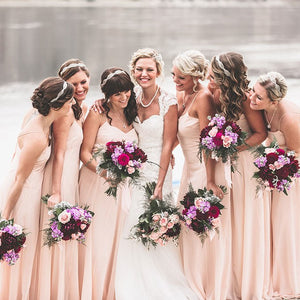 Are you getting married and already think of your bridesmaids?
Being a bridesmaid isn't easy. It means a lot, giving so much love to the bride. Give back to the girls who will stand by your side with lovely bridesmaid gifts. Here are amazing ideas for you.


Earrings
Pick up a pair of beautiful studs: with rose gemstones or just minimalist style silver earrings to suit any tender outfit.
Initials earrings


Important Essentials
Make sure your bridesmaids have everything for your big day with a kit that includes bobby pins, mirrors, band-aids etc.


Gift Basket
Collect a sweet gift basket, including a lovely nail lacquer, the lip conditioner, some chocolate and more little things meant to make the mood better.


Custom Jewelry
Give your bridesmaids a piece of wonderful personalized jewelry they can wear to the wedding day. Such a piece can be worn long after, and the engraving will bring her good memories of your day and you. These can be pretty studs engraved with the appropriate initials. You can also order a custom bracelet or pendant. In that case you will have more space to engrave some special words for your best bridesmaids.
Custom Bracelet for Bridesmaid


A Pretty Clutch
A neutral color clutch is a must have thing for almost any occasion. Your bridesmaids will use it on the wedding night, on their next date night and long after too.

Candle
A thing to calm down. Give her this piece she can bring to her living space and add that special atmosphere with a beautiful candle.


A Stylish Makeup Bag
Elegant leather pouch can also be used as a clutch or for transporting their makeup day-of.


Now matter what you will choose, these tips on how to choose bridesmaids' gift with the proper attention your special girls deserve will help you.
1. Choose the thing that suits her
It would be a mistake to choose the same bridesmaid gift for all. What is great for one person might not work for the other, so pick up appropriate ideas suitable to the tastes of all bridesmaids. Give each bridesmaid a different gift, to accentuate her personality and your friendship story.
2. Make The Girls Feel Special
Of course, you're busy, but your wedding planning still shouldn't be just about you. Shopping for bridesmaids should also be well-planned, to have enough time for choosing unique gift for each of your bridesmaids. It is a symbol of your friendship, so it should be a meaningful thing. Put some efforts to show how much you care and then they will feel special. Personalized gifts go on for years to come.
Initial necklace

3. Re-usable things
It would be nice, if you get a multifunctional, re-wearable or re-usable piece. Is your gift useful in the future? Can she use it in everyday life? Is it a thing every girl is dreaming of? Is it a women's must have? If so! That's it!
4. Time to Remember
You can gift your bridesmaids not things only. Book a table in a fancy restaurant or get tickets to the concert of your favorite band. A subscription for cooking classes or a tango dance class is also a great idea. Give them the moments they will always keep in memory.
Add a handwritten thank you note, with a personal message of appreciation. Show them how much they mean to you.
Custom charm bracelet - Gift idea

Being a bridesmaid can get pricey really quickly. So one more moment to talk about is wedding expenses for the big day. What should a bridesmaid pay for and what must be presented by you.

Bridesmaids' Attire
A bridesmaid's dress is expense number one. This is usually covered by the bridesmaids. But if you want all your 'maids to wear the exact same shoes and accessories, this is your task to cover those costs. Don't forget to gather all your bridesmaids to discuss the mix-and-match trend so that all could be satisfied with the choice!
Bridal Shower and Bachelorette Party
The cost for the parties are covered by the hosts. Speaking about the funniest night out - Bachelorette Party, the guests should split the evening's costs among them, including food, drinks, entertainment, and transportation for the night. The bride should not pay for the night event! If you're going to travel away for the weekend, the expenses for food and activities should also be split as though it were any other girl's weekend, but the bride still doesn't pay.

Hair and Makeup
It depends. If the bride wants every bridesmaid to have her hair and makeup done by the same artists, she should cover the costs. If hair and makeup done is optional, the bridesmaids should pay for the service themselves.
Wedding Travel and Hotel Rooms
If you have space for everyone to stay, it's out of the question, if not - your 'maids should cover their own accommodations like any other guest. They are also expected to pay for their travel.

We hope, the tips will be useful for you!
1 Response
Leave a comment
Comments will be approved before showing up.