6 lovely Gift ideas for daughter from mom on wedding day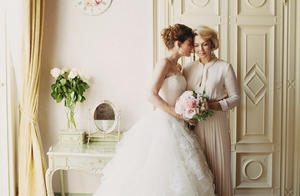 The wedding day of your daughter is a very special and beautiful occasion. We are here to help you choosing an amazing gift, so that you could remind with it how much she is loved, a gift to keep forever. Enjoy some lovely gift ideas for you!
1. Give your daughter something personal on her wedding day that can be treasured as a keepsake for many years to come. Give her a precious gift while she is getting ready for the wedding. A present at the very beginning of her big day can create a great mood already on the start of the wedding. Take your daughter to the side, away from all the bridesmaids and flower girls as well as away from all the stressful preparations to help her relax for a moment or two. This is a great moment for you to present her with a gift.
Give her a custom Monogram Bracelet piece which can be personalized with a meaningful message. This can be a necklace or bracelet she will want to have with her all the wedding day long or it can the type of gift that she will not use at the wedding. However, custom jewelry enables you to give your daughter something thoughtful and meaningful and remind her that you love her.

2. A gift during the evening party.

Nobody knows your daughter better than you. If you think that giving her a present during the day will only make her more stressful, then it's better to present her a gift during the evening party. This time the gift may be precious as well or just funny. You can prepare just married flip flops for her, as that comfort feeling of the flats is something she could really need in the evening, or you could choose something a little more significant as a double ring box.
3. Marriage Advice Scrapbook.
Being married is not just that happy wedding day. Share your wisdom and experience with the daughter when making a scrapbook that she can refer to every time she wants.

You may gather some quotes or even a book list that has helped you in your own marriage. Share just from your own experience. Write a partly serious and partly funny list of things about creating a happy marriage. Of course, add some lovely pictures and designs!
4. Family Tree Book.

Make your little girl feel encouraged to continue her genealogy. This is her background that made her the incredible person she is today. Fill the Family Tree Book with pictures, stories, some facts about your daughter's ancestors. This all may make a picture of what her family is all about. Finish up the book with a page featuring a picture of your daughter and her future husband and then...a lot of empty space, so that they can start adding to their family tree! 

5. Video to remember.
Gather some videos you have made on the days your family felt most happy. Perhaps you will find some videos where your daughter is making her first steps, then first birthday, 18th birthday, graduation.. make a big video of these happy moments to show her all that big way she was wandering surrounded with love of her family. And so now it's the time to create her own family and to take all your love for support.

6. Lovely details.
A gift isn't supposed to be big and worthy. These can be small details, but such little things make the day!
Handkerchief: the tears of joy will flow. Design a heirloom handkerchief with beautiful lace and a custom message.

Personalized Hanger. Make the perfect way to hang that amazing dress for her wedding day. Personalized the hanger with her name or initials.

Personalized Locket. Give a personalized, handmade compact mirror with a thoughtful wedding saying engraved on the cover.
Whatever you choose, just let her know how important she is to you and so this very emotional day is. Taking a moment of calm for you two would be a very good thing. Happy wedding!
1 Response
Leave a comment
Comments will be approved before showing up.