5 Jewelry Gift Ideas to Father's Day: Custom Bracelet for Dad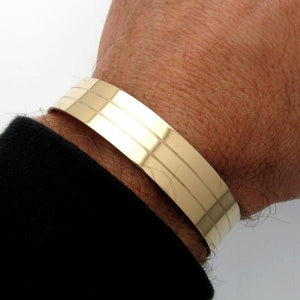 Choosing a good gift is an art. Let's see, what we can help you with, talking about a gift for dad. 
Your dad is your best friend? Or maybe it's your ideal to reach? In any case it's one of the most important men in your life, who loves and cares, who can always give a piece of advice (even if you don't want it...).. but ok, without any jokes, it's one of the few people to whom you mean more that everything in this world. Celebrate your father! Give him attention and care he needs! Say, you love him, it's important, don't take it for given. And make gifts! Dads are also children, they like toys and nice things, only a bit different from those from childhood..but still. On our site you can find many tips of how to make a wonderful surprise for dad!
Here we've decided to make an accent on jewelry gifts.
Make your dad a gift that he will treasure many years long. Why not to give your father a jewelry piece? You may say, he is not fond of jewelry that much. But we are talking not about a regular one, but about a special piece, custom personalized for him. It's a memorable thing he will treasure for sure. If you choose a piece in classic, minimalist style, be sure, your dad will not just like it but wear as well compelementing his outfits with the personal and elegant note. And if your father appreciates stylish accessories, then it's surely the best gift idea!
Father's Day Best Gifts
So here are our top ideas how to personalize your dad's jewelry gift.

1. Name bracelet
The most popular kind of personalizing is just to engrave names or initials. Why not? A name bracelet is a personal thing that makes a wonderful gift. These can be names of his children, or initials of your mom.


2. GPS Coordinates cuff
You may order to personalize the jewelry with latitude longitude coordinates of a place. This may become a really meaningful gift! What place to choose? This can be your homeplace. Or the homeplace of your father's childhood. Maybe he lives now far away from that place, but his heart always flies back to it.
Or choose his dream destination and engrave the coordinates of it with the wish to get it as soon as possible, or even giving him tickets to make his dream come true! Such a gift is one to remember!
Make the bracelet with a romantic note, engraving coordinates of the place he met your mom or got married!
Custom Bracelet for Dad


3. Soundwave bracelet
This is a truly one-of-a-kind jewelry piece! New engraving technologies allow to make a quality engraving of any sound message! This can be just a voice message you record for dad and engrave it, deciphering with words inside the cuff. Or this can be a heart beat engraved. Maybe your dad will become a father again, he and your mom are waiting for your small brother or sister? Engrave the EKG of a baby. This is the gift to touch and surprise!
Is your dad a music lover? If it is so, record a piece of his favorite song and give the band with its engraving!


4. Secret message cuff
Don't you want that the jewelry shows up your words? Choose an inside engraving, so that he only could see those words. These may be some personal words, of gratitude, or just, how much you love him. Yes.. it's better to keep it personal, hidden from others, but so that he could carry those words with him.
Inspiration Jewelry Gift

5. Inspiration bracelet
Inspire, motivate with the gift! Engrave a meaningful quote or some words to motivate! This can also be a prayer or some Kabbalah words with the secret power.
Think of what words would make your dad smile, shine, think or feel inspired! Cause that's what we want: to see our fathers fit, happy and motivated to go further!
4 Responses
Leave a comment
Comments will be approved before showing up.