10 Gift Ideas To Surprise Your Long Distance Boyfriend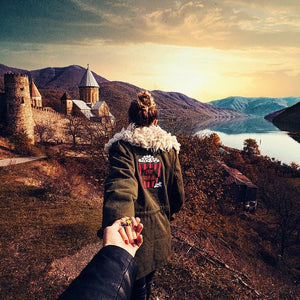 Are you missing your loved one who is far away now?
If you're missing a loved one who is far away, it's completely understandable to feel a range of emotions. Whether they've moved away for work, are studying in another country, or are simply taking some time to explore the world, being separated from someone you care about can be tough.
But there are ways to cope with the distance and stay connected with your loved one, even if they're miles away. Here are a few suggestions:
Schedule regular video calls. With the technology available today, it's easier than ever to stay in touch with people no matter where they are in the world. Set a time each week to catch up over video chat, so you can see each other's faces and hear each other's voices.

Send care packages. Putting together a package of your loved one's favorite things can be a great way to show that you're thinking of them. It doesn't have to be anything big or expensive, just a few items that will make them smile.

Write letters. In this age of instant messaging and social media, a handwritten letter can be a really special gesture. Take some time to write down your thoughts and feelings, and send them off in the mail.

Plan a visit. If it's possible, plan a trip to see your loved one in person. Having something to look forward to can make the time apart more bearable.
Remember, it's normal to miss someone you care about when they're far away. But by staying connected and finding ways to show your love and support, you can help bridge the distance and keep your relationship strong.
Today many young people are faced with the frustrating battle: long distance. Long distance relationship is very hard sometimes. The couple need that all: trust, honesty, patience, eternal looking for means and ways to meet. Nobody, neither your family or friends understand, how it's hard sometimes. But at the same time there are so many romantic moments, so many sweet minutes, and nothing compares to the days, when you meet after days of parting.

So if you are ready to be extra romantic, in spite of all distances, you must be ready to collect all those tricks that can help you to keep your relationships save. Here you will find some lovely gift ideas and surprises for your long distance boyfriend.
1. Plan a romantic weekend.
You may say that the only day you meet is weekend, and so it's romantic on its own. Even if it's so, try to prepare something special. Book tickets to his favorite performance or play. Or just find a way to the roof, where you can spend the evening looking at the sunset. Even if you don't want to go away from the house, you may cook something special, choose a movie or his favorite music - just do something new or in a different way. Make the evening different. Make it better.

2. Create Love-notes.
This is a lasting gift that keeps giving for weeks. One more advantage: you don't need to pay for that. All you need is to fill a glass jar or tin with some personal notes. Writing words of love, customizing and packaging them will make joy. This gift can't go wrong.

3. Happy memories.
He will certainly love remembering the good times you've had. If you've been together a while you probably have lots of pictures. Choose those where you have fun together and feel happy. Create a highlights reel of happy memories! You may do this the old-fashioned way – just with a blank notebook, the best of photos, and a glue-stick. Or you can order a "photo book" with all the pictures.
4. Visualization of dreams.
You surely have dreams for you two only. Visualize them. Find some pictures of your dream destinations, of the house you're dreaming of, of your next vacation, of all the things you like. Collect the pictures and send him a poster with them. Make a step in the direction to your dreams!

5. Custom jewelry.
Order a personalized jewelry piece for him. This can be a bracelet or a pendant necklace classically engraved with your names or with a date you first met. You can also add an unusual engraving. Thus it may be latitude longitude tag featuring GPS coordinates of the place you come together. You may also engrave the coordinates of your home, saying that at that point the heart lives that loves him, and this is the place he can come every time and be sure - you wait for him.
Coordinates Necklace for Boyfriend

6. Name a star for your other half.
Good romantic classics. You can purchase a star and a book that will show, where your star is. It's still a sweet gesture, and each time you look at the sky, you will know: there is his star, so distant and so close!

7. Weekender bag.
When you live in different cities, travel bags are a necessity. Choose a modern luggage of an convenient size. Make his trips to you easier!

8. Keychain with the key to your heart.
Add a symbolic key to the accessory he will carry with him every day like the gifts for boyfriends long distance. And every time he uses it, that's an opportunity to remember how much you love him. You may also personalize the keychain with some words of love, or some funny ones.
9. Entertainment for the road.
How about giving him something that can help fill those long hours on the way to you. Choose a new Tablet for him.

10. Quest.
Be creative. Make a quest, where he must solve some exercises to find a way to the secret map. Put the map into a bottle. So when he finally finds that map, it will lead him to the next place of your date.
Find the gift that will make him smile! We hope, these boyfriend gift ideas will be helpful for you! Remember that true love doesn't know any boarders ..and it's worth to fight for!
Bonus 5 more tips:
Personalized Photo Album: Create a personalized photo album filled with pictures of you both together. It's a great way to reminisce on your time spent together and keep those memories close at hand. You can also add a personalized message to each picture, making it a truly unique and sentimental gift.

Customized Care Package: Put together a customized care package filled with their favorite things, such as snacks, books, music, and other items that remind them of you. You can also add a personal touch by including handwritten notes and letters.

Virtual Experience: Plan a virtual experience together, such as a cooking class, wine tasting, or a virtual tour of a museum or city. This is a great way to spend quality time together and create new memories, even when you're miles apart.

Long Distance Touch Lamp: A long distance touch lamp is a unique and sentimental gift that allows you to stay connected even when you're apart. When one lamp is touched, the other will light up, letting your loved one know you're thinking of them.

Surprise Visit: If possible, surprise your loved one with a visit. It's the ultimate gift for a long distance relationship, and it's sure to make their day. Just make sure to plan ahead and coordinate with their schedule to ensure the visit goes smoothly.
2 Responses
Leave a comment
Comments will be approved before showing up.