10 best Gift Ideas to surprise your Dad on Father's Day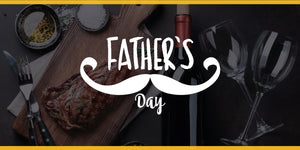 Father's Day may be demanding for sons and daughters who are looking for the perfect gift for that man who has everything. So in any case it should be a gift from the heart, shouldn't it?
Fathers Day gift - Personalized Dad bracelet
Here are 10 thoughtful gift ideas for your one and only best dad.
Check cool Father's Day gift ideas for your loved one
 1. Cooking workshop for two
Does your dad live without entering the kitchen? Turn him into a skillful chef (your mom will be happy). On the Father's Day invite your dad to a cooking workshop and complete it together. Al least you will have much fun together spending time in such a way, or maybe he will really get the taste of being a cook.
2. Enjoying his hobby together
Your dad has a hobby for sure. Perhaps your dad loves camping, but nobody wants to join him to sleep in the fresh air? So Father's Day is the perfect opportunity to share his favorite hobbies. Who knows, maybe you will like it too and you will join your father more often than just on holidays!


3. Jewelry to remember
Choose a jewelry piece for your dad, but not a regular one. Personalize a bracelet or a pendant, ring with words to remember. What to personalize the jewelry with? This can be a motivation quote, some words to inspire, or just a few words to say how much you love and are grateful for everything your dad is doing for you, for his love and care.
Have a look Personalized Sterling Silver Bracelet
4. Gift basket
It's a universal gift everyone likes! Who knows your dad better than you? Collect his favorite items to create a really unique personalized gift basket for Father's Day. This can be everything: from sweet treats and snacks to his favorite movies, books, whiskey and tickets to football.

5. Dinner with old friends
Does your dad have good old friends but little time to meet them? Surprise him organizing a meal at his favorite restaurant, bringing together all his oldest friends. This will be a favor he will never forget!

6. Balloon flight
What about booking a balloon ride? This is a gift one will not forget in an instant. This may also turn into a romantic date for your parents, just make sure, your mom isn't against those high experiences.

7. King of the day
Make your dad a king for the day, make his coffee, let him choose what to eat for dinner, fulfill his wishes.. Make him feel like a true king. But in fact you understand, this is about attention that is most worthy...
Consider our customized jewelry gift ideas for your dad

8. Dinner with family
Family time is more valuable than most of the things we pay much attention to. Gather all the people your dad loves under one roof on Father's Day, enjoy a fantastic family dinner with board games, family stories, charades and much fun.


9. Father's Day Vouchers
Create a cute booklet with vouchers that dad can use for year-round. Vouchers can include cooking of his favorite cake, a massage, a car wash or everything that may bring him a smile.


10. Memory treasure
Create a magic box filled with your family photos featuring happiest moments your family lived together. Add heartfelt quotes, some funny, silly stories and collect some favorite memories of Dad's friends about their time and crazy days.


What idea would you choose?
3 Responses
Leave a comment
Comments will be approved before showing up.