Yes, cool men are wearing earrings. Modern men's earrings as a fashion trend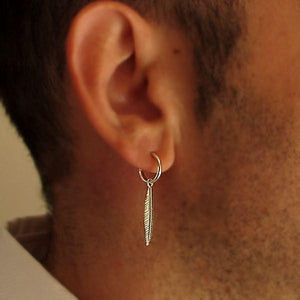 If you look at celebrities: actors, sportsmen, musicians, men's earrings have long become a usual accessory for them. And now we're talking not just about small stud earrings, but also fancy dangle earrings, big hoops made of precious metals that do make a statement. Ok ok, you will say, those are stars, celebrities who want to stand out of the crowd by all means, and what about other men? Let's see.
Men's earrings fashion trend
Even off the red carpet, the men's earring stage is getting bigger and bigger. Labels like Celine and Dior send their male models with earrings down the catwalk and the look is also becoming more and more common in the street style scene. High-street shops offer various designs of the accessories - and it becomes clear: this trend is a lot more than just a fad. It's about the idea of ​​masculinity and gender roles, about subculture and - quite simply - about coolness and nonchalance. We have embarked on a fashion journey through time and answer the most important questions about the trend part.
From Wealth to Pop Culture: The History of the Men's Earring
For a long time the earring was considered a symbol of financial prosperity. It was mainly worn by sailors - according to stories - so that the funeral could be paid for with the gold after their death. In the course of the French Revolution, it then became socially acceptable within the overall population. Quite a few portraits from the 19th century show a patriarch who adorns himself with magnificent gold hoop earrings. After the earring disappeared from the scene for a few decades, it experienced a huge comeback in the 1970s - and with it a new meaning.
For young men in particular, it became a symbol of their sexuality. Over the next two decades artists like David Bowie, Elton John, Billy Idol, not to forget Bob Dylan and George Michael chose the accessory for the style - the earring has already then grown into the coolest accessory of the modern man. And what about today?
Cool men's earrings today
Here are modern styles: from minimalist to fancy one to choose from

Silver charm earring for men, single pearl earring. Modern men's jewelry!
This is a fashionable men's earring handcrafted of solid sterling silver 925. It comes with a pearl dangle charm. Symbolic gift idea for your boyfriend. The pearl is a symbol known and appreciated in different cultures having a plenty of meanings, such as a symbol of long life.
Looking for unusual Gifts For Him? Consider this cool Vikings Jewelry, a single earring with a double axe pendant!
The axe is a vikings' attribute. This charm hoop earring is the perfect accessory for a vikings fan. Crafted of top sterling silver, this lightweight earring will become his favorite! The hoop is available in oxidized or shiny finish.
Minoan Labrys Pendant Earring for him.
Minimalist style black earrings for men. Gem stud earrings!
These nice studs are handcrafted of 925 Sterling Silver and black Onyx. The lovely and comfortable earrings go perfect with any wear style. Wonderful gift idea for your boyfriend who appreciates cool modern accessories!
Stylish, fashionable men's earring, an earring to make a new style accent. Sterling silver skull earring for men.
This would be a nice gift idea for your boyfriend! The skull stud is handmade of shiny silver. We guarantee the high quality of each piece. Celtic skull symbolic meaning deals with transience, power, spirit and portals of new understanding. Due to the Celts, it signifies a progressive dance between banal and cosmic, ultimately birthing a new direction in perception. Lovely symbol to make it yours.
Unique single earring for men, a cross pendant earring. It is made of sterling silver and oxidized for the rustic look. The quality earring will keep the dark color and will never change its original look.

Small hoop earrings in unisex style for men or women. Handmade minimalist hoops made of oxidized sterling silver. Great for everyday wear and any piercing type.
Trendy accessory in nautical theme, anchor charm earring for men. The silver earring looks fine and may symbolize the love for the open waters - of the ocean or the sea!
Cool accessory for men, silver feather pendant earring. Dangle earring for him.
This Designer Earring for Men features a feather pendant in sterling silver. Lightweight and just perfect for casual wear.
Feathers symbolize wisdom, hope, lightness and faith. They also stand for truth and speed. Great gift idea for your boyfriend!
Men's earrings: (not) a question of type
If we look at the boys who are now on the earring trend, it quickly becomes clear: There is no such thing as just a particular type of men who can or should wear the earring. There is the fully tattooed Odell Beckham Jr., who is currently making an NFL career, he wears a gold cross on his right ear. YouTube star Jake Paul wears it in silver. The Colombian musician Maluma adorns himself with a silver feather on his left ear, while his British colleague Dev Hynes, like Harry Styles, shows courage to pearl. Basketball star Michael Jordan likes it classic - his golden hoop has already achieved cult status among his fans. Beckham offspring Romeo also plays on the hoop team. Rapper Lil Nas X steps up the gas with a glittery snake dangling from his ear at the MTV VMA Awards.

When is a man a man?
It becomes clear: the man with an earring is not an exception anymore. Even so, for some people the jewelry seems still to be a form of silent protest or provocation. But in face it's already long not more than a sigh that men are ready to experiment, play, have fun.
The decision whether the jewelry dangles from the right or left ear is no longer a question of sexuality. Nick Paget, Menswear Editor at the US trend research company WSGN, spoke to the New York Times about the idea of ​​soft masculinity - soft but not fragile. According to the expert, the individual earring creates a subversive and cool contrast, especially in combination with traditional menswear.
Have a look our designed collection of mens hoop earrings.

What do you think about the trend?
Leave a comment
Comments will be approved before showing up.