Why Do Men Wear Earrings and who am i ?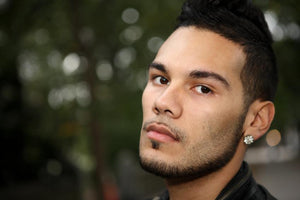 Hey man, do you wear earrings? No? Have you ever heard of having an earring?
Boys brag and flaunt, but men can not afford to behave in such a way - this is a common opinion, but it seems that today many men behave like real boys and can afford themselves everything. Men have become more free in choosing what they wear: both clothes and accessories.
Mens Earrings
- Black Sterling Silver Hoop with feather dangle for me
Some people think, wearing earrings is not for true men, but this and other jewelry is more and more popular. Let's discuss, why men like jewelry, and let's be honest, it makes them look even more sexy! Also i love my hoop earrings.
Fashion earrings for men
It is believed that men had worn earrings long before civilization appeared. Jade earrings for men are dated 3000 BC. They were found in Southeast Asia. In ancient times men wore earrings in Assyria and Babylonia to indicate their position in society. Aztec warriors wore them as a token of honor. As a regular man pierced himself to wear earrings, it was not just a decoration, this told about the power and status of the owner. It is also believed that even slaves wore earrings and bracelets as a symbol of slavery. Piercing has had also its history in Hindu culture since ancient times.
Scholars studying religions such as Judaism, Christianity and Islam would say that religion condemns men wearing gold jewelry or having other piercings, because this, they believe, violates the god-like image of a man.
Men's Fashion Style

Why do men still wear earrings in our modern society? To find the answer I asked a few people what they think about men who wear jewelry.
Some people believe that men wear earrings just to follow fashion, or to highlight their individual style in the crowd. Others consider this just to be a way to decorate an image. There are also those who believe that mens earrings are a necessary attribute of a fashionable and stylish image. Men as well as women want not just to stand out in the crowd, but look elegant. But are earrings always appropriate, for example in the office? There are still rules and stereotypes that require a strict dress-code. Of course, one should be attentive to the rules that are necessary in his firm. But otherwise, in everyday life, people - both men and women - should express their understanding of the personal style as they wish.
Men's modern earrings
The time is changing. Accessories are not a sign of the orientation or something else. The world borders are becoming wider. No limits! A modern choice of mens jewelry is so rich, that one can easily find earrings to any style and occasion! Enjoy, look stylish and feel free!
2 Responses
Leave a comment
Comments will be approved before showing up.