WHISKEY GIFTS FOR WHISKEY LOVERS. BEST MEN'S GIFTS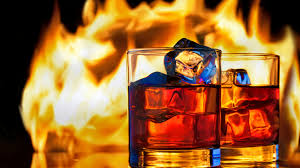 Here is a wonderful idea, if you are looking for the right gift for him. 
Next holiday is coming? You have again that question: what to give your man? Yeeh, we know that problem of choosing. But believe us, no problem can be easier to solve, if your man likes whiskey. Here are the gift ideas for those who appreciate this delicious drink with an intense flavour and a smooth finish. Create a gift basket for your cowboy or your Mad Man. What to fill the gift baskets with? Here are the ideas to fulfill your needs.


In Gaelic, whiskey translates to uisce beatha or "water of life." So a good bottle of this vital water should be the base for your gift. Or better two bottles: one of his favorite whiskey and one of a rare type to try.

What to add in the basket? Choose from the ideas, which of those is beautiful! You can surely find here a great gift idea to add to a drink.

Bottle Holster and Blanket
Whiskey isn't just for indoor. Give him a blanket and bottle holster set for those occasions when he wants to walk with a glass of his drink on the beach, have lunch in the park or take it with into a music festival.


Port Ellen 37
It is the top of the range in rare, collector's whiskies. Distilled in 1978, the newest release is limited to less than 3,000 bottles worldwide. Well, if you want to make a gift to treasure...
Custom Whiskey Tasting Set
Don't want to pick just a next whiskey for him? Gift a personalized tasting, so he can find his next best bottle by himself. There are pre-selected sets, so that he can tour single malts, bourbon, and many other options - one glass at a time.


2017 Whisky Bible
Jim Murray is a great writer on the subject of whiskey. His annual whisky bible features one of the most important rankings of worthy bottles. A good companion for evenings!


Flask
Does he still have no whiskey flask? Come on! Every guy needs a good, easy-to-use one for the regular day or to take with him. Choose not the one that just looks nice, but the one that has a simple snap closure and is easy to clean.


There are more ideas:

- Some men say, good whiskey with cigar elevates to "Heaven on Earth" status. So give him a set of best cigars to pair with whiskey.


- The Whiskey Glass, cause it can never be enough good glasses for the drink. It should feel sturdy and easy to control, heavy in the hand.

- Whiskey ice balls.
But first make sure your man drinks whiskey with ice. Some whiskey lovers believe, ice dulls the flavor of whiskey. Reducing the temperature of the whiskey, it inhibites the flavor and freezes its aroma. Some prefer to add a drop-small splash of water.

- A set of whiskey stones to cool down their drink without adding water.
So one more wonderful alternative to cool down the drink. You can even get them personalized.


- Wish for something bigger in size? What about a personalized whiskey barrel that may stay all life long with him. A personalized decanter in a nice shape would also be great!

- A cocktail shaker. You may add a set of bar tools and a whiskey cocktail book.


- Make everything be with the whiskey flavour! Whiskey barrel coffee, or infused toothpicks, whiskey scented tea light candles, or even a whiskey soap make a great addition to the gift basket set.

Do you want to impress him? Add a card with some wonderful facts about whisky capable of stunning every drinker. Here are some for you!

- 34 bottles of whisky are exported from Scotland every second.
- Scotland has almost four casks of whisky per citizen.
Laid end to end, these casks would stretch about 30,000 kilometers – or about six times the distance between Edinburgh and New York.
- Frank Sinatra was buried with a bottle of Jack Daniel's.
- Charles Joughin, the baker on-board the doomed Titanic, stayed in cold water for three hours before being rescued. He claimed he could stand the cold due to the amount of whisky he had drunk prior to the accident, when the ship was sinking.
- Nikola Tesla drank whisky every day. He believed that would make him live for 150 years.
So here are enough ideas to make a wonderful whiskey gift basket compete, aren't they? Enjoy!
Leave a comment
Comments will be approved before showing up.