Valentine's Day Gifts Guide 2021: Gift Ideas that come from the heart.
Personalized Jewelry Gifts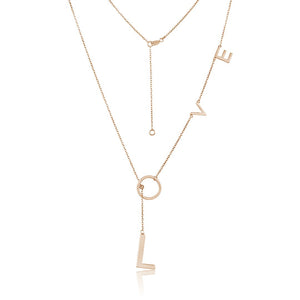 Valentine's Day is the day of lovers. Even those who do not express their love on other days of the year in an open way, use this moment to show their partner the love. Regardless of whether it's a romantic evening for two in your house, an evening out to go to the theater or a candlelight dinner in a fine restaurant...the main thing is that you spend Valentine's Day together with your sweetheart. Valentine's Day gifts for couples in love should come from the heart. And who knows, you might even get a sparkling, engraved ring in your champagne glass this year! Valentine's Day is definitely a perfect occasion to take this step!
Valentine's Day Gifts: History & Creation
Probably the best-known and at the same time most beautiful Valentine's Day myth took place as early as the third century AD. Bishop Valentin von Terni was known in Italy for secretly marrying newlyweds who were not allowed to marry in a Christian ceremony. With this romantic idealism he put his life at risk. These marriages were said to have had a particularly good star. The bride and groom were so close to his heart that he even gave them flowers from his garden. However, as part of the persecution of Christians, Bishop Valentin was finally beheaded.

This story was passed down over the centuries in Europe and was written down by an English court poet at the end of the 14th century. This is also the time when Valentine's Day was set to February 14th. English emigrants took the custom with them to the United States. With time driven by the advertising of the floristry and confectionery industry, the popularity of this romantic event grew rapidly. Today there is hardly anyone in the world who does not know Valentine's Day on February 14th.
Valentine's Day: gift ideas for men
Gifts for men are generally difficult to find. The perfect gift for the partner is an important point when planning Valentine's Day. At the same time, the present should convey emotions that can be felt. Special gifts are those created specially for him. At last it's you who know him perfectly. If it is a material Valentine's Day gift, an engraving makes the piece more personal. Packed in a gift box or gift bag with a gift ribbon, even a little something will be a big surprise!
Personalized Jewelry Gifts for him and her

Custom Jewelry Gift for him
Here are some romantic jewelry designs that would make a lovely gift to remember.

Are you looking for a romantic message gift for your loved one? Consider the personalized signature band ring, great gift for him and her.
The gold filled ring makes a perfect background for your custom message. Let your special one know how much you love with this meaningful gift! You may write any words, dates and I can engrave your handwriting on the outside, and a hidden message - inside. Created in high quality metal the ring is strong and durable, one can wear it everyday.
The loveliest gift to any occasion: Valentin's Day, anniversary, wedding or birthday!
Gold ring with handwriting
Choose the fine men's cuff bracelet that both looks stylish and feels comfortable. Cool bracelet for men!
"You are my love", - send this or any other love message to him with this personalized cuff! The cuff is handcrafted of top quality sterling silver, ready to be both sides engraved. These could become the words to inspire or motivate him, your words inscribed in Old English font! The band looks elegant and features an adjustable size! Perfect men's gift!
Cuff for him
Personalized gold metal keychain with customized text. Unique gift for him, musician gift idea.
This custom keychain is crafted in the form of a guitar pick and can be engraved with any text of yours. Add his favorite song lyrics or some meaningful words. The piece can be both sides engraved. Fine gift for musician or your friends who are in love with music.
Custom Keychain
Tasty sweets
Love may appear 'in the stomach' and it's no different on Valentine's Day - on the contrary! On this day there are many opportunities to spoil your sweetheart with delicious treats.

Not a professional in the kitchen? No problem, because even simple recipes such as waffles, scones, biscuits, pralines or mini-pizzas in heart shape can be made with the right cookie cutter even by the most inexperienced baker. And the bang effect is guaranteed! If you are more confident, you can create cupcakes with romantic decoration, heart-shaped cake pops or cakes in a glass such as strawberry tiramisu. A sweet Valentine's Day gift that has been prepared with love and perfected with a beautiful, self-made box with an engraving!
A romantic evening, a tasty dinner in a cozy atmosphere..is ..you know by yourself! ; )
Travel to love destinations
Do you love traveling and always want to discover new places in the world? Pack your bags on Valentine's Day and go on a trip with your friend. Shared experiences ultimately bring you even more together and create beautiful memories of romantic hours.

The classics are of course the so-called "cities of love". Paris has had this title for decades. A kiss on the Eiffel Tower, a romantic cruise on the Seine or a cozy coffee in a small café are on the to-do list here. Of course, it only becomes particularly romantic when you move off the tourist routes and, for example, have a picnic in the park or hold your love in a special place.
Venice is also a popular place for travelers in love. A gondola ride where you cuddle on the red velvet seats and then take a souvenir photo on the Rialto Bridge. Or sipping spaghetti together in a small bar in one of Venice's many, small alleys are romantic activities during this trip.

Important: capture the moments and remember to take enough photos! You can then put them together in a beautiful photo book with engraving. It is also cute to buy a key ring from the trip, so you will both be reminded of the wonderful moments every day!
Valentine's Day Gifts: Ideas for Women
Not only the partner can receive presents on Valentine's Day. Singles like to use this day to give their best friend a present. Last but not least, you can easily give yourself a treat.

Let flowers talk
The classic on Valentine's Day are flowers. Already looking forward to a bouquet of red roses? To store them in a stylish way, they can be placed in a matching flower vase and possibly even on a flower stool or a flower bench to raise them.
In addition, the bath can be decorated with rose petals on this day. Pure romance! Flowers on demand - give your great love magical flowers every month with a practical subscription from your favorite florist. You will be rewarded by an overjoyed woman at your side and always fresh flowers on the kitchen table.

Charming pieces of jewelry

Diamonds are a girl's best friend but not only! Women can always get happy with beautiful jewelry. Modern jewelry labels meanwhile impress with filigree costume jewelry that fits perfectly on Valentine's Day and is suitable for every budget. Tip: An engraving shows how important the person is to you! Here you will find the perfect Valentine's Day gifts that symbolize your deeply felt love.

Just for her, a high polished ring with the engraving of your choice! Romantic birthday gift for her!
Open band ring to become her favorite accessory. This polished sterling silver ring can be both sides custom engraved as you wish. Add some words of love, make a name ring, or add a meaningful date, message inside the ring for her eyes only to inspire and bring her a smile every time she puts it on. This makes a charming gift to birthday, anniversary, and any other occasion.
Love gift for her
She'll be reminded every day how much she means to you with this cute bracelet. Gorgeous gift idea for women to anniversary, birthday, or any other occasion.
Lovely cuff bracelet handcrafted of high quality sterling silver. Add your engraving to make the design personal: some meaningful words, a wish, or an inspiration quote. Prepare a fine girlfriend gift with a secret message inside inscribed. Beautiful gift, the cuff features an adjustable size and so will certainly fit!
Secret message cuff
The sweetest gift for her, this pendant necklace is sure to delight. Fine quote jewelry for a perfect gift.
The necklace is created of a delicate silver chain and a polished round pendant, ready to be custom engraved for you. Add some words to inspire or motivation for every day. This quote necklace makes a cute gift for a girlfriend, mom's necklace, birthday gift etc.
Love Message pendant
Wellness day
The perfect activity for you on Valentine's Day is a wellness day or a short vacation in a five-star hotel with spa. If you work a lot, you can use a little relaxation, and most importantly, some time with your partner. This time together is sometimes worth so much more than any material Valentine's Day gift. A luxurious day spa with rose petals in the whirlpool is your "place to be" on Valentine's Day. Bathing together, massaging and unwinding - you will remember this wellness experience for a long time. The luxury variant: A "private spa area"!
What about you? What gift would you prefer?
Leave a comment
Comments will be approved before showing up.