The upraising men's bracelet brand. Azuro Republic the fine handcrafted beaded bracelet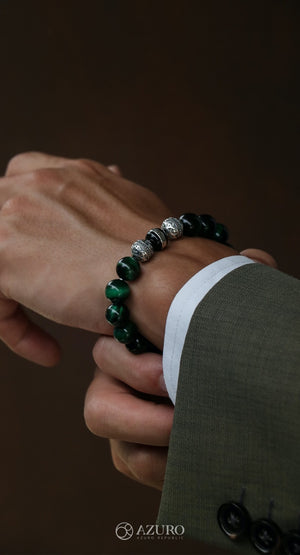 I have always been a designer, making a concept into reality is my life. After co-founding Azuro Republic with my friends, I spent most of my time in the design team and the handcrafters.
What growth of the men's bracelet market:
It is not until my marketing team showed me the trend google report do I realize there are a lot more individuals interested in men's bracelets and its related topics.
I could not be happier that my creations and crafts can be potentially seen by more people. But, then other concerns come into my mind. How could a person pick the right brands and how can they distinguish the quality of bracelet just by looking at the photos?
Two factors you need to know about jewelry:
Honestly, there are tens of big or small jewelry brands in the market. All with a very different process of making and creation mentality. A piece of jewelry in the form of neck or wrist wears should have two factors you need to look into it.

First, the process of production and the detail of its finishing. Today I don't want to spend too much time talking about the production procedure if you are interested in you can check out a detailed process of how to make fine jewelry.

Look at the edge and detail of the piece
Finishing is the last mile of a piece of defining a value of jewelry. The easiest way to is to look at the edge of the design. If you see this uneven liner or unnecessary tiny hole on the surface that means it is not taken great care from its origins. This can mean the skill sets of the handcrafters or factories is not good enough, or they have not spent enough amount of time fine-tuning the detail.

The originality of the material does matter
Second, the quality of its materials, silver, gold and any type of gems. Most of the jewelry is silver or gold basis. Italy and China have some of the best materials in my mind. Make sure all of your silver product has a 925 silver, meaning 92.5% of ingredient are silver, laser ink on it. If you see a product that is the gold base but is only 200 USD, you need to make sure the ingredients are fully disclosed in the specs.
Why Azuro Republic:
Today as the co-founder of Azuro Republic, I do want to tell a bit more about my brand in a more authentic and relatable way.

Azuro Republic, if you google it, is probably one of the upraising jewelry brands. The background of the founders is experienced designers and veterans in the jewelry field. How to create the finest jewelry with the most reasonable price?
Would you want a piece of jewelry or a bracelet fade in colors not long after you bought them?
Or do you want to spend so much money on the branded bracelets or jewelry and later found the materials are not the top quality?

Do you really need a branded jewelry?
Over the year, I have looked at the raised and fell off many famous jewelry companies. Coming from a designer background, I am convinced Azuro Republic uses material far more superior then and selling at a more reasonable price. My marketing team told me that, we are looking at average production cost only one-seventh to one-tenth of its sales price in branded jewelry companies. Sounds CRAZY right!

Of course, this is the brand value. What I am trying to say is that he can have the same or even better jewelry bracelet at a more reasonable price. Do you not want it?
Aside from the quality and detail of the design. What is there to look for in a brand?
When I look at a brand and its collection, I look at more than just its designs and pricing. How the brand associates its identity with the world. The brand culture is shaped not just from the characteristics of the founders but through a collective endeavor of how this identity interacts and correlates with the people.

The culture of the brand and how they associate themselves with the world is crucial
Actions form patterns and patterns establish culture. It is easy to keep your belief at the beginning. But a brand can remain its fundamental belief even after it's commercialized it's difficult. I look at if the brand still keeps its originality and culture in their design and their interaction with their fans. Then I look at the sophistication of the designs and it's pricing.

Peaking the History of Azuro Republic
The craftsmanship of Azuro Republic is established in 1989 and went through a few transformations. We finally created Azuro Republic three years ago with the experience passing alone from all the goldsmiths. They have contributed greatly to the highest quality and standard we want to present to the world.

My Job in Azuro Republic is to make sure even with an international operation we can still be passionate about the creations and be able to spread them to every corner of the world.

Some new ventures heading into the suit and sports industry.
Last year, we have successfully venture Azuro collections into some of the premium tailor shops around Europe, Japan, Singapore, USA, and South Africa. The connection with the gentleman attire is not only classic, stylish but modern and professional. We collect many feedbacks and will release a set of collection for men want to combine a bracelet with a watch.
This year, the team and I have discussions with professional sports teams in basketball and football. It fits great with Azuro's identity. Group of people passionate about what they are doing and has the discipline in propelling their crafts every single day.

As Kobe Bryant said "This is actually the dream. "

I hope you are ready to get your first Azuro Republic now… haha. Just kidding. But I do hope this can give a better peak in the jewelry world and why Azuro Republic is very special in my mind.
Leave a comment
Comments will be approved before showing up.