Sentimental birthday gifts from mom to son - Personalised Gift for men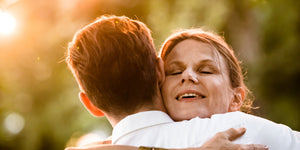 A birthday gift is getting special, if it is a gift from mom to her loved son. 
The love of a mother to her son is priceless. This is the most precious gift but not the only one. Mothers love making sentimental gifts for son. So let's have a look at the gifts for sons from mothers to give you some ideas when choosing the next son gift.
When choosing a present, the mother could take extra time to make sure the gift is as special as the feeling between them. Taking into consideration his occupation, hobbies, interests, son's likes and dislikes can make it easier to find a perfect gift.

Words of love
If a son is faced with difficult times or situations, encouraging words from his mother can help. It's an emotional support that may always help. These can be wise words the mother always used to say, and sometimes words - from famous quotations or poems she used to read him. Mother can give the son a poem or a story she used to read him when he was a child. It makes a mummy touch for a gift when writing the poem by herself. Make your son feel closer to you, if he is experiencing difficult or emotional times. The son can read a poem and feel the love that mother gives him wherever he is. You may add a photo of yours to make this mother gift to son even more special.
Personalized jewelry
One more way to make a gift personal and really unique is to give the son a beautiful jewelry piece. This can be a bracelet for son from mom, like the love between a mother and son is forever bracelet. This means you can order a custom bracelet that will be engraved with words of yours. This can be just his name, or initials of yours, but you may also create something really special. A text bracelet as personalized jewelry for son will surely make an one-of-a-kind gift for him. What to engrave on the mother to son bracelet? This may be a quote that will motivate or inspire him to go further, to be brave and strong. These may also be words that say how much you care, how much you believe or are proud of him.
Do you not want anybody to see your words for son? No problem! You may order to engrave those words inside the cuff, like a hidden message, for his eyes only. This may also be a prayer to protect the son wherever he is or a meaningful symbol engraved to wish something in such an unusual way.
Sports gifts
If your son has his favorite sport, you may choose a personalized sports keepsake he can treasure forever. Beginning with frames featuring a picture of his sport team, mugs, bowls, to personalizing golf bag tags or a whistle set. You may personalize the gift with an inscription: from mother to son, your name and son's name, initials etc.


Letters
A beautiful and really unique idea for a mother is to present her son a book with her written letters. Wonderful idea for a specific event (graduation or marriage, birthday or fatherhood). These special letters may help mom to express everything she feels and wants to share with her son. This may be like a letter written once a year (to each of his birthday).. and then giving all of them when he is 18, 25 or even 35. Letters may also contain moments from your family life reminding of happy instants. Pack the letters together beautifully, making a book from them or just presenting in a nice gift wrapping. The son can return to the gift over and over again, each year wandering through the mother's letters.



Of course there is a plenty of practical gifts as well like:
- Travel Bag for his adventures
- Umbrella matching his style
- Rechargeable Solar Charger and Light for his smartphone he will use anywhere the sun shines.
- Grill Master Collection for making him a real Top Chef.
- Desktop Golf for his office
- Fireplace Scented Jar Candle (a candle that smells like a fireplace)
- Learning to Fly: flight lessons


All these gifts are dream things, at least one of them may certainly make your son happy. But we've decided to make an accent on very personal gifts, only mother can give.. Give him a piece of your love so that he could feel, you are always with him!


1 Response
Leave a comment
Comments will be approved before showing up.