Reasons to wear Medical ID Emergency Jewelry. Origin of the Medical Emergency Symbols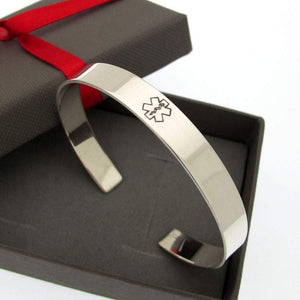 Medical ID jewelry like bracelets, rings and necklaces, serve as a reminder to medical personnel of a patient's medical information in the event of an emergency. Wearing a piece of medical ID jewelry can be a life-saving measure for those with chronic medical conditions, allergies, or any other medical issue that requires quick, accurate treatment in the event of an emergency.
Looking for stylish medical alert bracelets with customized medical emergency Symbol. Or which emergency symbol should be on cuff bracelet, ring, pendant?
Medical ID jewelry carries emblems or tags that are usually worn as bracelets or necklaces to indicate that a person has a chronic medical condition that may require immediate medical help. Many people who may require such an ID bracelet or tag often do not know all the benefits of having such a helper. So let's speak about the importance of medical alert jewelry and its benefits both to patients and doctors.
What is Emergency med jewelry and how does it work?
Medical alert bracelets or pendant tags are worn by people with serious medical conditions to indicate that a person may need immediate medical support. They are means to inform doctors about the patient's condition when a person does not have the awareness or ability to tell about it by him or herself. Emergency first-responders contact MedicAlert via the hotline, or directly to the doctor or to the facility that treats the patient.

There are 4 main Info I recommend to engrave on your new medical bracelet:

Diagnosis/Condition
Allergies (if there are any)
The Name
Emergency Contact

Keep it simple, use abbreviations if possible such as ICE (in case of emergency) and leave extraneous words out.

Medical alert IDs can be customized and used in a variety of jewelry styles. However, a Medic Alert bracelet is the most popular.
Medical ID jewelry is an important accessory for those with chronic medical conditions, allergies, or any other medical issue that requires quick, accurate treatment in the event of an emergency. Wearing a medical ID cuff bracelet can provide peace of mind, knowing that medical personnel will have access to vital information in the event of an emergency.
Medical Alert Jewelry

Why are medical IDs so important?
Medical ID bracelets serve a variety of purposes. However, their primary goal is to provide first aid providers and healthcare providers with detailed information of the patient's medical condition and medical needs. This ensures the fastest and safest possible care, especially if the patient cannot report about his or her illness. The medical alert bracelets may prevent harmful medical errors, and spare precious time. Medical ID bracelets protect patients and ensure that healthcare providers can quickly and accurately diagnose and respond with appropriate treatment.

Who needs a medical alarm bracelet?
MedicAlert bracelets are available to anyone who believes they need them. Anyone with a serious or chronic illness must have a medical ID. Medical jewelry is most often worn by people with epilepsy, food allergies, dementia, autism, asthma, cancer, heart or lung diseases, and people with pacemakers.

Popular Med ID Jewelry:
Diabetes Bracelets and Medical Alerts
Medical Alert Jewelry for Heart Conditions
Medical Alerts for Seizure Disorders
Allergy Medical Alert Jewelry
Medical Alerts for Cancer Patients and Survivors
Weight Loss Surgery Medical Alerts
Medical Alert Jewelry for Bleeding/Blood Disorders
Medical Alerts for Special Treatment Considerations
Medical Alert Jewelry for Chronic Conditions
Medical Alerts for Neurological/Neurodegenerative Disorders
Medical IDs for Cognitive/Developmental Disabilities
In search of fashionable medical alert wristbands with personalized medical emergency Symbols. Or which emergency symbol need to be worn as a pendant, ring, or cuff?
Medical Emergency Symbols
Except of the necessary ID information, there are several of the most famous medical emblems, each of which has its own unique origin and significance. They are also often engraved on the med-alert jewelry to point out what kind of jewelry it is. Let's learn more about the most popular symbols, their meaning, and origin.

The Rod of Asclepius – Rod With One Twisting Serpen
The rod of Asclepius is a famous medical symbol. It is depicted as a rod, around which a snake is twisting with its head up. This emblem originated in ancient Greece, around the 8th century BC.
According to the legend, the patron saint of medicine Asclepius (in Roman mythology - Aesculapius), who had a divine origin, was a skilled doctor and could even resurrect the dead. Once he was invited to the palace of the Cretan king Minos to resurrect his dead son. Asclepius walked, leaning on a staff around which a snake was twisting. He was frightened and killed it, but suddenly a second snake appeared, carrying a plant in its mouth. Asclepius realized that this plant is healing, took it, and resurrected the king's son.
Bowl with a snake
A bowl with a snake is also a famous medical symbol. For the first time, its images began to appear around 800-600 BC. Initially, the bowl and the snake were attributes of Hygea - the daughter of Aesculapius, who held them in different hands.
This emblem then was forgotten for a long time. And only in the XVI century, at the suggestion of Paracelsus, the bowl with a snake became a medical symbol. According to various assumptions, the snake is a symbol of wisdom, knowledge, and immortality, as well as the healing properties of its poison, which was widely used in medicine at that time. A bowl is a vessel for its storage.
Caduceus
Caduceus - the rod of the Greek messenger of the gods Hermes (in the myths of Ancient Rome - Mercury). It is depicted as a rod with wings entwined with two snakes. Snakes are a symbol of the interaction and balance of opposites. In ancient Rome, the caduceus also symbolized virtue and mystery.
For a long time, it was used as a sign that protects commercial or political correspondence. Now it is the emblem of commerce and medicine.
Red Cross
In 1859, a Swiss Henri Dunant traveled to Italy, where he witnessed the battle of Solferino. Army medical services could not cope with their duties, also as they did not have a distinctive emblem that could be identified during the battle. As a result, after the battle, several thousand wounded soldiers were left on the battlefield without help.
In 1863, at the International Conference in Geneva, the symbol of the red cross on a white background was approved as a hallmark of assistance to the wounded military. A year later, it was recognized as the hallmark of the medical service of the armed forces.
Star of life
The star of life is depicted as a blue snowflake. This sign appeared in the USA, where it is called "Star of life". The Star of Life is an ambulance emblem controlled by the American Medical Association and the United States Department of Health, Education, and Welfare. This is the most "young" medical symbol, it has been used only since February 1, 1977.
Each ray of the star of life denotes a separate function of the emergency medical service: detection, warning, response, assistance, assistance during transportation, transport for follow-up care. Asclepius's rod is usually depicted in its center.

Popular medical alert bracelets 2020
Here you will find fine medical jewelry that is both: can be high quality personalized as you wish and looking stylish and elegant to wear it every day with any clothes. Let's have a look.

Here is an ID bracelet for every day, not a usual but alert one. The sterling silver bracelet is crated in unisex style. The band can be both sides engraved with the necessary information to provide responders with it in the case of an emergency. You may also engrave it just inside and leave it plain outside to wear as a plain elegant cuff.
Caduceus Medical ID Bracelet
Look at the personalized awareness bracelet in gold, a medical alert cuff crafted from gold-filled in classic style. The medical bracelet may save the life one day. It can be both sides personalized with any medical identification to provide first responders with the vital medical information, the name and contact info, if needed, there is enough space. Size is adjustable: You can bend the cuff a little to open and close it on your wrist and it will stay in the shape you need.
Gold med cuff
Here is the bracelet you can feel comfortable with all the time. It is handcrafted of high-quality sterling silver and comes with a plate. This can be both sides custom engraved: with Custom Medical Symbols outside and the specific info on the backplate side. Regulate the size with a small chain easily.
Custom Medical Alert Bracelet
The leather medical bracelet to feature all the necessary information that you need! Fine alert leather bracelet for men.
Leather cords bracelet with an adjustable size comes with a stainless steel washer connector that can be engraved with the medical information you need on one or both sides: with a Caduceus Symbol, or any other symbol wished.
Personalized ID bracelet
Wishing something different than a bracelet? Here is a Personalized ring, a medical alert ring crafted from sterling silver in classic style. The ring can be both sides personalized with Caduceus Symbol outside and any medical identification inside.
Personalized Medical ID Ring in Sterling Silver
Custom Alert Ring
Keep safe and still elegant!
1 Response
Leave a comment
Comments will be approved before showing up.