Reasons to Choose Leather Bracelets for Men. Very Best Men's Accessory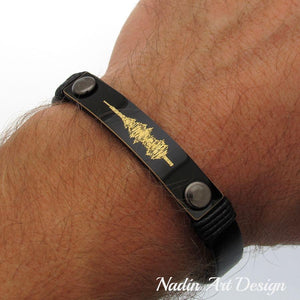 Men's jewelry has its own charm.. yes yes, we're talking about accessories that make a men's image even more masculine. 
People made the very first men's bracelets from leather, tusks, and fangs of animals. Thousands of years ago bracelets were considered attributes of courageous, strong warriors, wise leaders of tribes, skillful shamans and also were regarded as talisman. Time was passing...and today, bracelets have become a popular part of the modern men's image. Such an accessory complements any style well, accentuates individuality and raises the degree of sophistication.

What do you know about bracelets for men, and what you need to know when choosing them?

Throughout the history of this accessory, men's bracelets were a decoration for the hands of warriors and shamans, they were a common attribute of the outfits of pharaohs, emperors, kings. Initially, poorer people wore accessories made of leather and metal. Rich people could afford gold or silver bracelets, often decorated with precious stones, pearl, and expensive enamel.

Thanks to innovative technologies and new materials, today a wide range of bracelets for men is available for customers with the most diverse tastes. Some men don't like any accessories at all. But there are men who understand that creating a personal, individual style also means considering details, such as accessories. After all, bracelets allow a man to express himself, to emphasize his excellent taste, feeling of style and his own view on the fashion trends. And this always attracts the attention of other people, fine accessories make a statement!
Men's Bracelet


The modern assortment of bracelets for men is very diverse. These are models made of leather, synthetic and natural fibers, decorated with beads or metal details etc. Accessories made of precious metals are very popular, men prefer bracelets made of silver or gold, as well as minimalist style bands made of leather and beads. Therefore, the world's leading jewelry brands are actively working to create fashionable jewelry to satisfy any taste and demand.
But what is particularly popular among men today?

Those who follow fashion trends know that nowadays simplicity and minimalism are on-trend. Of course, this also concerns men's bracelets. Today we decided to have a look at one of the most popular band types - Leather bracelets.


This is a stylish accessory for men who prefer minimalist-style still distinctive accessories of natural materials.
In the trend, bracelets are woven or made of strips of leather, including bracelets decorated with gold and silver details, wooden beads, bright laces, elements on the marine theme (anchors, ships). The color of accessories can be the most diverse! Such bracelets look harmonious in combination with a suit or any outfit in a street, casual style.

Among all types of jewelry created for men, bracelets stay most popular. They appealed to both young guys wishing to emphasize a stylish look, and successful businessmen when showing their taste and making a personal statement. With the help of this jewelry type, one can easily give the image some individuality, originality and a personal note, of course, if one chooses the accessory right to match the overall style.
Here are fine modern leather bracelets for men
Braided leather bracelets look great and make a wonderful choice for everyday wear.
This fashionable men's bracelet in black is crafted of genuine leather and sterling silver. The wristband is great both for everyday wear and for office style, as it looks refined without excessive details. Suitable for any wear and style, you can choose it in a different color: in brown or red. The design is finished with a magnetic clasp. It is safe and makes putting on and taking off the band easy. One can layer some braided bands for a fancy look.
Braided Bracelet


Here is one more wristband with a metal focal point. The bracelet is handcrafted of high-quality leather and antique silver details. It comes in black or brown colors. The metal center can be engraved with initials for a personal note. The band is universal as well. This means it will complement any wear fine. The statistics show that such bracelets are most popular with men: simple yet stylish looking and great to any occasion.
Layered band


Personalized men's bracelets make a separate category of trendy accessories!
Wrap leather bracelets stay in favorites for many men. This lovely wrap bracelet is a custom accessory! Handmade of high-quality leather in black, gray or brown, it comes with metal detail to be engraved with a name, a word, or a date. Looks great, isn't it?
Gift for dad


There are bracelets where you can engrave much more than just a name or initials. Look at this wide band. This is a unique handmade leather bracelet for men. The personalized piece will carry a unique message that will be added to it with a quality engraving. This may be a meaningful quote, prayer in any language, names, roman numerals, GPS Coordinates of a dream destination etc.. Such jewelry piece is the best for a meaningful gift for him!
custom jewelry helps to give a really one-of-a-kind present. Engraved with meaningful words, such jewelry touches and carries memory for many years to come.
Wide leather bracelet with engraving
There are more ways to customize a leather bracelet even more unusual.
This one may be engraved with a heartbeat or a sound message, EKG bracelet. The quality leather bracelet with a metal plate is ready to be engraved with a cardiogram or ultrasound. This would be the perfect gift for new dad for Father's day with the baby's ultrasound, heart beating. This may also be any other sound message: a song, your words etc.
Heartbeat Leather Bracelet 

More ideas for engraving? Here you are! Look at the ID bracelet for men. The fine leather cuff comes with a washer connector. This can be engraved with a handwritten message. You write some words, and get the cuff with a quality engraving of them for a truly personalized touch. All you need is just to send a picture of a handwritten text. Wonderful idea, isn't it?
Personalized Leather Bracelet

Such gifts are the things to remember, as they show love and care. The accessory itself looks stylish, and together with the personalization, makes a statement!

On which hand do men wear a bracelet?
There were times when it could be considered to mean something special if a man wore his bracelet on this or that hand. But today it has become quite democratic and there is no strict rule. Everyone can choose, on what hand it would be more convenient to wear an accessory.
As a rule, "right-handed people" put on a bracelet on their right hand, and watch - on their left hand. With "left-handed people" this rule works the other way around.

If you decide to put a watch with a bracelet on one hand at the same time, keep in mind that jewelry should be above the watch on the wrist, not under it. In addition, both accessories should move freely, without pinching or "crashing" into the skin.

How many bracelets can be worn at the same time? There are, in principle, no restrictions on the number of bands. The main thing is to select wrist jewelry with taste. Remember, all the pieces you wear must be combined with each other in style, color scheme, and texture.

Thin bracelets go well with a watch. Too large jewelry combined with a watch on the same wrist will look tasteless.

What watches do not go with bracelets? Brand watches of a classical form are usually incompatible with bracelets. They can only be worn as a solo accessory.

Which wrist accessories should you buy? It all depends on personal preference. For every day, you can choose leather or rubber bracelets, Shambhala bracelets or leather bands with metal details. For more formal outfits, elegant, classic style leather or metal bracelets are the best.

What bracelet type do you like most? Do you prefer classic leather bracelets or personalized cuffs?
How do you find them as a gift idea?
Share with us!

Choose wonderful jewelry gifts for men here and now! Only unique ideas!
1 Response
Leave a comment
Comments will be approved before showing up.