Personalized gifts for men - The Best Groomsmen gifts - Stylish Gifts for Men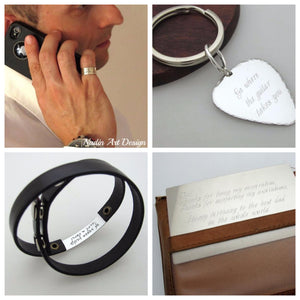 Custom engraved bracelets for men
Personalized gifts for men make thoughtful and unique presents for any occasion. From custom engraved cufflinks to personalized wallets, there are many options available. An engraved watch is a classic present for any man and can be customized with his initials or important words, special message etc.. 
For the fashionable men, a custom leather bracelet with his name is sure to be appreciated. For the music fan a personalized guitar mediator/plectrum  can be a great way to show him you care. If you want to go all out then you can get him a personalized sterling silver cuff bracelet.  No matter what his interests are, there's sure to be a personalized gift for him that will show him how much you care.
It's hard to choose gifts for your men. How to choose that one to be tasteful, useful and thoughtful, aesthetically appropriate at the same time?! Gentlemen have own standards.
Here we created for you a list of personalized gifts that might be a good choice for a gentleman who may want those without knowing it.

Consider personalized jewelry. This is a unique gift that will be created just for him, and so such a gift will be certainly one of a kind. This is also a thing he may treasure forever as a nice memory of your friendship, love or some memorable moments.
Have a look at the leather wrap bracelet for men! This personalized band comes with a silver metal plate that is ready to be engraved. You can personalize such a band with a name, word or a date to remember, or even with some motivating or inspiring words. Such a perfect gift idea to any occasion! Moreover, with this band, you can send him a secret message, inside engraved.
Custom band for men


Personalized Mens Rings
One more men's accessory that is a favorite among popular gifts is a custom ring. The sterling silver ring can also be engraved with a name, initials or some words for a present that will bring good emotions. This may become a romantic gift, inside engraved! Are you not sure about the size? Don't worry! This is an adjustable ring, that will surely fit!
Engraved Ring for men


Personalized jewelry makes a thoughtful gift, cause it's you who gives the last important detail to the design so that the piece could carry a meaningful message.
 Presents for Groomsmen
Gifts to the groomsmen are a sign of gratitude, as they are an important element of that special wedding day. Groomsmen are not just a part of the wedding ceremony, they are assistants or sometimes even special agents of the groom to ensure, everything is going as planned. Before the ceremony, they are advisors and a big help to the groom, as they may help to choose some accessories, decide on the ceremony and location, and provide the groom support for the upcoming event. After the wedding, they help with carrying gifts and other organization stuff.

Friends often travel from far away cities, and so pay their travel and accommodation costs. The role of groomsmen is not cheap. So it's a good tradition to choose gifts for them too.
Personalized or engraved gifts are all fashionable thanks. They can be individually chosen for each man, or be similar to all and express a kind of group spirit among them. Some gifts, such as wedding accessories are also a nice way to convey the feeling of elegance around the wedding, and that elegance turns into memories and good feelings long after the ceremony.

There is a big choice of items that can be usually personalized or monogrammed. Classic examples are tie pins and cuff links, wallet cards and keychains etc.. Reflect the importance of your friends in high-quality gifts and a long sentimental value.

A personalized keychain may become that groomsmen accessory that they will keep long after the wedding.
Look at this unique accessory for men, a keychain handmade of high-quality leather and metal. This accessory is ready to be engraved with any message of your choice: add some meaningful words to turn it into a unique gift for him to remember.
Gift for groomsmen 
One more keychain for a modern men's style. Made of genuine leather and high-quality metal and engraved as you want, this is a win-win present.
Custom keychain
 Are your groomsmen musicians? If so, there is one more wonderful accessory that will cause their smile. The custom keychain is crafted in the form of a guitar pick. Add their favorite song lyrics or some gratitude words engraved. Certainly the best gift for your friends who are in love with music.
Unique keychain for musician
Personalized Wallet Insert Card is one more gift idea that makes a memorable accessory. Custom wallet insert card has enough space to personalize it with sincere words to remember.

Personalized Wallet Insert Card 
More stylish gifts for men
If you want more ideas, here are more things for you about what makes a great gift. We hope, you will get here some inspiration for new gifts for your beloved gentleman who will be glad to get your attention in the form of a stylish present, fancy accessory or just a thoughtful not-material gift.


9 tips for choosing that perfect gift for him
1. Make an event from your gift. Get creative with gift wrapping! Think of something more than just wrapping paper, if it should become an event - and you want it to be fun. Hide his gift and make it adventurous to find it. Instead of just giving him a gift card, you may prepare a task for him to decipher a gift card code. Or sew your gift into a giant soft shark so that he will have to pull it out. Never underestimate the pleasure of unpacking gifts. Sometimes quantity can grow into quality when it comes to several small, individually packaged things.

2. Give experience. Does he love a certain music band, team, film director? Buy tickets to see the show, concert, final play or a new movie. One of the best gifts as well is a step-by-step mysterious guide to send him to a restaurant, where a delicious dinner for you two will be waiting. Experience isn't a gift that he can put in the pocket or on the table, but this is a gift that brings emotions and memories to last forever.

3. Make a list of all the things he likes, those that may determine who he is. Make this list long, recording as many things as possible. Brainstorm for each item on this list, small or large gifts ideas. You do not need to make all these gifts, but you will come across some cool ideas that you would not have otherwise, and if you combine some of them, your man will surely appreciate how personal and thoughtful you are.

4. Look at current events of his days. Maybe something important is happening and you could attach your gift to the occasion. Maybe he just bought a new flat and so you may buy something for his new den. Or if he is going to dream travel, you may buy something to make the travel easier and more comfortable.

5. Ask yourself what this person needs. Maybe, this tip doesn't seem new to you, but the key is to think wider. What does a super busy successful businessman need? Probably the time. There are so many products that people can use to make their lives more efficient. If you think more widely, you can get not just a good gift but also a better understanding of the person. So you can find the perfect gift that will be loved, even if the man wasn't aware by himself, he would need such a thing.

6. Most people have a wish list on Amazon. So does he? Then find out what is on the list! He will be very surprised and delighted if you find what he is dreaming of without asking - and that he might even forget what and when he put on the list. Be attentive about what he is talking about, what sites and shop pages he is visiting, what he shares as an interesting topic to talk about. All those are clues to perfect gifts for him.
7. Make it personal. Express yourself in the gift! Create a piece of art, write a song, knit a scarf - combine your talents and thoughts about your gentleman to create an unforgettable gift, handmade by you.

8. Make him laugh! Give positive emotions! Give him a book of short but super funny stories he can read going to his work, starting every day with a good mood. Or buy tickets for a good comedy. Make a personalized accessory funny, engrave it with a quote to make him smile every time he will use it.

9. Be charitable. Does he really have everything he needs? If so, it's ok, because there are many other people who don't have everything they need. Find out what he is passionate about and then donate to it. Was he a volunteer in India? Is he a dog lover? Donate to save animals. There are thousands of nonprofits that help teenagers, rehabilitate drug addicts, fight for women's reproductive rights, climate and more. Give a gift to the case that is important on their behalf.

So what about you? What is your personal secret to choose the very best gift for gentlemen? Share with us!
1 Response
Leave a comment
Comments will be approved before showing up.