Perfect Birthday gift for Boyfriend born in January.
How to choose jewelry for a men's gift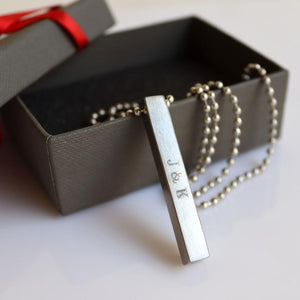 Looking for a personal gift to your boyfriend's birthday? What about a custom jewelry gift? There are few things that can be more personal and meaningful. A perfect way to send your message to him.

Before choosing the gift, consider simple rules that assure, you'll make the right choice.

Define his style
You can easily gauge your boyfriend's style by following his selfies on his social media. Even if he doesn't wear jewelry so far, but you look attentively at his outfits, preferences in choosing colors and accessories, you will definitely notice a pattern in his sense of style. On this basis, you can now choose a piece of jewelry for your boyfriend easier. If he's a big fan of leather accessories, then you should take a closer look at leather jewelry. If you've ever seen him wear metal accessories, he'll probably prefer to wear metal jewelry. In addition to that you can always ask advice from his friends and family, if you still are not sure about his preferences. Based on this, you have better chances to choose the right jewelry for your man.

Check if he's allergic to metals
You may not have thought about this aspect yet. However, people are often allergic to certain metals, and it would be great if you pay attention if your friend is allergic to a certain type of metal, before buying a jewelry piece made of it.. While most people do not have negative reactions to precious metals, avoid flashy jewelry that is often made from cheap alloys and so can cause skin reactions.
Of course, you don't want to give something he can't even use. Hence, it is always wise to do your research and then go shopping for gifts. Pre-screening can save you time and money.
Choose a precious gift made of high quality metals. 
Minimalist style jewelry is a win-win choice
Finally, if you have absolutely no idea what kind of jewelry your friend might like, play it safe. Just choose something simple and stylish at the same time. Remember, no matter how fashion trends develop, a stylish jewelry piece in minimalist style will never go out of style! You don't have to buy anything fancy either, just buy a simple gift with a meaning.

Personalized jewelry with a hidden meaning

"How to add the meaning?", - you would ask. It is simple, if you add an appropriate engraving.

If we are talking about a
birthday gift for boyfriend:
1. What about adding some symbolic meaning?
You can give him a birthstone jewelry. The January birthstone, the garnet, is thought to keep the wearer safe during travel.
The garnet symbolizes constancy, truth, and faith. It's not necessary to give the gem. If you want to keep it simple, you can give a piece with a crystal in the color.
Fine stacking silver ring with a colorful crystal. The sterling silver ring is ready to be custom engraved with a monogram. Choose a birthstone crystal as well to make the finest birthday gift!

There can be various symbols. Choose the one that suits your boyfriend best.
Here is a unique and elegant look for men, this metal pendant necklace is a fabulous nautical gift. Modern in design, the anchor pendant necklace is distinctive and masculine.
This is a men's necklace handcrafted of a cord in white and blue colors. The high quality is guaranteed. A unique anchor pendant is a well known symbol of love and hope. It also represents the ability to be serene when faced with a whirlwind of emotions. Wonderful gift idea for boyfriend to any occasion!

2. Give motivation!
Look at the shiny two rows engraved cuff bracelet. Personalized bracelet made of quality sterling silver that is ready to be engraved with a quote, words to inspire or names, dates on both sides. Beautiful birthday, anniversary or wedding gift!
Specially for you engraved accessory, a fine leather bracelet with a quote. The quality ID leather bracelet is ready to be personalized with a quote you wish. Order a gift for him to motivate, wish something or tell about your love!

3. A hidden message just for him

Do you want to give him a romantic present? Engrave a secret message inside the ring or cuff!
Your special one will be delighted by the simple elegance of this chunky ring. Hidden text ring to become a lovely gift to keep forever!
The custom ring is handcrafted of gold filled. To make it unique personalize it with the engraving outside and with a hidden message inside. Warm the heart of your loved person with a love verse, or just some meaningful words! The engraving will be made in a lovely script font.
Great as an engagement ring for a couple! Choose unique jewelry gifts for him and for her in my shop!
Treat the man you adore to personalized cuff. Expertly crafted in quality silver, it is ready to be custom engraved as you wish.
The sterling silver cuff bracelet comes with a hidden inside engraved message you choose. Add words of love or motivation, a date to remember or a wish for him. Great birthday gift, Father's day present etc. The personalized bracelet features a lovely texture and looks with any outfit great.
What would you choose?
Leave a comment
Comments will be approved before showing up.