Mother's Day 2022. Traditions and Thoughtful Gift Ideas for Mom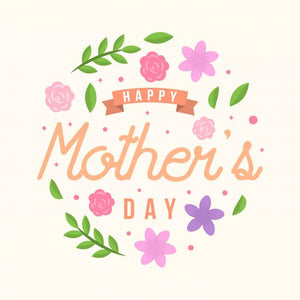 The tradition to celebrate Mother's Day began in the United States. The first official celebration took place on May 8, 1914. After the First World War, Sweden, Norway, Denmark, Germany, and the Czech Republic joined the States.
Mother Child Necklace - mother pendant

The idea itself of ​​having a special day for the celebration and congratulations of mothers arose among pacifists. American Julia Word Gove suggested 1872 to spend the day of unity of mothers in the context of the struggle for world peace. However, the idea didn't receive any support. But later another American Anna Jarvis introduced society the celebration of this day and 1907 came up with the initiative of honoring mothers and their role in the life of each person in memory of her mother Anna Maria Reeves-Jarvis. She was a well-known public activist who fought for the development of health care in the United States. A few years later, after many letters to government agencies and prominent persons, this holiday in the United States did become official.

Following the United States, 85 countries declared the second Sunday of May to be Mother's Day, including Hong Kong, India, Malaysia, Mexico, Nicaragua, the United Arab Emirates, Oman, Pakistan, Qatar, Saudi Arabia, Singapore, Australia, Ukraine, and others.

We know how much you love your mother, we also love all the mothers very much and understand how important it is to make a holiday dedicated to the most precious women in the world memorable.
So we decided to make a list of gift ideas, including the most interesting and useful gifts for Mother's Day 2022. You do not need to look for anything else, we have already found everything you need, and you just have to choose the perfect one from the best!
Lovely Gift Ideas for Mother
MOTHER'S BOUQUET OF FLOWERS
Flowers are always a reason for joy. Let mother smile, having received a bouquet of flowers for Mother's Day. Just imagine her delight when she gets flowers in the morning with delivery directly to your mother's house. One more advantage of flower delivery is that it does not matter how far you are from each other, you can order to bring her flowers wherever you are in the world. You just need to call and order a bouquet.


JEWELRY TO KEEP FOREVER
Personalized jewelry is a gift that she will keep forever. Customize a charm pendant for her with the names of her children, or choose a birthstone necklace. You may also personalize a bracelet, get an inspiration quote cuff or a name bracelet. Make the jewelry one of a kind, with an engraving that will cause her smile.
Custom Bracelet for Mom
Mother's Jewelry Gift

COZY GIFTS
Autumn will come again with its cold evenings, and in order to enjoy this time of year, we suggest giving your mother a warm blanket or wrap. Choose those made of wool or cashmere - these fabrics retain heat best. Cashmere looks great and has a pleasant texture. The woolen wrap could also become an indispensable companion for long walks in a snowy city and she will never get cold.
Cozy things complement home comfort. When choosing them, think of how the things will match the home atmosphere, giving preference warm, neutral, subtle colors.
GIFT FOR THE SOUL
Do not forget that life would be uninteresting without impressions and emotions. Think, maybe your mother has memories worthy to be visualized? A book or photo album with memorable pictures is an emotional and touching gift, but it also could be like a trip on days full of emotions. You can create it yourself, filling the pages with photographs, warm words, and wishes.

HEALTH GIFTS
Health is an essential component of a happy and fulfilling life. Gifts aimed at maintaining it are a real manifestation of care and love. You can get a certificate for a course of strengthening or therapeutic massage, classes in the pool or in a yoga studio, according to the preferences of your mother. Someone likes an active pastime, and someone will be glad for a chance to relax well. A great gift idea would be a massage bath to have a pleasant foot massage, adding oils and herbs.

FRUIT BASKET
Fruits are not a rarity right now, but you may agree that it can be a pleasant gift when a variety of ripe fruits appear on your doorstep in an original basket. Such a useful surprise will not only please, but also give vitality and strength.

GIVE A TRIP
If your mother has not been out of the house for a long time, you just need to give her a change. To find out where your mother would like to go, you need to be smart and engage other family members. Try to find out what are mom's desires and favorite places right now. Tickets to warm countries, to the sea or to a ski resort, or maybe just to a neighbor city to visit her school friend - this is exactly what is needed to give life new colors.

FOR CULINARY CHEF
For those mothers who love creating culinary masterpieces and constantly experiment in the kitchen, everything related to household appliances and kitchen utensils is a necessary and valuable gift. Focusing on your budget, you can choose a new oven or just a high-quality pie form. Visit home appliance stores after checking your mom's kitchen to add missing or newer pieces there. Be sure that mom will not resist and will immediately try out the new things, prepared something tasty. Kitchen accessories and storage items are useful and always needed, towel sets or various decorations for the kitchen are also a nice idea.

HOBBY CONNECTED GIFT
Mom will surely like the gift associated with her favorite hobby. Maybe she knits? Feel free to give sets of quality wool and knitting needles. Maybe your mother likes to grow indoor plants? Then everything connected with them will be a pleasant gift. A new potted flower, plant care products, watering cans, and original flower pots. If you are afraid to choose something wrong, just give your mother a certificate to the store of her hobbies, and she will not only get what she needs, but also enjoy spending time in a pleasant for her environment.

YOUR BEST GIFT IS ME
Sometimes, we do not see friends and relatives for a long time. An endless stream of urgent business deals is simply knocking down. So, just use Mother's Day as a good occasion to spend some time with your mother. Organize a family dinner at home or in a restaurant, invite your mother at the very last moment to surprise her. If the weather allows, you can have a picnic or a walk in the park. Have an evening of memories with delicious tea, sweets and watching videos and photos from your family life. Just imagine how many pleasant emotions will stay with everyone after such time together.

GIFT FOR GARDENERS
Your mother cannot live without her garden? Her garden is the best place where divine flowers and vegetables grow? Then the idea is clear, find ready-made sets of tools and useful things for the garden. They are usually already beautifully designed and packaged.
For those who cannot imagine themselves without their garden, everything connected with it is an invaluable gift.

GIFTS FOR CURIOUS MOMS
If she always looks for new knowledge and skills, giving her a new experience is always a beautiful idea. When your mother is one of those who will not ever spend a minute without new information, it is obvious that the gift should be informative. Consider various training courses and programs, culinary courses, training in manicure, or maybe mom wants to drive a car - help her to get good classes. Communicate more often and keep in touch with your mom's changing hobbies to make her happier every day.
Jewelry Gift for Mom
FAMILY PHOTO SESSION
What will best keep the memory of an event or a good day? Of course pictures! They can be framed or put in a photo album. Arrange a photo session for your mother in nature or in a photo studio. It can be both individual shooting or a family one. A lot of emotions and guaranteed beautiful photos are guaranteed!
FOR EXTREME MOMS
For those mothers whose eyes are burning with a thirst for adventure, for those who look with interest for extreme entertainment, the gift should be appropriate! Give your mom a parachute jump, an off-road quad bike ride. Push the boundaries of her experiences and give new emotions. We promise that mom will never forget this.

FOR WORKING MOMS
If your mother works, we advise you to give her something that will brighten up workdays and create the warmth of home comfort in the workplace. Take care of her lunch and the convenience of its storage, present the original container with heating. This is a very good thing when there is no time to warm up food or she often has to be on the road.
Various cute little things will remind her of you, when they create a pleasant atmosphere. It can even be your joint photo, as well as various diaries and notebooks, writing sets and much more. It all depends on what your mother works with.

FOR ROYAL REST
Indulge your mom with chic SPA treatments, giving her a trip to the spa salon. Just think, what wonderful those hours of relaxation and rest wait for her. Massages, face and body care, hair masks and everything her heart desires. Each mother deserves this and it is in your power to give her a well-deserved and such a pleasant day. Get a certificate or bring your mom directly to the salon, making a surprise.

FOR SPORTY MOMS
Does your mom miss workouts and aim a healthy lifestyle? Excellent, cause such an aim makes her health better too. You can only help her take care of herself. Nowadays, cycling is very popular. In addition, it perfectly strengthens the whole body. Give her a good bike. Most of the year she can ride a bicycle, healing and delighting herself. Or maybe she can even go by bike to work!

SIMPLE JOY AND PRICELESS ATTENTION
Perhaps your mother already has all of the above. But even in this case, a beautifully organized home holiday is a gift every mom will love. Do something with your own hands: bake a cake, create a photo collage or video greetings. Fill it with your love and gratitude. Invite dearest friends and make sure, all the family can come together. Create the evening, full of laughter, tasty food and light your mother will illuminate!
We hope, the ideas helped your flow of thoughts, think what comes first to the mind when you think about mom? What do you feel? Fill your gift with boundless love and warmth, and then everything that you give will be significant and valuable.
Leave a comment
Comments will be approved before showing up.