Mother's Day 2022: how to find the best gift for your nearest woman in the world. What you did't know about the Holiday before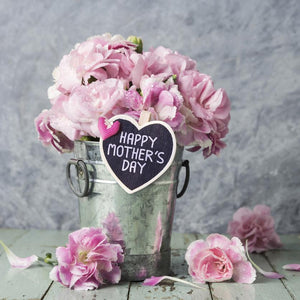 Mother's Day is celebrated on the second Sunday in May every year. We have put together everything about the origin and traditions as well as other interesting facts of this US holiday for you. But most important here you will find some cute ideas to get a fine gift for your mom in advance! It is coming!

Official US Mother's Day came about in the 1900s as a result of the efforts of Philadelphia school teacher Anna Jarvis. After her mother's death in 1905, she developed Mother's Day as a way to honor mothers' devotion to their children.

In May 1908, Jarvis organized the first official Mother's Day celebration at a church in West Virginia after receiving financial assistance from a Philadelphia department store owner. On the same day, thousands of people attended a Mother's Day event in one of his Philadelphia stores.
After the success of her First Mother's Day, Jarvis decided to do all possible to add this holiday to the national calendar. She launched a huge letter campaign to newspapers and prominent politicians, urging the introduction of a special day in honor of motherhood.

By 1912, many states and churches had included Mother's Day as an annual holiday. Jarvis also founded the International Mother's Day Association to promote it. Their perseverance paid off when US President Woodrow Wilson officially recognized the second Sunday in May as Mother's Day in 1914.
                      Artisan Hammered Sterling Silver Ring for Mom

Over the years, Mother's Day has grown in popularity and the current traditions of gift cards and flowers have increased. Since Anna Jarvis had originally conceived Mother's Day as a day of personal celebration between mothers and families, she was very outraged by the commercialization of Mother's Day. She felt that the original mood of the day was being sacrificed at the expense of greed and profit. However, giving gifts tradition has also much more bright sides.
Traditions for Mother's Day
Mother's Day is one of the most commercially successful holidays in the United States today. Mothers receive flowers, cards and other gifts from their children. Many families also celebrate this day by preparing breakfast for their mothers and giving them a day off from household chores.

Today in the United States, Mother's Day is the most popular day of the year to have a dinner in a restaurant, according to the National Restaurant Association. If you are also looking for a suitable Mother's Day gift, you should definitely take a look at our unique ideas for Mother's Day gifts.
Mother's Day Personalized Jewelry Gifts
Here you will find some wonderful ideas of personalized jewelry to create a really personal gift for your mom!
Amazing family necklace. The necklace is made of a shiny chain and a round pendant. The custom pendant can be engraved with three names of your choice as well as customized with birthstone crystals to each of the names. The best mom's necklace with kids' names. Wonderful birthday present!



This gorgeous personalized bracelet is certain to be adored. Handwritten message engraved gift for her.
The bracelet is handcrafted in sterling silver, the shiny surface will be engraved with the name or phrase you choose. These can be words handwritten by you. Just send me a handwritten message and I'll engrave it. Be sure in high quality. I can also engrave a secret message inside. Beautiful gift for mom from son, daughter or husband to birthday or any other occasion.

Add your personal touch to any look with this attractive customized bracelet. The personalized silver cuff also makes a fine grandma gift, mothers gift etc.
Crafted in sterling silver, this chic and fashion-savvy cuff bracelet will be personalized as you wish: with a name or significant phrase you choose - written in a beautiful font. I can also engrave your message inside for her eyes only. Choose the gift to show how much you care!
Sweet New mom gift, a gold filled pendant necklace.
The amazing gold necklace comes with a pendant featuring the images of mom and a child. Nice daughter's gift idea for mom, or a present for a new mom, as well.

Celebrate your wife with the charming gift! Lovely necklace for expecting mom.
The design features a polished look in sterling silver. In addition, buffed to a brilliant luster and sure to be worn often, the shiny pendant suspends along a delicate chain that secures with a spring-ring clasp.
A special gift for wife!
Personalized Heartbeat / soundwave / Ultrasound / Voice Recording 14K Gold filled bracelet, beautiful gift idea! Your sound wave message will turn the bracelet into a unique gift idea!
Fun and meaningful personalized bracelet. Custom Name Bracelet as a perfect gift for her.
Crafted in gold filled and polished for shine, the plate can be both sides customized with the name or phrase of your choice. Expertly finished and ready for anytime wear, this bracelet will be her favoite!
The name bracelet makes a nice gift for mom if customized with the kids names, or a romantic gift for her, if engraved on the back plate side with a hidden message just for her.
Simple in design, brilliant in its sophisticated style, this crystal band ring makes a stunning anytime gift. This would be the finest engagement ring!
Created in high quality sterling silver, this ring can be personalized as you wish. I may engrave a unique monogram of your initials, a word or names. The ring can be each side engraved, so that you may send a hidden message inside the ring. A shimmering diamond crystal accent adds a hint of subtle sparkle. This can be chosen in the appropriate birthstone color. A thoughtful gift for birthday girl, this charming ring is a piece to treasure.
Mother's Day in other countries
Classically, mothers receive homemade gifts such as greeting cards, poems for Mother's Day or flowers and chocolates on their special day. These customs have been firmly anchored in our society for years and on every second Sunday in May we thank our mom especially warmly. But are mothers honored in different countries on the same way?

Mother's Day in Europe

In France, Mother's Day is celebrated on the last Sunday in May and has a cute tradition. The children usually bake a cake in the form of a bouquet of flowers.

Spanish mothers are celebrated on the day in honor of the Mother of God, the first Sunday of the month. There are hardly any seats to be found in the restaurants as many families go out to celebrate the day. Children make something nice for their mom. Of course, chocolates shouldn't be missing.

"Festa della Mamma" is called Mother's Day in Italy and is celebrated in a similar way to Germany, Belgium, with greetings and small surprises.


The mothers are honored in Great Britain on March 26th. Flowers and confectionery are presented with a self-written card.

In Greece, the house is decorated with colorful flowers and the table is festively set for dinner. Traditionally, Greeks eat sweet honey cake on Mother's Day.

Mother's Day in Asian

Japanese mothers get the full pampering program from their children on the second Sunday of May. Massage, hotel visit, house cleaning - everything as mother's heart desires. In addition, a bouquet of red carnations with a small thank you card.

Mother's Day in Africa

The rainy season in Ethiopia decides on the exact time of Mother's Day, which occurs between October and November. During this time, the children return to their parents' home and celebrate with their families for several days.

In South Korea, Albania and Russia there is no such a strong tradition of Mother's Day as it is celebrated in US and Europe.
Every country has its own custom of honoring and paying attention to mothers on the day. But in the end all traditions express the same thing: Mom, we love you!
Leave a comment
Comments will be approved before showing up.