Matching Jewelry for Couples.
Personalized jewelry for him and her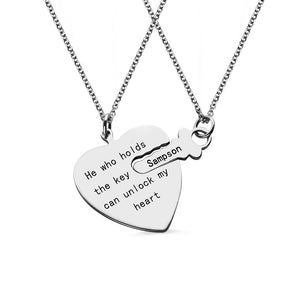 Choosing couple jewelry is one of the most romantic things people can do in a relationship. Custom jewelry is a lovely way to show people belong together. Jewelry for couples can be engraved with the names or the date and place the sweethearts met. It could be something simple that has a special meaning for both of them.
Cool jewelry for couples
There are different types of jewelry for couples. There are paired rings, necklaces, bracelets and pendants. It just depends on your preferences what kind of jewelry you feel like, because there are couples who don't like to wear rings and there are couples who won't wear bracelets. Some couples choose to wear matching necklaces, others - matching pendants.

Choosing jewelry for a couple is quite simple. All you have to do is agree what you will really wear to express your feeling. However, when it comes to choosing jewelry, there can be not so simple details. You need to know about metal and other things to note if you aim for the right jewelry.

Beautiful jewelry ideas for you.
Created of quality sterling silver, the wonderful couple's style band rings make a fine gift for her and for him.
Customize them both inside and outside with a custom soundwave engraving! Record your message or heart beating to tell about your love and I'll engrave the waveform.

Personalized bracelet for him and her. With its minimalist design, this love symbol bracelet is just perfect for your special one. Lovely way to send him or her your love message or to make a thoughtful gift for a special occasion!
Crafted in sleek sterling silver, it won't rust or fade and is long lasting. The custom cuff can be both sides personalized with any words and even a symbol, such as a sign of infinity. It symbolizes balance, harmony, and the connectedness of all things, but above all a mature love, of course.
Designed for those who love music! The musical band ring is created in durable, comfortable and fashionable metal. Custom engraved, it makes a great music gift for him or her to impress.
The open band ring is handcrafted of shiny sterling silver. I can both side personalize it: with Treble Clef , as well as with words, song lyrics, date. Make the gift to remember for the one who lives with music every day!
Custom jewelry - Buying tips
Choose a design that you both like
The jewelry you buy should please both of you. Take time to discuss what type of jewelry you would like to wear. Should it be a ring, necklace, bracelet or pendant? Then choose the design style: a minimalist jewelry piece or a statement one. Even if not identical completely, the designs should mirror each other if these are of couple jewelry.

Platinum, Gold or Silver?
Decide what metal you want your couple's jewelry to be made of. In any case, it's better to choose a precious metal. If you want to wear the jewelry every day, it mustn't cause any allergy. If you both have different preferences, all you have to do is learn to compromise. However, it's not a problem if your couple jewelry will have the same design but crafted in different metals.

Jewelry for sweet couples
Ready made or made to order?
There are jewelry for couples that can easily be purchased at any jewelry store. You just have to choose the design and the metal used.
If you want to have something special, you can ask the jeweler to make custom jewelry for your couple. You can even design jewelry by yourself.

Personalized jewelry makes a wonderful choice and can be easily transformed with an engraving into a special meaningful treasure.
To make jewelry really special doesn't need extra money. You need a pinch of phantasy, thinking of what symbol, date, word can add a special meaning to the jewelry.
This custom disc necklace is the piece to keep forever. A cute pendant necklace that will be personalized as you wish.
The sterling silver necklace comes with a disc tag that is ready to be customized with initials or her name. Customize the design, I can engrave something on the back pendant side as well. So you get a lovely name necklace for her or his birthday, wedding etc.
She will surely love the simple elegance of this band ring. Promise Ring to keep forever!
The band ring is crafted of high quality sterling silver and polished for shine! Engrave it with a little heart outside and a hidden promise message inside to make a romantic gift for her and him.
Leave a comment
Comments will be approved before showing up.