Magic Time: Christmas Gifts and Traditions you didn't know before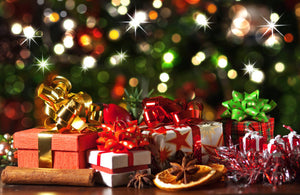 What are your associations to Christmas? Have you already decorated your Christmas tree? Using your chance to get all the big discounts in shopping malls?
It's time of cozy evenings, Christmas carols, waiting for Santa Claus, corporate celebrations, gathering with family at the fireplace and, of course giving Christmas presents ..ah, Christmas is a wonderful time.

Today we've decided to tell you about Christmas gifts and traditions all around the world!
NETHERLANDS
Children in the Netherlands receive gifts from Sinterklaas on December 5th, not for Christmas. They leave carrots for Sinterklaas' horse, and he leaves sweets for them. There are also special games with poems and riddles.

JAPAN
In Japan it is not a religious holiday, just a happy time. Christmas Eve is a very romantic occasion when couples meet and exchange gifts. Children in Japan receive Christmas presents not under the Christmas tree, but on a pillow at night.
Love ring - Christmas Present for her


RUSSIA
Christmas is celebrated in Russia on January 6, people go to church and spend the day with family members. New Year, December 31. is the day when Santa Claus brings presents to children.

IRELAND
The Irish spend Christmas with family, enjoying delicious food, such as Christmas cakes. Traditionally they leave mince pies and Guinness Ale as a snack for Santa.
Christmas morning is exciting time for children where several competitions begin, as they strive to be the first to open their gifts.

CHINA
Christmas is not very popular in China. The Chinese celebrate the New Year and have then much more fun than on Christmas. The most common gifts on the holidays are red envelopes. It is believed that they bring good luck.


GERMANY
German children traditionally write letters asking for gifts they dream of. On December 6, Nikolai Nikolaus brings them small gifts, and then they receive gifts from their dreams to Christmas. So December is loved by all the children in Germany!

ITALY
Children in Italy believe that an old woman named "Befana" brings them Christmas presents, on the night of the Epiphany, on January 6. On Christmas, Babbo Natale (Italian Santa Claus) brings small gifts to them, but the main gifts are given on the night of the Epiphany.
Different versions of the legend describe La Befana as an old woman, a witch, or a magic queen. They say, La Befana declined an invitation to join wise people on the way to Bethlehem to see baby Jesus, and so every year she flies to every Epiphany to look for the holy child on her own. As children believe the story of La Befana in Italy, in some parts of Africa they are waiting for Old Man Beiki.


In Japan the traditional Christmas food is a fried chicken. In Estonia, apples, nuts, cookies and other treats are often given to children during the holidays. In Luxembourg, on the Eve of St. Nicholas Day children put plates on the table for St. Nicholas to fill with sweets and treats when he comes with gifts. Children also usually leave their drawings, poems for St. Nicholas to treat him as a very welcomed guest.
During Christmas in France children traditionally put their shoes in front of the fireplace so that Father Christmas could fill them with presents, sweets, fruits and nuts.


On Christmas Eve in Greece children walk, sing and play music, and their neighbors reward them with tasty snacks and some money.
In Norway and some other Scandinavian countries, an elven creature named Juleniss is associated with the Christmas season. Tradition says that is Juleniss who brings small gifts and fruit to children. Through Denmark, Norway and Sweden, children celebrate Christmas with Disney magic. Watching shorts and feature Disney films presented with a holiday theme is a tradition in many families. Researchers say that Scandinavian families tend to react to Disney shows with three types of nostalgia: for some these remind of their childhood based on content; ironic nostalgia, making jokes but then participating; and reflexive nostalgia, when they remember the content, but prefer viewing it as a ritual without participation.

Many children in Iceland prefer reading a book to watching TV during the Christmas season. Yulabakaflora means "Christmas flood" and is a non-profit book campaign. The campaign aims to preserve tradition of reading paper books, books have become a popular gift during the winter holidays.
In the US some African-American families celebrate Kwanzaa from December 26 until New Year, when children traditionally receive meaningful gifts, such as books. Children usually get books and a kind of heritage symbol representing African history and traditions.

There are different traditions but they all have common features. Children and adults wait for Christmas, for wonders and magic. Make the dreams of your loved ones come true giving them a piece of magic with beautiful Christmas gifts!
Custom Bracelet - Jewelry Gift
Leave a comment
Comments will be approved before showing up.