Is 925 sterling silver the new trend in the jewelry world? Fashionable custom silver cuff bracelets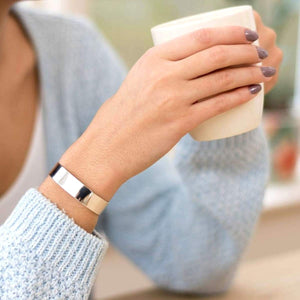 Are you looking for a suitable piece of jewelry, but you are not really fond of gold? Then 925 sterling silver might be just the right metal for you. But what is sterling silver anyway? I'll tell you about the advantages of silver jewelry here.
What is 925 sterling silver and what are its properties?
Gold or silver? Whether bracelet, chain or earring: this question is often decisive when choosing jewelry. If you prefer silver jewelry, 925 sterling silver would be the perfect option. Sterling silver consists of 92.5 percent pure silver and is therefore also called 925 sterling silver, as the number indicates the silver content. It is the finest kind of silver that is used for jewelry and is much harder than fine silver, which has 99.9 percent of pure silver.
Since the silver alloy was previously used in England to make coins, the so-called sterlings, this name has established itself.
925 sterling silver: from bracelets to chains
925 sterling silver was used to make coins very early on. However, the material is now very versatile. It is used as a material for silver jewelery - from rings to chains, bracelets, pendants and earrings. 925 sterling silver is not only used for the production of silver jewelry, but also for those of cutlery and trophies.

Is sterling silver cheaper than silver?

Silver jewelry made of sterling silver is very often refined with other colors, pendants or gemstones such as zirconia. There can also be a combination with rose gold or other precious metals.The jewelry is a lot cheaper compared to pure silver.

Conclusion: sterling silver is a great metal for fine jewelry
So whether it is a bracelet, earring or ring - if you like to wear silver jewelry, sterling silver is definitely a great option. The color turns slightly reddish, and the silver alloy is harder and more durable than pure silver. You get a beautiful jewelry, the price of which is more than fair.
Custom silver bracelets
Today I've chosen for you a selection of fine sterling silver bracelets for men and women. Classic style and personalization option makes them to a perfect personal jewelry as well as can turn the pieces into a wonderful gift to remember! Choose the one you like most!

Silver Bracelets for Men

Keep it simple for every day! Here are simple yet stylish cuffs for men to choose from.

Contemporary bracelet for men. Fine silver jewelry. Giving an elegant look, this silver bracelet is a perfect choice for gentlemen. Fashioned in high qiuality sterling silver, the cuff features a polished finish. Choose a plain cuff or order it to be personalized by engraving you wish outside or inside the bracelet.
For those who like dark tones, vintage black bracelet in a minimalist style for men. Antique finish cuff.
The black cuff bracelet is handcrafted of oxidized sterling silver. A shiny finish is available as well. The rustic style cuff is adjustable. You may order a plain cuff or this can also be both sides custom engraved as you wish. Great for men's style to make a statement with personal accents.
Rustic cuff
Simple, elegant line cuff bracelet, best choice for men. The cuff is handcrafted of quality oxidized 925 Sterling Silver with a silver line. It can be personalized with an engraving up to 12-15 words inside. Nice gift with a secret message for him to any occasion: birthday, anniversary, wedding etc.
Line bracelet
Custom bracelets for unique men's gifts

Stylish and understated, this wide bracelet for men makes a statement. Fine gift idea for your loved man to any occasion.
This is an oxidized sterling silver cuff bracelet personalized outside and with a hidden inside engraved message. Choose any words to share your love, or inspiration to send them to your special one. This custom engraved bracelet features a brushed texture and looks with any wear great.
Black silver cuff
One-of-a-kind Sound Voice Message Bracelet, a unique jewelry piece. The cuff is crafted of shiny or black sterling silver. A sound message will make it unique.
Sound Wave Bracelet
Elegant and classic, this silver ID bracelet is a good choice for men! This is a minimalist style bracelet to suit any wear. It is crafted of fine sterling silver. Its polished surface can be both sides customized with any handwriting. Just send me a photo of some handwritten words to engrave! The best gift for men to show how much you care! Personal and handsome.
Unique gift for men
Silver Bracelets for Women. Lovely personalized gift ideas
Custom engraved bracelet to pair with any of her casual looks. Choice number one for Women's Birthday Gift.
The custom engraved bracelet makes a nice gift to any occasion. This open cuff is handcrafted of high quality sterling silver. It will become special with the engraved text you choose. I can make the engraving on both cuff sides.
A personal gift for wife, mom, grandma, or best friend.
Silver cuff for women
Thoughtful jewelry piece, this custom bracelet makes a great gift to any ocasion. Nice inspirational gift idea for your best friend.
Inspire someone you love! This minimalist sterling silver bracelet is designed in unisex style and can be personalized with a motivational quote or message on the both sides. Shiny and simply beautiful.
Hidden message gift for her
Are you a lucky mom of a beautiful daughter? If so, give her this custom bracelet engraved with her name.
Sterling silver bead bracelet comes with a hammered, polished plate to be engraved with a name, date or some words of love. A meaningful gift for daughter or mom to show how much you care!
It comes with crystals charm shaped in a heart. The bracelet is adjustable, for small and medium size hand! Perfect for gift giving!
Name silver bracelet
Tender Initial bracelet handmade of shiny sterling silver. A tiny disc will be personalized with an initial of your choice. This would be a nice gift for her to any romantic occasion!
Fine initial bracelet in silver
Taking care of silver jewelry

When it comes to taking care of jewelry, there are a few tips that will keep your jewelry clean and shiny, if you follow them. After wearing your silver jewelry, you should rub it off with a soft cloth. Look for a place where the silver comes into contact with the air as little as possible when storing it. You should keep silver jewelry as airtight as possible. If gemstones are also incorporated into the silver jewelry, then it is good to use a silver cleaning cloth for cleaning. With this you can simply rub the jewelry off. Due to the high polishability of silver, the jewelry shines again very quickly and the tarnished black layer disappears fast. If you want to remove impurities from a piece of jewelry with structures or matt silver jewelry, it is best to use a silver cleaning substance, it is more effective with this type of jewelry than the usual silver cleaning cloth.

Share with us, if you like sterling silver jewelry too!
Leave a comment
Comments will be approved before showing up.