International Day of Friends. 10 Gift Ideas to surprise the best friend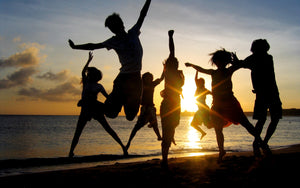 Friendship is a precious gift. If you have a true friend, then you surely agree with this statement. What can be better than getting gifts? Certainly to give them to the nearest and dearest. On July 30, the international day of friends is celebrated. Let's choose some ideas, how to surprise your beloved friend!

Why Celebrate Friendship?
Friendship is an important part of our lives and our happiness. It comes in all shapes and sizes. We rely on friends as well as family for support, companionship and advice at various stages of our lives.
Friendship day was originally introduced by the greeting-card company Hallmark in 1919 as a day for friends to exchange cards. In April 2011 the United Nations declared July 30 as International Day of Friendship, an event designed to "strengthen amity between peoples and cultures". So it's the day that reminds to pick up the phone and tell the dearest how much their friendship means, send flowers, gifts or give friends who are close by a hug.

So let's choose the best gift for this year!
Here are ideas for you!

1. Custom jewelry.
Do you want to give a gift to remember? Give your friend a fine jewelry piece with an unusual engraving. This means that you can engrave not just initials, names, but a text with a special meaning. These words could inspire, motivate or just give a smile - it's up to you! Or you may give a simple ring but add a hidden message inside the ring, so that your friend only can see it. 
One more original idea: the engraving of geographical coordinates (latitude longitude), this may be the place where you first met, or the place where you dream to travel together. Friendship jewelry has a long history. Take a new look at it and create an one-of-a-kind piece that will become the gift to treasure.
2. Moments.
Our life consists of many small things. Looking back and remembering thousands of little moments, it turns out that life is long enough in fact and filled with many different details. May the joyful moments remain in your memory! Give a friend a notebook of memories, so that he or she could write one memo a day, in some months or even years there will be a huge heap of memories, so that you both could revive them in memory flipping through the notebook over a cup of tea.
3. Do it yourself!
In our time of new technologies handmade gifts are getting a special charm again. It means that you are thinking of a friend when creating the gift, putting in a gift not only a feeling but also time that is now the most valuable thing. So, what can you make? It can be a diary of your friendship. Take a beautiful album, remember how your friendship began: this memory will be the beginning of the diary. Old photos, small but memorable moments: funny and touching - fill your album with them and do not forget to leave a few blank pages, so that your friend could continue to fill the diary.
4. A gift to your best girl?
Choose a funny fashion accessory: whether it's a bear-hat or a funny cap. Make it joyful! Does your friend love small bags? Give her a super small handbag, in which nothing will fit unless her lipstick.
5. Super bottle!
Is your friend doing sports or just trying to drink enough water? Give a practical water bottle to keep always with! Of course, not ordinary one, but with a funny inscription or a picture!


6. The uniform of champions.
Order the same t-shirts or suits for yourself and your friend so that you look like a real team when doing sports together or travel!


7. Best Friends Key Chain
Flaunt your best friendship status with a personalized key chain! Inscribe a meaningful or funny saying about friendship! This may be a bottle opener keychain just to be always ready for another evening!


8. Moodycards
Is your best friend's desk looking boring? Give him or her cards to spice up the workspace and keep smiling. Choose moodycards with motivation or jokes for every day.

9. Quote Mug
Do you and your best friend like to meet over a cup of hot coffee? Order a funny mug with a perfect quote for best friends!


10. Be weird!
Don't you like all that sentimental stuff? Get something really weird like a set of cat butt magnets for pinning pictures of the fridge! Be sure, your friend will laugh every time when look at them!

Remember that friendship can lead to a longer and happier life. In 2008, a Harvard study found that strong friendships had a positive effect on brain health as we age. Friendships have a positive impact on our psychological well-being.
Be creative! Be a good friend! Make gifts and create something that could fill that notebook of moments;)
1 Response
Leave a comment
Comments will be approved before showing up.