How to choose engraving on the ring or One of kind Band personalized Ideas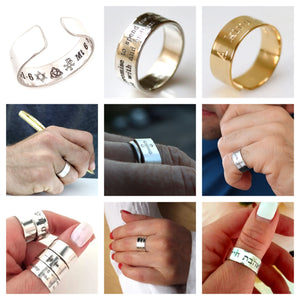 How to choose engraving on the ring?
We specialize in engraving on rings but not only. In the families every member creates traditions. Even if you are not so inventive person, this will be an advantage to make a delicious breakfast for your beloved ones and to have a bike ride on the weekend together or have a picnic during sunrise.
special event foresees a special surprise. Choose a tender surprise, like everlasting jewelry. It is possible to embody your emotions on the engraved pieces of jewelry.
Sterling Silver Inspirational Rings
Do you want to know what the most meaningful engraving quotes will fit on the rings?
For the production of engraving rings, our company takes into account the wishes of the clients. The most meaningful engraving quotes are usually devoted to a girlfriend, a boyfriend, or a wife and a husband.
If you are a serious person and your love is endless, the quotes might be romantic, like Latin 'Con amore', which means 'with love' or 'Amantes –amentes' – 'Crazy in love'.
Another fascinating idea is a line from the song, like:
'I've Got You Under My Skin'(Frank Sinatra),
'One love, one heart, one destiny' (Bob Marley),
All I ever wanted was you(LP).
Connoisseurs of humor can fit phrases like 'Game over', 'Goodbye freedom', and others.
One of the most unusual products is customized thumb-rings, made from sterling silver 925. These rings are adjustable that's why can fit any thumb or finger. To refresh any formal image for men and add beauty and elegance for ladies, an engraved silver ring is a perfect idea. Remember please that engraving can include not more than 40-50 characters for one side and your special words must be chosen at "Special instructions for seller" during the checkout.
Motivational ring
Looking for what to write on an engraved ring?
No matter who you are preparing a gift, a friend or a beloved, a person will cherish and remember you. A unique engraving can be equally done on the outer or inner side of the ring, and we offer not only quotes but also special dates.
The frequent request of the customers is a personalized engraving with roman numerals of the wedding ceremony, the day of the first date, birthday or anniversary, or even graduation date.
Group mates or classmates will be delighted to receive a gift with English or Latin words like 'True friends' or 'More than Friends 'Amicus Verus — rara avis', which means a faithful friend is a rare bird.
We also customize rings with engraving to a friend's birthday. It can be a gift for your boyfriend's 22nd birthday or an anniversary gift for your parents or Mother's Day.
We believe that parents will estimate phrases like 'Forever Young, 'In love and health',' Always together' or 'The Unity.
Every mum would be grateful to see the names of her kids on the ring. Additionally to this, hieroglyphs or religious symbols will add some secrecy to the piece of jewelry.
A pleasant bonus to the gift will be gift wrapping.
What are the best-engraved ideas for an engagement ring or anniversary date ring?
Engagement is always a very special date when a new family is created. Nothing is better than an adjusted ring with a secret message inside.
In our opinion, if two young people organize a real Jewish wedding, the ring of the bride must be traditional without engraving and decorations that is why the engagement ring given as a gift by the groom must be unique.
We can customize the ring with different symbols, like a heart, two pigeons, and red rose .
The rings can be made for any finger, thumb, index or ring finger and what is more, all of them are adjustable.
So, if you have no idea how to adjust is we will give you a piece of advice just to bend the ring a little to open and then immediately close on the chosen finger. The ring now is keeping the size you need.
Rings categories:
Leave a comment
Comments will be approved before showing up.