How to choose earrings? 4 simple rules to choose perfect earrings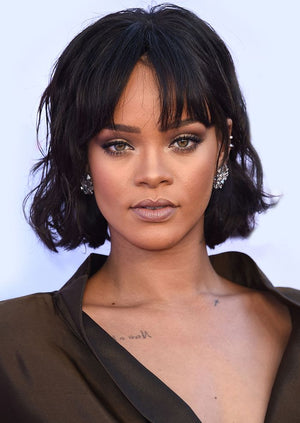 If we talk about basic women's jewelry, earrings first come to the mind. Well chosen earrings can be worn for years and will never go out of style.
However, this regular accessory has various features that should be considered when choosing it. No matter how unusually beautiful the earrings may be, one should not forget that their main task is to complement the style of the woman and to emphasize the advantages of the appearance well.
So there are some important points that you should pay attention to when choosing earrings.
4 rules for choosing perfect earrings
The first, and very important point, is what type of earrings fits a particular face shape. Of course, all faces are unique, but depending on the shape, one can divide them into several main groups: oval, square, rectangle, circle, triangle, rhombus, pear.

Oval is determined by the fact that the width of the face is one and a half times narrower than the length.
If the girl has this type of face, she may be happy, cause it is be easier for her to make a choice, literally any kind of earrings will go well.

Have a look at the Infinity Hoops in Sterling Silver. Eye-catching, fashionable earrings to make a statement. They are lightweight and so perfect for everyday wear, as well as for that special occasion. Chick accessory to any outfit!
Infinity Earrings
The square shape is represented more direct features, where cheekbones, forehead and chin have almost the same width. The main goal of earrings for this type of face is to visually smooth and stretch the shape of the face. In this case, round or oval earrings, drop earrings, and pendant earrings are perfect. Earrings with sharp corners or square shapes should be avoided.

Look at the classic - Gold Hoop Earrings. Lightweight classic hoops are a great choice for everyday wear! This is for sure a win-win choice.
Gold Hoops
The width of the rectangular face is less than the length, the temples and chin are approximately equal in width. The main principle when choosing earrings for this type of face is to visually expand the cheekbones to give them more volume. For this purpose, large round, square or triangular earrings are suitable. It is not recommended to choose elongated earrings.

Here are large geometric earrings! Trendy hoops made of the finest sterling silver. They look elegant and are lightweight and ready to complement any fashion or everyday look! The perfect accessory to add that note of glance.
The width and length of the circle face are equal. It is necessary to make this type of face visually more elongated, A great option is to use long earrings or drop earrings. Triangular, square and rectangular shapes will be also a good choice, but earrings with three-dimensional shapes should be avoided.

The triangle is distinguished by wide temples and a gradual narrowing to the chin. Here it is necessary to visually make the lower part of the face wider and earrings with short round pendants or hoop earrings will help well. Studs with stone inserts or earrings with large pendants also go well. It is better not to choose large earrings that will be wide at the top and taper to the bottom.
Here is one more pair of long earrings. The dangle earrings are handcrafted of shiny gold filled and little crystals. They are comfortable as for everyday earrings and at the same time fancy enough to complement your party outfits.
The crystal comes in the color of your birthstone, or just a favorite or appropriate color for you.
Long Chain Earrings
The rhombus is distinguished by wide cheekbones, a narrow forehead and chin.
Definitely, elongated earrings and studs are a perfect choice. You can balance the shape of this type of face with the diamond-shaped earrings. Don't better choose large stud earrings, they will visually expand the massive cheekbones.

If you don't know what to choose, expand the collection of your stud earrings. Like these sweet gold studs, leaves earrings. Cute and tiny, they will add a tender note of elegance, for those who love minimalist style.
Tiny Studs
A pear shape features a narrow forehead and a face extended to the chin. For this type, the good choice is not that big: small studs and earrings with a sophisticated shape made specially for the face type. Don't choose large earrings of geometric shapes.
The second no less important point is matching the choice of earrings to the hairstyle.

High hairstyles (high buns, crew cut, pony tail etc.), in which the neck and ears are open, long earrings with pendants, as well as chain earrings, are perfect. There are no completely inappropriate options here.

Here you can see modern threader gold earrings. The long earrings are made of high-quality gold filled. The shiny earrings look beautiful and suit any wear well!
For the collected hair on the back of the head (low buns, braided), long, refined earrings are great. In the case when the ears are open, you can also wear studs or round earrings.

It is better to choose earrings that will be longer than the hair for short haircuts.

Choose bright earrings for volume hairstyles with waves and curls.

Long flowing hair goes well with small pendant earrings or studs.

For an asymmetric hairstyle, the best option is choosing different asymmetric earrings too, when there is a statement earring on the open ear, and a small, almost invisible one on the ear that is hidden under the hair.

The third point, which is also worth paying attention to, is the combination of color, namely the color of earrings, depending on skin tone, eyes, and hair color.

With a skin tone, everything is quite simple: a girl with a warm skin tone should choose earrings in bronze and gold colors, and a cold skin tone is beautifully combined with jewelry with a cold metallic hue.

Regarding eyes color, there are two options: choose earrings with a colored insert that would be close to the shade of the eyes, or play with contrast.
If you play with the color, it is important to consider that earrings should give expressiveness to the eyes, and not "suppress" their color.

So blue, lilac shades are suitable for owners of blue eyes, as well as a contrasting option - these are orange, amber and yellow earrings colors.

Aquamarine Hoop Earrings in Sterling silver are crafted with awesome Aquamarine gems. The beautiful light blue color makes them amazing for women with blue eyes. Fine Birthday gift idea for people born under the sign of Scorpio and Pisces, as Aquamarine is the Scorpio/Pisces birthstone.
Blue Stone Hoops

Turquoise, emerald and grassy shades will look great with green eyes, as well as a contrasting option - orange, red and raspberry colors.

Light brown (hazelnut) eyes like the amber and yellow-green shades, as well as the contrasting option - these are violet-lilac and pomegranate inserts.

Owners of dark brown eyes may nicely emphasize the eyes beauty with rich shades of red, green, blue and golden colors.

Also consider that the inserts of transparent stones, light shades, as those of pearls, are suitable to any eye color.

As for hair color, pastel shades are well suited for blondes, earrings with bright stones are great for brunettes and red-haired girls, brown-haired women should choose earrings with color inserts of warm hues, and brown-haired girls may enjoy the whole spectrum of colors, depending on the shade of hair.

The fourth important point is the choice of earrings depending on age.

A woman wants to be beautiful at any age, though sometimes it's better not to look young for as long as possible, but better to emphasize the beauty of any age even more. Such an accessory, as earrings, can help with this.
It is better to choose large earrings with inserts of precious or semi-precious stones for women in middle age and older. Such jewelry will certainly attract attention and shift the focus on the glance. If the woman combines the accessories with the overall style well, she will always look amazing, no matter how old she is.

Earrings with smooth surfaces with small inserts, in minimalist styles are suitable for young girls. Such earrings will not attract too much attention, and, importantly, emphasize the tenderness and beauty of the skin.

Cuff earrings are one more extremely modern accessory that seems to be new.. but actually Marilyn Monroe even had such earrings! To wear them you even do not always need piercings. C-shaped cuffs are worn on cartilage, and different various types are worn behind the ear or put on the whole ear. There are models with fixation in the form of a pin lock or chain, which is passed through the lobe. Design variety has no end: wings, stars, inlaid with crystals cuffs. Cartilage cuffs are usually mixed with studs or double-sided earrings. Cuff in the ear often looks fancy; such models are great for evening outings.

Spring jewelry, a one-of-a-kind ear cuff earring, this is created in the beautiful leaf shape, tender and romantic. Statement piece to express your unique style!
Beautiful earrings of any king to any case are waiting for your choice. Share with us, what is your favorite earring type? Do you choose the earrings regarding the rules or not? Maybe you have your own rules?

Enjoy your personal style, learn more to complement it and shine in your beauty with modern accessories!
Leave a comment
Comments will be approved before showing up.