Hot list of fashionable things. 15 Top summer trends 2018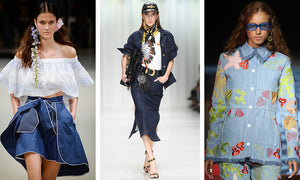 There are practical and not practical accessories, but the function of all the accessories is to adorn! Let's see what spicy accessories you can add to your style this summer. Fashionable jewelry, avant-garde shoes, unusual bags - the creators of accessories came together in a battle of styles again to attract your attention! Some designers flirt with strange and unusual shapes, while others prefer retro nostalgia, or play with kitsch and futurism. What is the result of this fashion battle? Let's see! Here are trendy must have summer accessories.
Pearl
"Always in fashion!", - you may say. And you will be absolutely right. But fashion designers do not always give it as much attention as this season! And it's wonderful: after all, pearl jewelry can be added to almost any outfit so that it will look fresh and elegant! Do you already have jewelry with pearls? Get it out of the box now! This summer is their time!


Small handbags
As you know: you can never get enough of them. It is also a fact, that besides lipstick and phone nothing can fit in them. Do you need such a handbag this summer? Definitely yes! On the short handle and on the long strap over the shoulder, in different shapes and designs - handbags are presented for every taste.


Glasses
Fashion sunglasses are presented this summer in three versions: round, sports and cats. So you have some variations to choose from. Focus on the shape of your face and overall style when choosing!


Straw hat
Have you already heard that you need to keep your face away from the sunrays? Designers help you with this task, creating a wide range of straw hats: from oversize ones to cowboy hats, in the form of berets and caps - and all this from straw! Pick up your best one, when going on vacation!

Brooch
Add some spice and charm to the simplest dress or costume, picking up a brooch. Big curly brooches in gold and silver are in top. Experiment with their place in the outfit: try to pin it not only on the lapel of your jacket (on a dress at the heart), but the throat of your blouse or even at the hat!


Bold Necklaces
That's what exactly can change your outfit, a fashionable necklace to make a bold statement! Massive, long necklaces, with lots of details, colorful and bright - that's what's fashionable this summer! You can afford it! Girls with a pear shaped figure should pay attention to massive short necklaces, which visually balance the figure; tall girls can choose a long necklace that looks so beautiful with a light, flying dress.


A scarf
Neck scarf is back in fashion! This is a very feminine element, make sure. What interesting and totally new can one make with this accessory? Designers show you! It looks fresh and unusual.


Headbands
They say, everything new is forgotten old. Headbands, for example. If you are looking for an accessory for your hair, feel free to choose one! From metal, plastic and fabric, minimalistic and richly decorated, fancy or strict - you can definitely choose the one that will suit your taste!

Belt
Do you have two stylish belts and you can not choose one of them? This summer you are offered not to choose, but to wear two at once! Just a joke! Of course, you do not need to combine any belts together. They should match not only each other, but also the overall style. But the double effect it has - not a joke at all!


Transparent accessories
From hats and belts, gloves and bags to earrings and other jewelry - this trend has obtained everything! Transparent accessories are presented in all major fashion houses.


Brand Logos Accessories
Do hide the brand name? It's not about designers this season. Earlier it wasn't a sign of big fashion to show a trend everywhere: on glasses, bags, hats, jewelry, etc. But now brands are boldly demonstrated in the collections of Chanel, Christian Dior, Gucci, Louis Vuitton, Miu Miu.


Long gloves
Classical full-length gloves are in fashion again. Many brands use such gloves for their new collections, beautiful variations are offered from Chanel, Gucci, Marc Jacobs, Olivier Theyskens.


Awesome florals
Blossoming is always welcomed for spring-summer. Slip into your favorite floral dress and feel like fashionable queen, or get a new prettiest petal-themed top to style it with a pair of jeans or a pastel skirt.


Fringed boho
Fringed as well as fashion has been around for centuries, but today it takes a fresh new look for summer dresses, jackets and evening wear.


Tulles dresses
We already mentioned that transparent accessories are in trend. So do dresses. Get ready to show some skin with transparent dresses in colorful and romantic pastels. Mixed transparencies and florals look playful and feminine making a must-haves trend this summer.


Remember that accessories are the tools necessary to transform your appearance, giving your clothes a fresh touch or even a completely new look!
Leave a comment
Comments will be approved before showing up.