Highlights of Jewelry trends 2021. Fine jewelry for you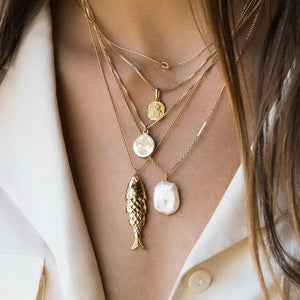 Earrings, necklaces or bracelets: jewelry of all kinds rounds off the outfit and becomes an eye-catcher - whether filigree or as a statement piece. You can never have enough of great accessories, right? Because jewelry is created not just for glam. Fine jewelry can remind us of a very specific person, give us confidence and of course spice up every look - even a cozy jogging suit look that is worn quite often at the moment. So what could be nicer than taking a look at the biggest jewelry trends for 2021?

Here I am glad to show you which
Jewelry trends you can expect in 2021
Combine gold, silver and rose
Metal mix is ​​allowed - and desired! Gold and silver, silver and rose or everything together, this year different shades are harmoniously combined. The look works best when the different metals meet in one area. Several chains or rings in different colors look particularly harmonious.

Bold rings
So-called bold rings are a particular eye-catcher this year. The very wide and eye-catching pieces of jewelry in chunky style can be worn alone as a statement piece, or on several fingers next to each other for a tough look.
For a long time, filigree and delicate rings that were stacked on top of each other or only sparkled on one finger were the trend. In 2021 the motto is: more is more - especially when it comes to rings. Thick gold rings are now the trend! The main thing is that the rings stand out and are a real eye-catcher on the finger.

Look at the personalized thumb ring in Sterling Silver. Fashionable accessory for her.
The wide ring is handcrafted of high quality Sterling Silver 925. Add some shine to your hand and overall style! The thumb ring can be personalized with any engraving you wish. The custom ring is adjustable and makes a perfect gift!
One more perfect stacking ring.
High quality plain ring with the engraving of your choice! This open band ring comes in a simple plain design crafted in pure sterling silver. Leave it like that, or the ring can also be both sides engraved. Add some words, make a name ring, or add a meaningful date, message inside for a secret message. This can also become a friendship ring. Great for men and women. This makes a lovely gift to birthday, anniversary and any other occasion to give something special.

Link chains
A few years ago they were absolutely trendy and never really disappeared from the scene, but this year they are playing a leading role again: link chains. Filigree chains give way and make room for more conspicuous specimens, which, however, remain suitable for everyday use.

This is also a wonderful idea for a gift - to give a trendy jewelry for a fashionable look!
The sweetest gift for her, this pendant necklace is sure to delight. Fine quote jewelry for a perfect gift.
The necklace is created of a delicate silver chain and a polished round pendant, ready to be custom engraved for you. Add some words to inspire or motivation for every day. This quote necklace makes a cute gift for a girlfriend, mom's necklace, birthday gift etc.
Snake chains
Welcome back! As early as the 80s, the snake chain was the jewelry trend and was worn up and down. Where did the chain get its name from? Due to its design, the chain looks like a snake - especially when you take it off in the evening. Instead of getting unsightly knotted, snake chains are very flexible. In 2021 we will be wearing the great trend as a necklace or bracelet.

Chunky chains
Chunky chains have been a big trend for two years and definitely belong in the jewelry box in 2021 as well. Whether worn alone or in combination with other filigree chains - chunky chains really spice up every look and make even the jogging suit look elegant.

Look at the fine necklace for a layered look. Sleek and so elegant, this gorgeous name necklace is a brilliant celebration of her birth. Finest birthday gift idea for your loved woman.
This birthstone necklace is just what you are searching for. The round sterling silver tag can be both sides custom engraved with a name, initials or a word of love. A birthstone crystal makes the lovely design complete.

Single-statement earrings
The statement trend will stay with us this year. Eyecandy, as the small, coordinated ear studs and hoop earrings for beautifying our ears are often called, will also be with us in 2021. However, there are also single-statement earrings - large earrings that are only worn on one side. On the other ear, the jewelry remains delicate and small.

Looking for statement still lightweight earrings?
Sexy hoop earrings, large hoops to make a statement! These giant gold filled earrings are big but awesomely lightweight. You will be amazed how comfy they are!
Spring jewelry, an one-of-a-kind ear cuff earring. It is created in the beautiful leaf shape, tender and romantic. Statement piece to express your unique style!
Spring jewelry
Pearls
Pearls are timeless, classic and never go out of style. Sometimes more discreetly in the background, as a small eye-catcher on the ear or on the bracelet or pearl earrings, pearl jewelry accompanies us always. But this year it comes to the fore: Delicate and almost unnoticeable ones are over, now earrings and necklaces in different shapes and variants are making a big splash. Pearls are on the trend!
Jewelry this year remains playful and everyone can make an individual mark with eye-catching, chunky statement pieces. The focus is on the harmonious interplay of the individual pieces of jewelry.
So the hype about pearl jewelry does not want to end in 2021 either. Whether on an earring, on a chain or in a ring - pearls look great everywhere. In combination with gold elements, the trend looks particularly classy.

Green stones
This trend not only looks great, it also has a positive effect on our lives. In medicine, the green malachite is considered to be the stone of solidarity and unconditional love. If the jewelry with real stones is too expensive for you, you can of course also look at accessories with green details. The color alone has a calming effect and looks particularly beautiful in combination with gold.

Long fashion earrings for you. These dangle earrings are handcrafted of shiny gold filled and little crystals. They are comfortable enough to be your everyday earrings and at the same time fancy enough to complement your party outfits.
You can choose any crystal color to make the accessory suitable for your dress. It can also be the color of your birthstone, thus you will get both: a stylish accessory and a talisman. If you don't know your birthstone, just write me your birth-date and I'll select the appropriate color for you.
It's also an awesome gift for any occasion. Beautiful and charming.


Shine with trendy jewelry this year!
Leave a comment
Comments will be approved before showing up.