Guide to choose Men's Jewelry 2022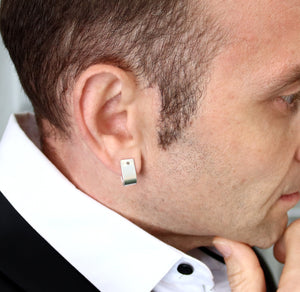 So, are you ready to look stylish this year? If so, you'd certainly need a few new jewelry pieces to complement your style. To help you with your next jewelry purchase, here is the guide to men's jewelry.
Bracelets
Follow the trend towards thicker bangles made of leather or metal. Minimalist, sophisticated bangles that can be simply layered with a simple cuff or a bracelet with a different texture, material such as rope or leather are fashionable now. Avoid anything that is too overwhelming or styled like an "army party".

When it comes to wearing multiple bracelets, think about a balance. A stylish bracelet shines on its own, but if you want to make your look a bit bolder, just make sure the combination isn't too distracting or overpowering. If you already wear a watch and wedding ring on one hand, add a touch of metal or cord to your other wrist.
Choose the best bracelet for you here
Showcase a fashionable style with this double layer bracelet. Elegant cuff in quality leather with a magnetic clasp!
This is a braided bracelet, high quality is guaranteed. Crafted of leather in three colors to your choice: blue, black or brown and accented with bright gold details. A safe magnetic clasp finishes the design. Perfect choice for everyday wear. Fine gift idea for husband, gift for boyfriend etc.
Fine leather wristband, a men's accessory to make a statement. Everyday leather bracelet for him.
The handmade bracelet is handcrafted of top quality leather and stainless steel. Comfy accessory for everyday wear. Looks great with any style, to any occasion.
A lovely gift for men, the accessory that will be surely appreciated!
Rings
If you're wearing a signet ring, it is better to wear it on your hand without another ring. Such a ring looks cool on its own and there's no need to add anything else. But if your style is a little fancier, you can add another ring to this hand, but definitely no more than two rings. "Less is more" should always be the rule.

A very thick or heavy band may look outdated and uncomfortable to wear during an active day. Huge oversized rings are a distraction for any man when typing or doing work in the office. The best rings are lightweight, minimalist, eye-catching pieces that you might even forget you're wearing unless you're getting compliments from onlookers.
Tribute Men's Ring, Marine officer gift idea. Black silver band ring for men, custom engraved jewelry.
Personalized USMC Rings makes a great tribute gift. The band ring is handcrafted of high quality sterling silver in shiny or black oxidized finish. The wide ring is in minimalist style and suits any style well. The band will feature a custom engraving on the both sides: initials, symbols, emblems - everything you wish.
Here is a custom engraved ring handcrafted of shiny sterling silver. The personalized band is engraved with a cross and a word Faith. It can also be inside engraved with a message you choose. Engrave a quote to inspire or a prayer. Cross Promise Ring makes a beautiful, meaningful gift to treasure!
Necklaces
Choose something minimalist that feels personal and can be worn over a shirt or with tucked in with just a chain peaking out around your neck. A modern chain choker with a pendant adds a touch of personal style to a simple t-shirt and pair of jeans. Avoiding large, thick diamond-cut chains. Go for something more unique and classy.

A great way to layer is to start with a basic chain (with or without a charm) and then layer a shorter chain with a charm on top to add interest to your casual t-shirt or sweatshirt close. You can mix and match different metals for a next-level style.
Special gift for a musician to be engraved with a message of your choice. Stainless Steel guitar pick comes with a black or brown genuine leather cord. You think over, what to customize the pendant with and get the ready unique personalized music gift to remember!

Whatever jewelry you choose and however you wear it, it's important to choose something that you really like and that you can easily wear every day.
Embodying journeys, adventures and important moments in your life, jewelry acquires inestimable sentimental value.

Personalized jewelry adds that personal touch and can help to express your personality and even a message to the world.
Sleek and on-trend, this cuff bracelet adds a personal touch to the stylish look. Custom silver bracelet to any wear.
Crafted in solid sterling silver, this elegant minimalist design is accented with an engraving you choose. These can be words for inspiration and motivation, or just names and initials in Old English or a different font you like. I can both sides engrave the band.
This cuff can complement any wear well and make a fine gift to any occasion!
Choose a one-of-a-kind engraving for your jewelry piece or for the one to create a unique gift.
Leave a comment
Comments will be approved before showing up.