Easter Gift Ideas For Parents. 10 Facts about Easter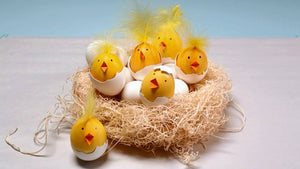 Looking for Easter gift for husband, dad or your boyfriend? Christians celebrate Easter all over the world, this holy occasion marks the beginning of the spring as well. Easter is one more wonderful occasion, an exciting holiday that allows the family and friends to meet together and smile. If you're looking for an occasion to gift presents to your nearest and dearest, here it is! Share your love and care with your friends and loved ones, but first with your parents. If you're going to present something special to your mom and dad this Easter, here you will find different gift ideas for parents to any taste.

Easter Gifts for Parents

If your parents don't spend much time together, Easter holidays are a great time to share some private moments. Gift them tickets to the theater or send them to one of the favorite restaurants. Give them this opportunity to stay together for a while and just enjoy the time.

Prepare some delicious dishes. Surely parents are usually those who prepare a holiday lunch and invite you for it. Change the roles. Cook for your parents, so your care can be the best Easter gift.

Take a large box and present it containing 365 quotes or short sayings from the Bible. Let them remember holy words day after day and live with the God in the heart week after week.
Photo book. Combine some family photos into a book. Let them enjoy old memories and happy moments. This can also be just a photo frame with a nice snap of both of your parents..

Bring the real Easter feeling, when gifting your parents an Easter basket filled with chocolates, cookies, Easter eggs, muffins, wine, etc.

Are your parents fond of books? If so, present them an Easter themed book or novel. The one they could cherish throughout their lives.

It is spring time, so a large bouquet of Easter flowers will certainly bring much sun into the house!
Looking for Personalized jewelry or If you're looking for a piece to treasure long time, choose a personalized jewelry piece. This can be a necklace or a charm bracelet for your mom engraved with the initials or names of her children.
Custom Charm Necklace
You may choose a bracelet for your dad as well engraved with a prayer or a meaningful Bible verse.
Engraved Bracelet for Men

Make your parents a surprise. If you don't gather often with your family all together, bring all the relatives together to celebrate Easter, prepare everything without saying parent a word. Enjoy their excitement about the whole family sitting at the holiday table!

A beautiful edition of Bible can also be a meaningful gift to remember and keep forever.

Lottery tickets. These are not expensive, and the goal is not to win or lose. You may give them with a wish that fortune should smile to them. Make one of the tickets by yourself, so that the win is not $100000 but happiness and good health. If your parents scratch this win, this would be a surprise that will surely make them smile. What more is needed?

Gift cards. Today gift cards are not a usual thing any more, they make every even the smallest gift personal. Write some words of love with your hand and this little sign of attention would be really priceless.
Games and Puzzles. Studies show that staying mentally active can help prevent dementia and Alzheimer's disease. So some puzzles and games are not fun only, these are also tools for mental development. Consider traditional puzzles, interesting math games, exciting strategy games for brain challenge. Play with your parents and enjoy this funny time together!

You don't need actually a reason and special occasion to share your love and care. But Easter is such a light moment of the year when everything is getting brighter, feelings as well. Make some good traditions for the moment. Make your family smile and come together!

Here are 10 interesting facts about Easter:
- Easter is the celebration of the resurrection of Jesus Christ in the Christian religion.
- The term Easter gets its name from Eastre, the Anglo-Saxon goddess who symbolizes the hare and the egg.
- Eggs are an ancient symbol of fertility, springtime is considered to bring new life and rebirth.
- The wine during communion symbolizes Jesus' blood. The bread during communion symbolizes His body.

- The first story of "Easter Bunny" hiding eggs in a garden was published in 1680.
- Americans spend $1.9 billion on Easter sweets.
- After Halloween, Easter is the biggest candy consuming holiday.
- The traditional act of painting eggs is called Pysanka, it is originated in Ukraine.

- The exchange of eggs for Easter dates back to a springtime custom older than Easter itself in which eggs were given as a symbol of rebirth in many cultures.
- In medieval times, a festival of 'egg-throwing' was held in church. The priest would throw a hard-boiled egg to one of the choir boys, and then tossed from one choir boy to the next. When the clock struck 12, whoever held the egg, was the winner.
Custom engraved mens jewelry or personalized Mens gift ideas
3 Responses
Leave a comment
Comments will be approved before showing up.