Earring for men - this is how it gets fashionable. Modern men's earrings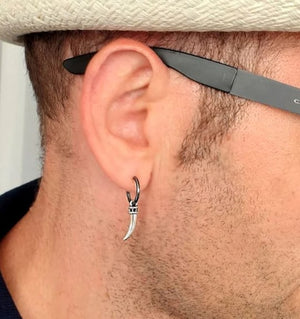 Mens earrings are making a major comeback in the fashion world. They are now becoming a trend amongst men of all ages. Whether you prefer silver studs or black hoops, mens earrings can be a great way to express your unique style and make a statement. from classic styles and unique designs to bold or minimalist pieces. The new earrings styles can also be a great way to make a splash and stand out from the crowd.
Not only women are fashion conscious. Nowadays, men also pay attention to their appearance and wear earrings. However, opinions are divided on this. Read here what you as a man should pay attention to when wearing this type of jewelry.
This is how men find the right earrings
In Europe, boys and men have been wearing earrings more and more often since the 1970s. Here, wearing the earring on the left ear was a sign of heterosexuality. In contrast, homosexuals wore the earring in their right ear. But from around the end of the 80s, even men's earrings for both ears came into fashion. Nowadays it is no longer so uncommon for men to wear one or two earrings. As mentioned above, the left or right ear has also lost its former symbolic character.

As a man, you should first decide on which ear - or even both ears - the new jewelry should hang. Regarding your choice: a minimalist style earring, or a pair of earrings, one statement accessory - it will be easier for you to make your choice from the wide variety of options available.
Here you can see different earring models. Pick one that suits your taste. Do not choose a ring with a lot of rhinestones. The earring for men shouldn't be too small either. Make sure that your new piece of jewelry suits your personality and your fashion style.
Choose the Gold Hoops for men!
Handmade of 18k plated over Sterling Silver 925 , the hoops are both quality and shiny lovely. I guarantee the high quality of all the products in my shop. These mini hoop earrings are designed in unisex style. Great for him, or for her like second piercing hoops. Fine minimalist style jewelry, to any wear and any occasion!
Cool accessory for men, silver feather pendant earring. Dangle earring for him.
This Designer Earring for Men features a feather pendant in sterling silver. Lightweight and just perfect for casual wear.
Feathers symbolize wisdom, hope, lightness and faith. They also stand for truth and speed. Great gift idea for your boyfriend!
Then choose the place where you want to wear your new earring or ear stud. Of course, the lower part of your earlobe is particularly suitable for this. There are few nerves here, so shooting the hole doesn't hurt as much. An earring that is worn on the upper part of the ear is also an option as well as multiple piercing.
So the earring fits your personal style
Depending on your style, there are different earrings for different styles to choose from. Every man should choose the earrings that match his appearance and overall style.
Glittering ear studs are more likely to be found by men who generally attach great importance to their appearance, i.e. gel their hair and style themselves trendy with their clothes.
Above all men with a rather casual look, i.e. with messy and slightly longer hair, hoop earrings are in.
Ear hole plugs have also become fashionable. To wear these large earrings ear holes must first be widened so that the plugs fit in. This type of earrings is mostly popular by men with an alternative style, e.g. punk.
Every man should know for himself whether he wants to wear earrings or not and then choose them according to his type. However, you should then also stand by the piece of jewelry and expect criticism in addition to praise.
If you are not sure about the style start with minimalist earrings.
Minimalist style earrings
Consider this cool earring with a circle dangle pendant!
The dangle hoop earring is the perfect accessory for every day. Crafted of top sterling silver, an oxidized hoop and a shiny circle pendant. This lightweight earring will become his favorite!
Small hoop earrings in unisex style for men or women. Handmade minimalist hoops made of oxidized sterling silver. Great for everyday wear and any piercing type.
Statement earrings
Small Cross earring for Men! Sterling Silver Black Cross Stud!
This small stud is handcrafted of polished sterling silver and onyx agate.
Be sure, the earring is both comfortable for wear, and will always keep the fine original look! Perfect both for the first or second piercing.
Fine boyfriend gift to any occasion! Cross is also a powerful symbol of eternity and life in many different cultures! Make the gift meaningful!
Guys drop earring to make a statement! Cool Sterling Silver Dice Dangle Earring for men.
Good Luck Earring for those who like casino games or even a big life game. A shiny or dark hoop comes with a dice dangle charm. Cool single earring that makes a distinctive accent for any men's style!

Take care of your new earrings
Your jeweler will advise you to leave your new earring in your pierced ear hole for at least six weeks without removing it. Since this is a wound, it must take some time for it to heal. Without ear studs, the hole would soon grow closed again and you would no longer be able to put the earring through.

It is recommended to turn the earring several times a day at the beginning. This will speed up wound healing and prevent your new men's earring from sticking to your ear.
Make sure you clean your stud hole well every day. There is a special ear piercing antiseptic for this purpose in pharmacies or drugstores. You drip some of it on cotton swabs and so you gently clean the front and back of your earlobe.
1 Response
Leave a comment
Comments will be approved before showing up.