Custom logo engraved keychains, pendants, bracelets, rings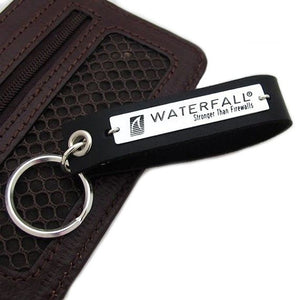 In today's world, personalized accessories have become increasingly popular, allowing individuals to express their unique style and make a lasting impression. Custom logo engraved pendants, bracelets, and keychains offer a wonderful opportunity to showcase your brand or personal identity with elegance and flair. In this article, we will explore the art and significance of custom logo engraved accessories, their versatility, and the various benefits they bring. Whether you're looking to promote your business or create memorable gifts, these customized pieces are sure to leave a lasting impression.

The Power of Personalization:
1.1 Adding a Personal Touch: Discover how custom logo engraving adds a distinct and personal touch to pendants, bracelets, and keychains.
1.2 Building Brand Identity: Explore how businesses can leverage custom logo engraved accessories to reinforce their brand identity and leave a lasting impression on customers.

Versatility of Custom Logo Engraved Accessories:
2.1 Pendants: Unveil the charm of logo engraved pendants, their various styles, and the wide range of materials available to suit different tastes.
2.2 Bracelets: Delve into the world of custom logo engraved bracelets, from delicate wristbands to statement cuffs, and how they can be tailored to individual preferences.
2.3 Cuff links or Keychains: Discover the practicality and style of logo engraved keychains, their various designs, and the creative possibilities they offer.

Personalized logo cufflinks 

The Benefits of Custom Logo Engraved Accessories:
3.1 Promotional Tools: Learn how custom logo engraved accessories serve as effective promotional tools, helping businesses to enhance brand visibility and recognition.
3.2 Memorable Gifts: Explore the sentimental value of custom logo engraved accessories as gifts, creating lasting memories for loved ones, employees, or clients.
3.3 Conversation Starters: Understand how logo engraved accessories act as conversation starters, sparking curiosity and enabling connections.

Choosing the Right Design and Materials:
4.1 Design Considerations: Discuss the importance of thoughtful design choices when creating custom logo engraved accessories and how to align them with the intended purpose.
4.2 Material Selection: Explore the various materials available for pendants, bracelets, and keychains, and how they impact the overall look and feel of the engraved design.
Customized keychains

The Process of Creating Custom Logo Engraved Accessories:
5.1 Collaboration and Consultation: Highlight the collaborative process between customers and designers to ensure the creation of a unique and personalized piece.
5.2 Engraving Techniques: Provide an overview of different engraving techniques used for logo engraving and how they contribute to the final product's aesthetics.

Conclusion:
Custom logo engraved pendants, bracelets, and keychains offer an exceptional opportunity to showcase individuality and brand identity. Whether as a marketing tool or a sentimental gift, these personalized accessories make a statement and leave a lasting impression. By combining thoughtful design, quality materials, and expert craftsmanship, you can create custom logo engraved accessories that reflect your style, promote your business, and evoke meaningful connections. Embrace the art of customization and let your accessories tell your story.
At Nadin Art Design, we pride ourselves on creating exquisite personalized and engraved jewelry pieces. Our online store is home to a wide array of stunning designs, including Sterling silver bracelets, rings, necklaces, and more. We understand the importance of self-expression and the desire to wear jewelry that reflects your unique style. That's why we offer a range of customization options, allowing you to create truly one-of-a-kind pieces that hold special meaning for you or your loved ones.
Personalized Rings

One of our notable specialties is the creation of customized cuff bracelets featuring military logos and designs. We take great pride in crafting these distinctive pieces that pay tribute to the brave men and women who serve our country.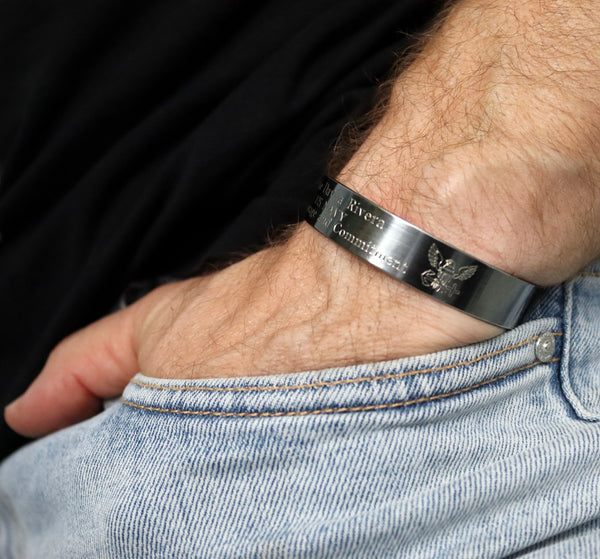 Custom U.S. Navy Eagle logo bracelet
By incorporating military logos, emblems, or even personalized messages onto these bracelets, we offer a meaningful way to honor the dedication and sacrifice of our armed forces.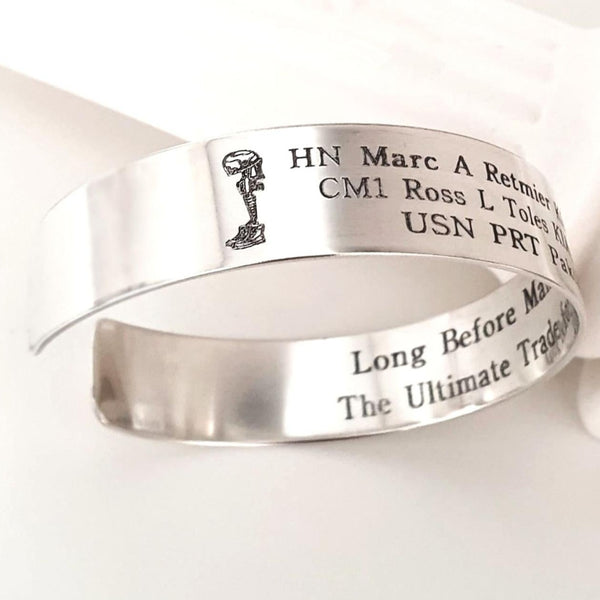 Honor Our Fallen Heroes Memorial bracelet

When it comes to personalized jewelry, there is no better way to make a statement than through custom logo engraving. Our skilled artisans possess the expertise to meticulously engrave your desired logo onto pendants, bracelets, and keychains. This intricate process ensures that your logo is beautifully etched onto the surface, creating a lasting impression.

The versatility of custom logo engraved accessories is truly remarkable. Let's explore the different types of jewelry we offer and how you can customize them with your logo:

Pendants:
Our logo engraved pendants come in various styles, from elegant and minimalist designs to intricate and elaborate patterns. Whether you prefer a small and discreet logo or a bold centerpiece, our artisans can bring your vision to life. By wearing a logo engraved pendant, you not only showcase your brand identity but also add a touch of sophistication to any outfit.

Bracelets:
Bracelets are a popular choice for logo engraving, as they effortlessly blend style and symbolism. Our range of customizable bracelets includes delicate wristbands, sleek bangles, and statement cuffs. With our expertise in logo engraving, your chosen design will be flawlessly etched onto the surface of the bracelet, creating a striking and distinctive piece.

Keychains:
Logo engraved keychains offer a practical and stylish way to promote your brand or commemorate special events. From simple and elegant designs to more intricate shapes, we can customize keychains to suit your preferences. Each time you reach for your keys, the logo engraved on the keychain will serve as a reminder of your brand's identity or a cherished memory.

Choosing the right design and materials for your custom logo engraved accessories is crucial. Our team of designers is dedicated to working closely with you to understand your vision and incorporate it into the final product. We consider factors such as size, shape, and font selection to ensure that your logo is accurately represented and visually appealing.

In addition to the design, the choice of materials plays a significant role in the overall aesthetics of your logo engraved accessories. We offer a range of high-quality materials, including Sterling silver, stainless steel, Gold Filled and genuine leather. Each material offers its unique characteristics, allowing you to select the one that best complements your logo and desired style.

Creating custom logo engraved accessories at Nadin Art Design is a collaborative process. We value your input and strive to bring your vision to life. Our artisans combine traditional engraving techniques with modern craftsmanship to ensure the highest level of precision and attention to detail.

Whether you are looking to promote your business, commemorate a special occasion, or simply express your personal style, our custom logo engraved pendants, bracelets, and keychains offer the perfect solution. These personalized accessories go beyond mere fashion statements; they are a reflection of your identity and a testament to the values you hold dear.

In conclusion, personalized jewelry holds a special place in the hearts of individuals who seek to express their unique style and sentimentality. At Nadin Art Design, we go above and beyond to provide you with the finest personalized and engraved jewelry pieces. Our commitment to craftsmanship, attention to detail, and customization options allow you to create accessories that truly reflect your personality, celebrate your brand, or honor special moments. Browse our collection and embark on a journey of self-expression with our custom logo engraved pendants, bracelets, and keychains.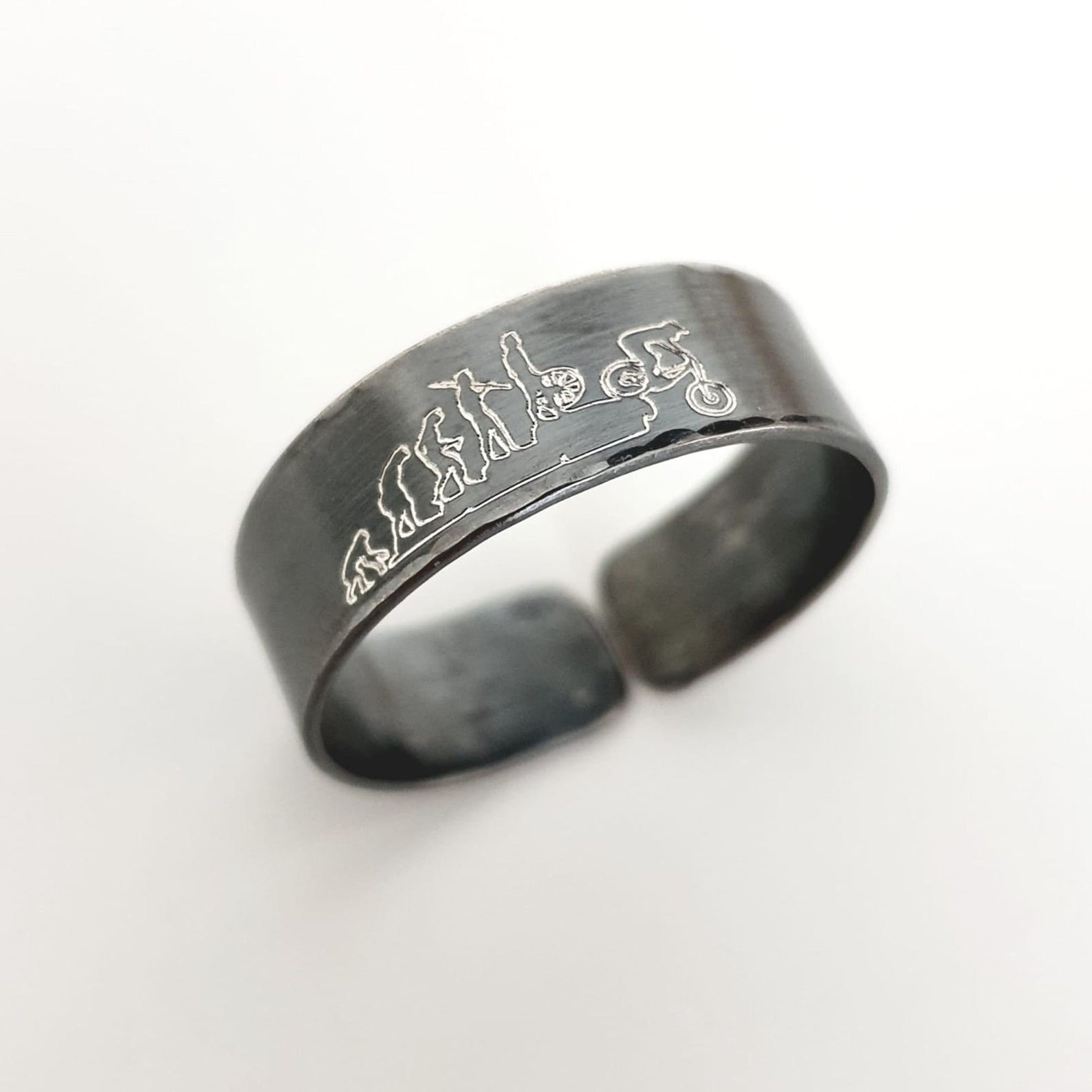 Custom Logo Engraved Ring
3 Responses
Leave a comment
Comments will be approved before showing up.