Creative Gift Ideas: Christmas and New Year 2018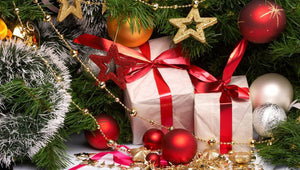 In some weeks people will start hunting for Christmas gifts. Choosing gifts for relatives and friends first of all should bring joy, good mood and inspiration. Sometimes it's difficult to find something really interesting. Therefore, we have prepared a selection in which you can choose some unusual gift ideas for the Christmas and New Year holidays 2018.

Jewelry gift
If you are looking for a gift to remember and to treasure, a fine jewelry piece could be the answer, especially a personalized one. We will recommend not just to engrave the piece but to send the engraved message in an unusual way. Order a soundwave engraved piece. Thus you may record a sound message of your friend's favorite song, or some words of love - for your special one. There is a plenty of creative ideas that can be transformed into a sound wave engraved design. This would be a truly unique gift. If it's a stylish necklace, sound wave ring or a bracelet, then one can wear it all the time, and each time the jewelry will remind of you!

3D pen
Such a gift will please a creative person. If your friend is an artist or a designer, you can choose this gift and be sure: it will be loved. This pen allows you to draw with molten plastic in space and creates three-dimensional shapes. The process of creation looks like magic, but it is not very difficult. The device is very user-friendly and allows you to create a real masterpiece easily.


Warm gift to a married couple
If you need to give a gift to two friends - a couple, you can choose a warm gift, in all senses. Present a warm blanket, fluffy bathrobes or comfortable home slippers. Such a set can be supplemented with a bottle of wine and chocolate for warm romantic evenings.


Projector "Ocean"
This device is designed to create a relaxing atmosphere. An image of the underwater world with rays shining through the water is projected onto the ceiling. It is a great idea for fans of cozy atmosphere, romance! There are also projectors that carry you to the starry sky or high into the mountains. Add to the gift a disc of good music or relaxing tracks for meditation, and your friend will often remember you with a smile in cozy evenings.


Calendar
Such a gift may seem ordinary, but only at first glance. You can make such a gift by yourself or make to order. It can be a calendar of the last year: choose a memorable photo - for each month - that will tell about the valuable, interesting, funny, unforgettable moments of last year. And the last page can be decorated with wishes for the new year, joint plans and desires! An unusual calendar can be created for the coming year as well. Make it funny! You can write a plan for each of the 12 months for your friend, adding some funny pictures, photos and small envelopes with gifts.


Jewelry with a message
Christmas and New Year's Eve are one of the most romantic and mysterious days in the year. Give your loved one a personalized bracelet or pendant with a mysterious message. You can engrave the bracelet or ring from the inside, so that your wish or confession could be read by the person you love only.
Make your gift really special with a thoughtful engraving! Choose a custom ring for a smaller message, or a personalized bracelet for inscribing a motivating quote, inspiring message, or words of love!

Much joy!
Leave a comment
Comments will be approved before showing up.