Couple's Rings Guide - Custom engraved rings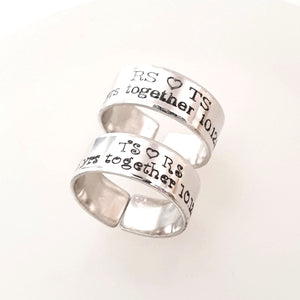 Certainly the best feeling in this universe is to love someone and be loved. If you have a special place in the heart for your special person, there comes time and wish of expressing your love for that man or woman, and to do it in a unique way. This will not only show your commitment to your partner, but also allow you to go a little deeper into your shared feelings. Climbing a high mountain and then kneeling down with a ring to propose to your partner could be the best surprise you could ever come up with for your loved one. Do you know how couple rings are worn in South Korea? The partners stay together for 100 days, only after that they exchange paired rings. This helps them show more care and commitment to their partners. Couple rings are known around the world as a sign of love and respect that two partners share. Such rings usually have matching designs. Let's dig a little deeper to understand the concept better.

Couple rings are not wedding rings!

Couple rings are designed for couples in a relationship. This is a modern way for couples to celebrate their feelings and special moments. Wearing the couple's rings may symbolize respect for each other and the relationship. Engagement rings are a sign of marriage. Wedding rings are worn only when the couple is married. Couple rings may just stand for the deep connection two persons have a big value of.
Personalized jewelry for men and women
To choose perfect couples rings, follow the following guidelines:
Comfort
Couple rings are usually an accessory worn all day long, so comfort is a priority here. Wedding rings are usually worn on the ring finger. But there are no such rules for couple rings, you can choose a finger just to concern your comfort.

Design
It is easy to get lost in various designs. If you take it seriously and want to get a really meaningful and personal piece it can be a little difficult to choose the best design for you from many ideas available now. Choose a design that represents your relationship. Pay attention to a meaningful and symbolic one rather than just beautiful and modern. Design should be much more personal and meaningful. It is great if you and your partner have similar jewelry tastes. If not, for sure you can also choose different designs, just add a common element for both of the rings. There are rings where the style of the rings is different but they have similar features, like engraving. You can also design your own couple rings, which can be engraved with your special signs, messages, and initials to suit your style and couple preferences. Engraving is a perfect tool that allows you to personalize the ring according to your unique fashion concept. You can always get inspired of the existing ideas and get the idea you are fully satisfied with. Yes, the process of designing, choosing the right rings can be exciting by itself! :)
Personalized rings for him and her
Personalized rings. Consider this sterling silver ring to make a lovely gift. Customize the ring on both ring sides - each up to seven characters. Make the gift to remember! The ring is adjustable and so perfect for gift giving.
Personalized gift for couple to treasure!
This wide band ring is handcrafted of sterling silver. This will be both sides engraved with the words, dates, or names you choose. Engrave some words of love, a quote to inspire, and add a love message inside. A hidden message inside easily turns the ring into a promise, romantic engagement, or wedding gift!
The gold filled handwriting engraved ring makes a perfect background for your custom message. Let your special one know how much you love with this meaningful gift! You may write any words, dates and I can engrave your handwriting on the outside, and a hidden message - inside. Created in high quality metal the ring is strong and durable, one can wear it everyday. The loveliest gift to any occasion: anniversary, wedding or birthday!
Get unique engraving ideas with the fine rings designs!

Sentimental engraving ideas for you:
To my soul mate
Eternity
My heart is in your hands
Never to part
Soul mates forever
I'm always with you
Perfect fit
One love
Better than bacon
In thy breast my heart doth rest (Old English)
Joie sans fin (Joy without end, French)
Mon coeur est a vous (You have my heart, French)
Il mio cuore e il tuo per sempre (My heart is yours forever, Italian)
Myn genyst (My heart, Old German)
Mizpah (May the Lord watch between you and me when we are absent from one another, Hebrew, Genesis 31:49)
Semper amemus (Let us always love, Latin)
Pari passu (With equal step, Latin)
Amor vincit omnia (Love conquers all, Latin)

Metal
Do you think, the metal of your rings must be identical? Not at all! Latest trendy couple rings styles offer couples to choose the same design but the rings are made from different metals. Such an option is very attractive and unique. Choosing different metals will make your rings look different due to the different colors, but this is completely normal as the design shows your unity as a couple. If you don't want to use different metals, that's perfectly fine, just make sure, the metal doesn't cause any allergy by both of you and matches with other accessories well.

Details
Details play a very important role in paired rings. The metal and other more visible things may vary depending on your choice, but it is highly desirable to have some similar details. Those small details, like a symbol engraved, are the best way to show the unity of yours.

I share the excitement of choosing couple rings, cause those are not just rings, such things are connected to our emotions and make us feel alive. So why not make it something special and unique?
Unique black ring with a sound wave engraving. The silver band ring is handcrafted of quality sterling silver, hammered and oxidized to the fine black finish. But the main thing - I can personalize it with a sound wave message!
Drawing ring, custom engraved gift!
This band ring is handcrafted of shiny sterling silver. It will be both sides engraved for you. Engrave a drawing, like on the picture: The Little Prince. Or send me a picture with your customized art to be engraved. Add a hidden message inside with some words to inspire!

Couple rings often show the time between a date and a wedding. Remember this time of your life creating a special symbol for that - your couple rings!
1 Response
Leave a comment
Comments will be approved before showing up.