Black Friday Sale 2021 now on Nadin Art Design Jewelry Gifts Store. Facts and Myths about Black Friday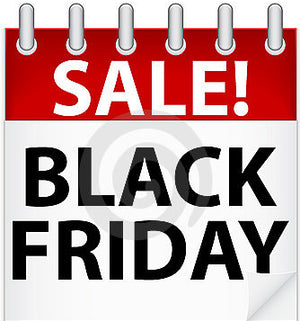 Already waiting for Black Friday 2021? Taking its roots in the USA, the event is now spread all around the world! We are here to learn interesting facts about this day and pick up some fine gift ideas to upcoming holidays for very tasty prices!
Shopogolics start preparing to Black Friday on Thursday night. It is believed that it is from Thursday to Friday the Christmas sale season begins. All products are sold at incredible discounts, so buyers get prepared for the day in advance. Often people even spend the night under the doors of shops to get the first in!
The concept of "Black Friday" was introduced in 1996. At first, it marked traffic jams after Thanksgiving, and later it became the day for sales.

To be successful on Black Friday, you need to follow the newsletters and offers of the stores. You should go shopping as soon as possible in order to buy the goods you need. Do not forget about online stores where you can also buy products with great discounts!

Black Friday is a great event when people get a chance to buy wished products for a much smaller price. To get prepared to it, make a list of what you need or wish as well as a list of the stores you can find the goods at.

Do you see Black Friday as a chance to get wonderful Christmas gifts? We totally agree with you! You certainly have a big family and a lot of friends to prepare gifts for! It's time to start looking for gifts right now! One month left till the holidays. Why not start on Black Friday? It could save you some time and what is more important - money!
Every year we are offering you to enjoy discounts for our personalized jewelry and get wished custom gifts with free shipping all around the world! Get ready to choose gifts to remember and.. enjoy!

Here you can find gifts for men and women to any taste. If you are not sure about the style or size, our shop is the right place for you to shop! Most of the jewelry is created in classic or minimalist styles, everyone will like. But what can make the gift really special is a custom engraving! We are offering a wide range of personalized jewelry: bracelets, necklaces, earrings etc, as well as custom accessories. One more advantage to pay attention: a lot of bracelets and necklaces come in an adjustable size, so they will fit well, even you don't know the necessary size you need.
Minimalist style designs for men assure the men will appreciate them. You can find a gift for your chef and colleagues. This can be an accessory with a good luck wish. Here you will also find a sweet gift for your special one! Choose a bracelet, inside engraved with a secret message, or a symbolic pendant necklace. If it's a gift for dad or the best friend, choose a motivation gift with an inspiring quote engraved!
Gifts for women, elegant and romantic jewelry, make the surprise she will remember forever. Choose glorious earrings for her. Or if you are not sure in the design, you still can choose a custom jewelry piece, that will melt her heart. Custom engraved bracelet with words of love, inspiring wishes, or a hidden message.. or a personalized ring for a very special gift.
Unique Jewelry on Black Friday Sale
Do you want something really special? Then choose a one-of-a-kind engraving that will make the gift even more meaningful.
This can be soundwave engraving. How does it work? Have a look at our products! They look gorgeous and contain a hidden meaning. You may record some words, a confession, or take a ready recording, like a song, make a print screen of the soundwave picture - and this will be exactly engraved on the jewelry piece you like! Great, isn't it?
More ideas? Here you are! Handwriting jewelry! You can write a phrase, or send a signature of yours or your favorite actor, singer.. and get the quality engraving of it to carry the script with the special energy. These can also be handwritten words from a diary... such a gift will be surely appreciated!
From the history of Black Friday
Frank Woolworth is considered to be the founder of this remarkable tradition. It was he who, at the end of the 19th century, working as an assistant to the seller, came up with the idea of making sales. Once Frank decided to sell all seasonal goods with a discount of 5 cents. The idea was successful. As a result, the young man created the largest retail store chain - Woolworth.

By setting "sale", sellers came to the conclusion that the most profitable is the period before Christmas when people choose presents with much joy. Biggest sales begin after Thanksgiving, which the US celebrates on the last Thursday of November. So, people have a whole month to make all the purchases.
The name Black Friday finally took root in 1966 thanks to the Philadelphia police. They were shocked by the traffic jams they saw after Thanksgiving and called this Friday "black."
According to another version, the term arose because in American accounting the profit is marked in black color, and so "Black Friday" means, it is extremely profitable.
Stores fight for customers, and the holiday is becoming more and more popular. Now the whole world knows about this day. Thanks to the lowest prices, stores in the USA and other countries of the world on this day get their shelves free from any products in a matter of hours, remaining "in the black."
20 Interesting facts about Black Friday
- 57% of buyers are sure that shopping on Black Friday is a lot of fun.
- "Black Friday" is usually a very long day in stores. Some of them already open at 4 a.m.
- In 2015, $ 10.4 billion was spent on offline sales in the United States, and this is 1.2 billion less than in 2014. But online purchases reached $ 4.45 billion, which is 16% more than the result of the same 2014.
- Amazon was the leader in Black Friday last year in the United States, increasing its revenue by 18%.
- The average check on Black Friday is about $ 300.
- Attempts to rename Black Friday to "Good Friday", to deprive the holiday of a negative connotation, failed. But, in general, in historical sources, the phrase "Black Friday" was first recorded in 1745 in connection with the panic that arose in the streets of London when trying to restore the power of the Stuart dynasty.
- The most popular product category is electronics, followed by toys, clothes and Apple devices.
- To serve all customers, stores get the help of 800 thousand additional employees.
- In many countries, Black Friday protests against consumerism. In North America, the "no shopping day" is held on the last Friday of November, and in Europe on Saturday following it. The purpose of the action is to stop the consumption of unnecessary things imposed by advertising.
- 12% of shoppers visit shops while in a tipsy state.
- 74% of customers using the Internet are looking for coupons for promotional codes and discounts, as well as using all kinds of life hacks to get the maximum benefit.
- Almost all men compare prices before buying on the internet. Only 5% of women do the same.
- Discounts for Apple devices even on this day are almost impossible to find.
- After Black Friday and the weekend, there comes another event - Cyber ​​Mondays. Most IT companies offer discounts on this day.
- Many Americans take the day off not to miss the biggest sale.
- Every year, about 135 million people go shopping on Black Friday.
- The day of sales does not always end well, for example, in 2008, at WalMart shopping center, one of the employees was trampled down by crazy shoppers.
- In fact, there are products you can buy with much bigger discounts in other months, but people follow Black Friday excitement, on the day that already has become the tradition.
- In 2011, on Black Friday, the profits of stores and shopping malls totaled more than $ 50 billion.
- 50% of all the people who take part in the sales of Black Friday admit to participating in shopping only because of an interest in chaos and disorder, as well as to taste the competition.
Black Friday: 5 famous myths
Black Friday creates a lot of myths around itself. Here are some of them:

The best sale offers are known in advance.
- In fact, many stores are preparing special offers, which will become known in the last minutes before the start of "Black Friday".

On "Black Friday" there are no discounts on luxury goods and designer items.
-Such proposals may indeed be few, but they are. Of course, the probability of buying something from the latest collection at a super price is not so big, but extravagant and classic models will be quite affordable.

Products with the best discounts are not quality.
- Perhaps this was once true, but in recent years the trend has changed. Manufacturers are trying to make goods more attractive, and so the quality of most products stays high.

"Black Friday" is the most popular day of sales.
- In fact, the most popular shopping day is Saturday before Catholic Christmas. During this period, discounts can be even better. But, most people prefer to buy New Year gifts in advance.

If you participate in Black Friday, then Cyber ​​Monday can be skipped.
- On Friday, promotions and discounts do not end and, as a rule, last all weekend. Cyber ​​Monday can be considered their continuation. This is a time of grand online sales. Those who did not have time to buy everything they need get a second chance on this day.
What about you? Waiting for Black Friday 2019? What is on your list? Share with us!
Leave a comment
Comments will be approved before showing up.