Best Gift Ideas for Your Long Distance Boyfriend. Custom Engraved Jewelry Gift for Him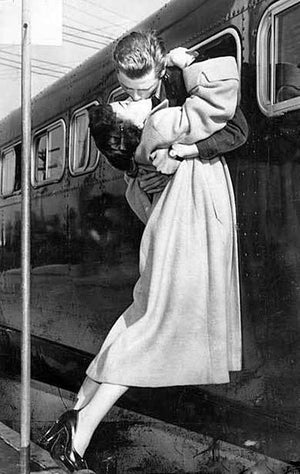 Are you in long-distance relationships? Believe me, i know how much the constant support of the connection is needed in this case. Gifts help to show your attention and care, so that your relationship is filled with warmth. We have here a couple of nice ideas for you!

A long-distance relationship is not always easy. And so if there is a nice occasion to surprise your loved one who is far away from you! Of course, today the Internet, online connection and all the various technologies help communication, but it's good to reach your loved one also with something he could touch and keep as a symbol of your love.

So if you want to congratulate or make a surprise for your boyfriend, but he is far away from you, maybe even in another country, we offer a couple of ideas that can help.

"Letter from the past"
Letters from the postman come rarely so that people start to forget this romantic way to express their feelings. A confession in an envelope, a parcel with a surprise for a loved one can be a very unusual gesture these days.
Write him a long love letter in a classic or medieval style, where you may describe all you love about him. Write a verse about him. He will be surely pleased, even if you do not consider yourself a genius poet.
Let us consider this beautiful gift idea more detailed, as there is plenty of wonderful options.

Have a look at the beautiful Hidden Message Ring. This is a very nice gift idea with a custom engraving. Sterling silver ring that can be engraved with names, initials, dates, but most important - with a hidden message inside. The secret message makes the lovely gift idea even more romantic. Make the gift meaningful when engraving a Bible verse, or a prayer to resonate with your heart and say him how much you care!
The minimalist style ring comes in adjustable size, great for gift giving.
You may also send him your message with a personalized cuff.
Expertly crafted in quality silver, this one is ready to be custom engraved as you wish. Engrave the cuff bracelet with a hidden inside message. Add words of love or motivation, a date to remember or a wish for him. Great birthday gift idea for your boyfriend. The personalized bracelet features a lovely texture and looks with any outfit great.
Message Gift for him
Choose a gift in nautical style for modern Viking, like this fine pendant hoop earring. This is a must-have accessory for the men who love the sea. The earring is crafted of solid sterling silver and features a whale tail pendant. This makes the design meaningful. Whale symbolism includes wisdom, spiritual awareness, good luck, and long-lasting love. Beautiful symbolic love gift for him to any occasion!
Whale Tail Earring
Do you want to make the present even more unique?
Send him the sound wave personalized bracelet. Men's gift idea to make an unforgettable present.
The modern bracelet will feature a custom sound wave engraving, which makes the bracelet unique. Every voice is one-of-a-kind and has its own visual signature, so even the same message will look unique when spoken by different people. All you need is to make a recording, send a picture and get the ready cuff for him. That may be a recording of your voice saying words of love, his favorite song or a motivation wish.
Soundwave Gift
If your boyfriend likes stylish accessories, this stylish ID bracelet for men would be a good gift idea. Handcrafted of genuine leather and shiny metal, this can also showcase the custom engraving of your wish, a quote or any symbols for him.
Personalized Gift for Boyfriend
One more unique custom bracelet, the leather cuff can be personalized with a signature. You send a photo with any signature (this can also be one of his idols) or a handwritten name or message - and this will be engraved on the cuff accurately.
Signature Bracelet
10 More Gift Ideas for Your Boyfriend
Video greetings
Such a surprise is perfect for the one you know well, and for the one you have never seen yet, meeting just on social networks.
You can prepare congratulations with his friends and family, or just on your own. For someone, you have not seen, make a short video about yourself and your life, your favorite things and places. But it all depends on your imagination.
Mount video using applications you find on the Internet, such as Movavi Video Editor or Shotcut. They are easy to learn for beginners. Send a congratulation to the guy by mail or on a social network. So the video options are
- a video with his relatives and friends saying nice words. The guy will be happy to see his loved ones together on the screen of a monitor or mobile.
- Personal video greetings. Tell the young man about feelings and how you miss him. Add original birthday wishes. Make a short movie with your dance or song. Such a birthday greeting will be remembered for a long time.
Photo surprise
This gift is similar to the previous one, but you can take both your common pictures and also take new ones. You may come up with a collage showing all your brightest moments together. Or, you may go to your favorite places, take some pictures there and make romantic signatures saying you wish you were together there, or find even more original ways to surprise your loved one with unusual pictures he doesn't expect to get. Your ideas and efforts will get a great result!
You may also create a visualization of your common dreams that haven't come true yet. Make a collage of you too, visualize you at the places you dream of but haven't been to yet.

Ask Friends to help
The idea is great if you know his friends living in the same city he does. You can ask them for help, and pass him gifts, surprises, flowers, etc. You may even organize a surprise party in the distance!
Present yourself
Of course, this idea is for special occasions, especially if you are very far apart. But still, this romantic adventure is the best gift for both your beloved and yourself. Buy a ticket and just go to him - what could be more beautiful! But do not forget to make sure that such an idea will be truly appreciated. Let's say if you are planning to surprise him for his birthday, before buying a ticket, make sure, he hasn't planned this day yet. Maybe he has already bought tickets to you ;)
Hidden treasure
All you need is to hide the gift among the things of the boyfriend, quietly and secretly, when you are at his place and make sure that he will not find it before the occasion. Then call your beloved and tell him to look for the "treasure". This will be a surprise on its own, no matter what the gift is.
Skype conference
A virtual surprise option. Gather friends and make a video call with your guy. To make it unexpected, start a conversation alone. And friends will join later, shouting birthday greetings.

Gift with delivery
Nowadays you can order delivery anywhere in the world. Create a DIY gift, pack it and send it to the guy. This can be a knitted by you scarf, a poster with pictures from magazines symbolizing his dreams and your wishes to him, etc. This can also be a bought gift, of course, something, he is dreaming of...
Just arrange in advance so that the present is delivered at the right place and time. Imagine the delight of your loved one when he receives a gift just on his morning birthday!
Flashmob on a social network
Ask friends or even strangers to send your boyfriend a happy birthday wish. Let them congratulate him on Instagram or even send messages to his phone. So the man will receive hundreds of pleasant words on his birthday.

Make a romantic photoshoot for him
If you want to be his present, but can't reach him personally on the day, make a nice photo shooting with a good photographer in the image your boyfriend may not expect from you. Your beautiful pictures are a great gift option, be sure.

A walk to remember
Organize a walk together. Make a call, and go for a walk together, through parks or beautiful alleys, each of you in your city. The end stop may be a restaurant so that you can have dinner together, even if in such a way. This will be also an unusual memory you will keep long together.
Whatever gifts you make at a distance, remember that the main thing is your attention and care. Don't limit your imagination, after all, creating surprises for your special one makes you happy as well, don't they?
Share with us your experience! Have you ever had a long-distance relationship, and what surprises have you created or get?


Leave a comment
Comments will be approved before showing up.