Anniversary Gifts by Year - Personalized Present for Him and Her - Customized Jewelry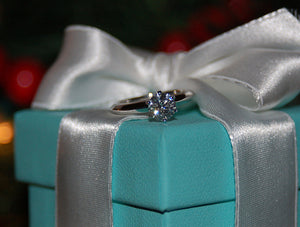 From the 1st till the 10th anniversaries.

Does this occasion knock at your door? If so, we've prepared a fine anniversary gift list. 10 milestones with traditional and modern themes. We tried to blend tradition with fresh inspiration to get a new view on each of the anniversary years. We are sure, every year is important, so here you can find creative gift ideas for every single anniversary, from the first to the tenth. Beautiful anniversary gift ideas.

Each year has its traditional theme, we've prepared gift suggestions according to them. There are both inexpensive gestures and top ideas. Of course you don't need to follow the list, if you don't want to, but you can certainly find here extra inspiration, when reading through the whole list. Enjoy it, and we wish you enjoy every anniversary you have! So here are two ideas for each year: Budget and Splurge ones.
Don't forget, that you can take the ideas as a start point and move to your best anniversary gift according to the taste of your loved one.

1st wedding anniversary
Traditional: Paper
Modern: Clocks
1. Write a love letter to keep forever, with all your love expressed with sweet words.
Or prepare romantic "love coupons" that can be used to fulfill the wishes.
2. Order a full-page in the newspaper to wish your husband or wife a happy anniversary, share your love with the world.


2nd wedding anniversary
Traditional: Cotton
Modern: China
1. Give a T-shirt featuring a favorite sports team, rock band, hobby, movie etc. Or you may buy pajamas with a funny print that would make your loved one smile.
2. Give a lovely bathrobe and add an extra surprise in the pocket, like a jewelry piece personalized specially for your loved one.


3rd wedding anniversary gift
Traditional: Leather
Modern: Crystal/Glass
1. A braided leather bracelet with a custom engraving of initials. This can be a custom bracelet engraved with a love message, a wish, or with a secret message for him or her only. A blank notebook with a leather cover for anyone who likes to make notes.
2. A cool leather jacket that's almost as cool as he is. Speaking of a woman, give her a pricy or impractical pair of shoes she is dreaming of, but cannot afford.


4th wedding anniversary
Traditional: Fruit/Flowers
Modern: Appliances
1. Enjoy sweet chocolate-strawberries together. Get a bouquet of white roses and one of a different color with a note: "There's no one like you."
2. Buy plane tickets for the Tournament of Roses parade in Pasadena!


5th wedding anniversary
Traditional: Wood
Modern: Silverware
1. Take a hike in the woods on the day of the anniversary.
2. If you have a garden, plant a tree. Watching how it grows may bring much joy next years!


6th wedding anniversary
Traditional: Candy/Iron
Modern: Wood
1. Buy candy you've never tasted before, like salted caramels or marzipan. Make a sweet adventure together!
2. Prepare a box of delicious chocolates, and replace one of the chocolates with a tiny wrapped gift, like a fine jewelry. This can be an engraved ring with some words of love, or a charm personalized with your initials.


7th wedding anniversary
Traditional: Wool/Copper
Modern: Desk Sets
1. Give a wool sweater of his or her favorite color or to match the eyes color, or give a whole basket full of quality yarns to knit symbolic your story further. A copper jewelry piece is one more wonderful gift idea, like a copper bracelet or necklace.
2. Find something made from the finest cashmere to feel warm and cosy.

8th wedding anniversary
Traditional: Pottery/Bronze
Modern: Linens/Lace
1. Greet him or her on the morning of the anniversary with a flowering plant in a pot, with a romantic card.
2. A lovely ceramic sculpture for your garden is a fine option!


9th wedding anniversary
Traditional: Willow/Wicker
Modern: Leather
1. Pack a picnic wicker and prepare a lunch for you two in the park.
2. Fill a custom-made gift basket with his or her favorite hobby as a theme. Modern wicker furniture would be great to enjoy sunsets sitting there.


10th wedding anniversary
Traditional: Tin/Aluminum
Modern: Diamond Jewelry
1. An old-fashioned metal lunch box is the thing he or she can take to work every day.
2. A diamond jewelry piece is classics.


So find your gift for your best one and enjoy celebrating every anniversary!
1 Response
Leave a comment
Comments will be approved before showing up.