9 Tips To Find the Perfect Gift. 5 Best Gifts for Boyfriends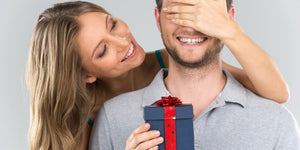 Let's talk about gift ideas to make a wonderful and also personal surprise!
We all know that gift giving brings much joy. But first you must choose the gift that will certainly please, and this isn't always an easy task. Here is the ultimate guide to help you find the perfect gift for anyone and everyone. Let's learn some points that make a great gift for him. Here are the ways how to get new ideas.

1. Make an event from gift giving. Be creative when packaging! Change a regular wrapping paper to something funny and surprising. Hide his gift and let him hunt to find it. Make some secret messages that will send him to the gift. Or hide a present into such a packing that he has to struggle to get it out. Don't underestimate the fun of unwrapping presents. Sometimes the wrapping makes the gift!


2. Give an unforgettable experience. Does he love a music band or a football team? Buy him tickets to the concert or play. You may also create a romantic evening making a mystery guide that would send him to a restaurant, where you will wait for him for a dinner.

3. A thing of interest. Make a list of the things the man is interested in, make also a list with the things that define who the person is. Write down as many things as you can. Brainstorm the associations with every item of that list, the things may be small or big. Thus you get some cool ideas you wouldn't have otherwise, if you combine a few of them, this can lead you to a personal and thoughtful gift.


4. Sweet memories. There are some occasions when it makes sense to look at the past. If he just graduated from college, you may select the best memories of the student's life to have a look at them and smile one more time. If you're looking for a birthday gift, you may learn his childhood dreams and give a big box filled with small funny things he once was dreaming for.

5. Means of person needs. You will certainly say, that he already has everything. But everyone does need something. Think broader. Even if he is a successful businessman who has all the necessary things, there is till one thing he always needs - time. So you may concentrate on the products which help to run the lives more efficiently. Think on a more general level, that will help you to get new ideas.


6. Learn his wishlist. Most people have a wishlist, not a written one but that like on Amazon, some things they want but cannot afford them or wait for a better moment. He'll be surely surprised if you find out the thing he wants without even asking and present it. If it's not a close friend of yours and you don't know much about him, look the Facebook history for clues. If you're looking for a gift for your boyfriend or husband, and he has already told you what he would like to get, try to find such an option of the gift he wouldn't expect. Surprise! Even those who don't like surprises will appreciate them if they fulfill their wishes.

7. Include a personality. Try to make it personal. Create a piece of art, make something with your own hands. Order a custom piece to get an one-of-a-kind personalized gift for him only.


8. Make him laugh. Don't you know what to give? Then give something that may make him laugh! Such a thing may not cost a fortune but this may be more valuable that all the precious things.

9. Be charitable. If the person doesn't like to get gifts at all, you can still find something he is passionate about, and then donate to that cause. Is he animals lover? Donate to an animal rescue. There are thousands of charities, make a gift to a cause that matters.

And here are some gift ideas for him that may inspire you for the things you are looking for!

1. Personalized jewelry. Jewelry is the thing that makes an elegant style of every man, regardless of his style. Make him a personal gift with a custom jewelry piece. Thus this can be a personalized bracelet with a quote to inspire or a hidden engraved message with the words for him only. Order an ID pendant with an engraved date to remember marking an important day in his life.


2. Let's have a drink! Give him a leather wrapped flask he will love to take with him for all his travelings. Or these may be playbook-inspired glasses he will enjoy to drink from on Football Sundays.

3. Must have Accessories. There are some accessories everyone needs. Choose quality Leather Gloves or a Keychain. You may make the gift personal as well. Thus you may customize the gloves with his initials or keychains with some funny words!


4. Some Vintage. In the age of new technologies some old good things may make a difference and bring many pleasant emotions! Thus choose some Vintage Record Coasters or a vintage Radio. Don't forget to think about his interests!


5. Speaking of practical things, you may give him a multi-functional bag with compartments for iPads, iPhone, keys, change, notepads, books and pens, a fine thing that does the organizing for him.

We hope you have found some inspiration here to make the best gift ever for your loved man!
1 Response
Leave a comment
Comments will be approved before showing up.