8 Top Mother's Day Gifts: Give Your Mom the Gift to Remember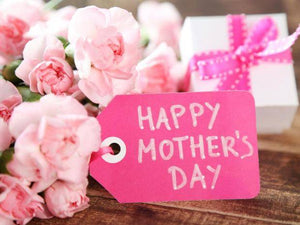 Mother's Day is the occasion of the year on which you should surely treat your mum like the queen that she is. Such occasions come suddenly each year. So no surprise if you also find yourself in a state of panic trying to figure out what to choose for the gift. Your mom is certainly one of the most important ladies in your life.
925 Sterling Silver Hammered Ring for Her
That makes it so hard to find just the right thing for her when mom's special day comes around. You might wish to find something she'll use all the time, but at the same time something strictly utilitarian is not the thing, something with a sentimental spin is also a good idea for such occasions. Overthinking is not the solution, it makes the whole process harder, choosing gifts must be joyful, not stressful! So just think about what makes your mom happy. How does she spend her spare time? What could bring her inner peace and pleasant feelings?
Lucky for you, here are sweet items that fall into a wide variety of interests. What could we recommend? Choose the thing that your mom will love, but also that you like!

1. Fine Personalized Jewelry
Giving jewelry is not a new idea. But let us see, how you could turn a jewelry piece into a really unforgettable gift. Consider custom jewelry that can be engraved with your special message. This could be a personalized cuff. You may engrave mom's name on one side, and some words for her only as a secret message inside. We used to think that mom knows how much we love and care, and it's not necessary to say about it. But in fact words of love and gratitude should be said loud! Express your gratitude in such an original way.
You can adorn a different piece with the message as well - necklaces, pendants. Order a charm bracelet engraved with initials of all mom's loved people. What kind of message you could also engrave? This could be a piece of prayer, Kabbalah words to protect. You may engrave some words that mom used to tell you as you were a child. If you are not the only child, all her children names and the dates of birth can be engraved as well. Wanna even more interesting idea? Make a soundwave engraving. You can record a piece of here favorite song and engrave the soundwave picture on the jewelry piece. Find some words that could inspire or bring her a good mood! This is always a good idea! 
2. Beautiful bouquet
If you're lost for ideas, a beautiful bouquet of flowers is surely what can save you. Make sure that it includes your mum's favorite flowers in her favorite colors. If you live in a different city that your mum, flower delivery service will bring flowers for your special lady. It would be a nice beginning of the Day!
3. Magnificent massage
Treat your mum like royalty with a massage. You could choose the classic, deep tissue and sports massage. She will never forget that hour of relaxing..and well, sometimes relax is the best gift ever!
4. Song for Mom
Find best songs about mothers and daughters, make a playlist - but be careful: this gift can bring her to crying.


5. Family Tree Print
Framed custom family tree, featuring leaves representing all the family members, is a great idea. You may add a quote, a family motto, some words about the family tradition etc.


6. A Case for Gadgets and Gear
Does your mom travel a lot? Give her a fine travel accessory like this leather tech case, with pockets to hold all her devices: a tablet, phone and headphones.
7. Mamma Mia!
Is she fond of Italian Specialties? Then prepare a basket filled with specialty items from Italy, this can be premium Tuscan olive oil, balsamic vinegar, herbs, biscotti and an olive oil hand cream.


8. 'Mother and Child' Coffee Table Book
It is a wonderful coffee table book of the author and photographer Claiborne Swanson Frank. The book showcases more than 100 portraits of well-known mothers and their children. The emotional and thought-provoking pictures are the right choice for the day!

No matter what gift you choose, try to share some time with your mom - on that day and always! This is the best gift that doesn't stay in the gift lists but is certainly the top idea for each and every mom!
1 Response
Leave a comment
Comments will be approved before showing up.