8 personalized jewelry gift ideas for her: how to create a present to treasure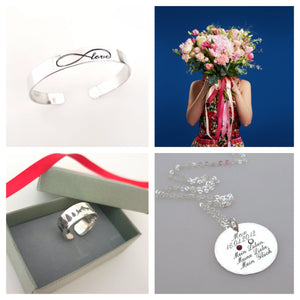 The traditions of personalized jewelry rooted in the past as a perfect timeless gift. Take, for example, engraved signet rings from Mesopotamia or gold nameplate chains that were popular long before everyone could choose one in the jewelry shops.

What was earlier a sign of belonging to rich and powerful people, is now available for everyone who has some money to purchase a personalized jewelry gift to any taste.

Whether you are looking for personalized jewelry for yourself or a loved one, that searching can be dizzying. From contemporary redesigned family heirlooms to funky designs, I've rounded up the coolest options. And because jewelry should be loved by everyone, here you will find samples of fine jewelry for a reasonable price.

When choosing a gift for someone who means a lot to you, it is always a good idea to personalize it. Every woman appreciates what has been created especially for her and will be remembered for a long time. Take your gift game to the next level with personalized jewelry gift ideas that she will love for a lifetime.

There are endless ways to personalize jewelry. Engrave bracelets, necklaces and rings with initials, important dates or even the coordinates of a significant place. Make an important statement that will forever be immortalized with handwriting. For something finer, add a discreet personal touch with birthstone details.

Here are the best ideas for you!
Personalized jewelry gifts for her
1. Engraved rings
Gold and silver rings reach a special meaning when engraved with initials, dates, names or even quotes. For a lighter choice, take a beautiful, personalized band ring. There are more options what to engrave on the band ring, cause there is more space. Chain rings are always a great gift too, especially when they come with initials.
Here is a stylish sophistication in the personalized ring for women. Inspirational gift to keep forever!
Handcrafted of high quality sterling silver, the ring is ready to be custom engraved on both sides. Do you want to send her more than a gift, but an expression of your love and care? Engrave the ring with a quote, some words to motivate and inspire, or just express your love!
Wonderful birthday gift for your loved woman!
Drawing ring, custom engraved gift for her. One of a kind artwork ring, the gift she will treasure!
This band ring is handcrafted of shiny sterling silver. It will be both sides engraved for you. Engrave a drawing, like on the picture: The Little Prince. Or send me a picture with your customized art to be engraved. Add a hidden message inside with some words to inspire!
Meaningful and truly unique gift idea for your wife, sister, special one or best friend!

2. Birthstone jewelry.
Birthstones are an easy way to personalize birthday gifts that will be treasured for years. All you need is to learn what is her birthstone and attach it to the jewelry design you like.

Perfect birthday Gift, a meaningful jewelry present. Elegant bracelet for wife in sterling silver.
This gorgeous bracelet makes a great gift idea! Give it to your loved wife or girlfriend with the personalized plate, both sides engraved. This could be a quote to inspire or your initials. Engrave it with coordinates of the place you met or kissed first. Add a hidden message on the back side for one more romantic note. A leaf charm with a crystal in the color of her birthstone finish the design beautifully.
The bracelet suits any style!
This birthstone necklace is the piece to keep forever. Birthday Gift for her personalized as you wish.
The sterling silver necklace comes with a round pendant that is ready to be customized with a name, date, and a birthstone crystal of your choice. Customize the design with an attractive font. The crystal can be added in your birthstone color.
This could be a lovely name necklace for her birthday, anniversary, wedding, or any special occasion.
3. Initial necklaces
Initial necklaces are one of the most classic gifts. You can choose a variety of options in different fonts, from elegant cursive lettering to fancy bold fonts.

Make her day with this delightful personalized pendant necklace. Fashioned in sterling silver, this stylish jewelry piece is sure to be loved.
The design features a polished look highlighting the engraving of your choice. If this is meant to be a gift for mom, engrave the pendant with the initials of her children. I can create a monogram of initials for a lovely initials necklace gift for her. Buffed to a brilliant luster and sure to be worn often, the shiny pendant suspends along a delicate chain.
The sweetest gift for her, this pendant necklace is sure to delight. Fine quote jewelry for a perfect gift.
The necklace is created of a delicate silver chain and a polished round pendant, ready to be custom engraved for you. Add some words to inspire or motivation for every day. This quote necklace makes a cute gift for a girlfriend, mom's necklace, birthday gift etc.

4. Zodiac decorations.
Zodiac signs are another way to add a personal touch to a range of trendy jewelry. You may also add a birthstone to the design.

Fine birthday gift, a custom birthday zodiac sign pendant necklace. A delicate sterling silver chain comes with a round pendant that is ready to be both sides personalized - with any zodiac sign on one side and with initials, a name, text - on the other side. Charming gift to remember!
5. Personalized earrings.
Custom earrings are not that usual as engraved cuffs or necklaces, but letter earrings make a fine statement too and add that bright note to any image.

Minimalist style initials earrings. Personalized birthday gift for her.
Cool everyday earrings handcrafted of shiny Gold Filled 14K. Great disc earrings engraved with letters of your choice. Lightweight and cute, they will complement any wear great! Each one can be engraved with 1 to 3 initials.
Nice gift idea for sister, best friend or girlfriend!
6. Inspiration bracelets
Choose a quote to inspire or give her some inspiration and engrave it on a cuff bracelet she could wear every day and get inspired every time!

Personalized bracelet with infinity symbol to make the finest Graduation Gift. Husband bracelet with a personal message engraved.
With its minimalist design, this love symbol bracelet is just perfect for your special one. Lovely way to send him or her your love message or to make a thoughtful gift for a special occasion!
Crafted in sleek sterling silver, it won't rust or fade and is long lasting. The custom cuff can be both sides personalized with any words and even a symbol, such as a sign of infinity. It symbolizes balance, harmony, and the connectedness of all things, but above all a mature love, of course.
This fashionable cuff style adjusts and will certainly fit
7. Handwriting jewelry
Do you want a more unusual way of personalization? Here you are! Modern technologies allow to engrave even pictures, drawings as well as handwriting. If you engrave a custom piece with a text handwritten by you - this will surely make the gift even more special.

Whether it's her birthday or any other special day, this personalized bracelet makes a cool gift idea. 
Handcrafted in sterling silver and polished for shine, this elegant design may feature his name, your words of love, or a motivation quote written by you. Send me a photo with any handwriting and I'll make a high-quality engraving of it: outside, inside, or on both bracelet sides, as you wish. Make the custom bracelet special for her or him!
This may also become a memorial bracelet featuring words from a diary or letters written by someone you carry in the heart.
8. Secret message gift
Do you want to surprise her with something romantic? Don't make any statement with your engraving, but engrave a cuff inside, or a pendant on the back side, so that the hidden message would be for her eyes only.

She'll be reminded every day how much she means to you with this cute bracelet. Gorgeous gift idea for women to anniversary, birthday, or any other occasion.
Lovely cuff bracelet handcrafted of high quality sterling silver. Add your engraving to make the design personal: some meaningful words, a wish, or an inspiration quote. Prepare a fine girlfriend gift with a secret message inside inscribed. Beautiful gift, the cuff features an adjustable size and so will certainly fit!
What idea is your favorite one?
Leave a comment
Comments will be approved before showing up.