7 Wearable Trends: Men's Fashion 2018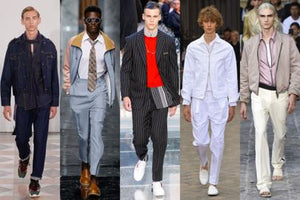 If you want to choose fashionable trends not constantly hunting for new fashion flows, you should find some safe bets. Here are some points you should be attentive to, to look elegant in 2018.

Vertical stripe suit
When speaking about patterns and prints, give your choice for vertical stripes. There is a variety of widths on offer - from thick to pin. So buy your next suit striped. The pattern look great on every guy no matter the body shape.

Double pockets
Safari jackets, military shirts will be in trend again. To add the key detail, look out for double breast pockets. Keep things feeling modern.

Millennial pink
That warm rose hue is going to grow up next season for men's wear. If you choose your outfit in light tones adding some pink to it, you will certainly be in trend.


Mix: Taloring and Sportwear
Mixing tailoring with sportswear is one more trend. Blazers and tailored trousers are combined with hoodies and aloha shirts. Look at some fashion designer collections to make sure: that can make a statement!


Back to Black
If bold experementations are not what you need, you will look stylish in your favorite black color, in summer too, especially in summer! This season black is all over the runways. Like minimalist style but not black? Then monochrome dressing is what look modern as well, this season's top-to-toe one-color looks are on the top.


Oversizing
This trend moves from women's to men's fashion fast. Oversized blazers are a big trend. Choose your perfect blazer oversized next year! Skinny cuts are also superseded by bigger, baggier trousers. It has been a shift in short cuts this season, so big wide shorts are in trend.


Mid-Blue Denim
You could say that it's always in fashion and you will be right. That's our point as well to note wardrobe essentials. Team it with pieces in white and warm neutral hues for a timelessly stylish match.
1 Response
Leave a comment
Comments will be approved before showing up.