7 style rules for men to follow. Fine personalized men's jewelry - customized bracelets, engraved necklaces, rings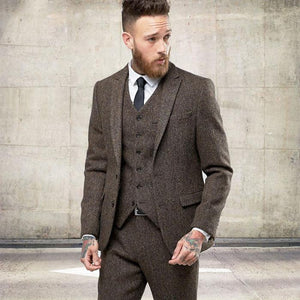 Many men often have a question about their image, their look. Which mens bracelet will look cooler, which ring will decorate my finger and make my look more brutal or unique. For those who are looking for personal jewelry, engraved bracelets or engraving mens rings this article might be interesting. Men's style is not only fashionable men's clothing, which we will talk about in this article.
Most style rules aren't really rules. Those are rather requirements that refer to actual trends. There are many that are changing over the years. But I would like to go into those fashion rules for men that should never be broken.

One thing should also be clear. Our world is fast developing and who knows whether these fashion rules will not be broken in the next few years. Jeans fit is the best example of changing fashion rules. While the tight fit was the trend last year, this year we're moving in the direction of broad, loose and just not too tight-fitting.
Everything is changing.. but you should still take a look at the main fashion rules that can be easily learned from trendy street styles.
7 style rules for men
Never button the jacket completely

Buttons are there for a clear purpose. Usually, that's true. However, these should not always be used just because they are there. On the contrary, if you consistently button up on a jacket, this leads to the fabric warping, which is not particularly advantageous. You run the same risk if the jacket remains buttoned when you are sitting. A suit should fit snugly the body when you are staying. However, if you sit down, your posture and body tension shift, which also affects the jacket. Especially when the buttons are closed and there is no way to adapt to the changed position. So here you find the most important rules for the correct buttoning of a jacket.

Two-button jacket: One piece is buttoned, either the lower or the upper one.
Three-button jacket: Two alternatives: the two top buttons or just the middle one.
Four-button jacket: The two middle ones or the three top ones are buttoned.
Five-button jacket: all buttons except the bottom one are hooked up.
The right fit is not changed by current fashion trends

Trends are constantly changing. Still, one thing doesn't change, the right fit. This remains the same. Regardless of whether there is a new trend in suits or t-shirts, the right fit remains stable. Especially when talking about suits you should make sure that they sit well on ​​the shoulders. Ideally, the seam between the shoulder and sleeve should be directly on the end of your own shoulder blade. If this is not the case, the suit immediately looks too big.

Furthermore, it is important to pay attention to the sleeves. The sleeve must meet the wrist at the base of the thumb. In addition, when trying on a jacket you should always wear a shirt underneath, otherwise it can turn out to look completely different than, for example, with a T-shirt underneath. A few centimeters of the cuff of the shirt should always be visible.
A good fit at the waist of the pants is important to get a sleek silhouette. The fit shouldn't be too narrow, but slim enough to keep the cut of the suit.
Being attentive to the fit can also be applied to other items of clothing.

Clothes don't have to be washed after each use

It is a misconception that clothes must be washed after each use. Except for underwear. However, especially with suits and jeans, it is not necessary to throw them into the laundry basket after each use.

The chemicals that are used to dry-clean a suit damage the fabric and weaken the seams. Ventilating well and carefully brushing out the dirt is usually enough. This is also logical, cause mostly very fine fabrics are used for suits. The finer the fabrics are, the more delicate they are as a rule. Accordingly, the cleaning cycles should be reduced to a minimum.

It is also clear to me that you don't usually wear a suit every day. However, the chance that you will wear jeans every day is much greater. But the same applies here: washing a lot isn't that good! Denim experts make it clear that jeans shouldn't be washed too often. If you tend to throw it directly after wearing into the machine, the color is lost and does not wear off naturally. So, the same applies here: Ventilate well and carefully brush out dirt.
If the jeans are going to the laundry, please avoid temperatures that are too high and let them air dry. It is gentler on the environment and the jeans themselves.

Funny ties, socks are usually not really funny

There's nothing to add here. Ties with Bunny, Donald, or other cartoon characters on them have always been an insult to the look in my opinion. Of course, they try to sell something like that as funny. Well if it seems really funny to you, that's ok, but still regarder the occasion.
What speaks against wearing socks or ties with a chic but subtle micro-print? Nothing! But you should make sure that this matches other patterns in your own outfit.
There are many ways to give your own outfit personality. A printed shirt worn under a blazer is a better option, as are statement sneakers with a neutral look than accessories printed with cartoon characters. Who dares more, plays with different patterns.
Fine accessorizing. Personalized jewelry
Remember that usually, these are details that make the look complete. Pay special attention to the accessories and jewelry you choose. Those must match the overall style well. Choose high-quality metal or leather accessories, they lend a refined look to any outfit. Remember that less is more when speaking about accessories. However, if speaking about casual wear, necklaces, bracelets, or rings layering is a big trend you can try even if you are not a rock star.
One more trend to pay attention to is personalized jewelry. Custom engraved or unique design jewelry can add a personal touch to your look. Personalized means that a design will be customized for you. This can be an engraving of ID info, or even handwriting, pictures, words to inspire, a personal motto etc. There is a big range of modern personalized jewelry for men to choose from.
What to choose depends on your overall style and occasion, of course.
Fine personalized men's jewelry

No different colors for leather accessories

There is nothing to add. The colors of the leather accessories in your outfit must always match.
Leather accessories play an important role in well thought out outfits. No matter what the occasion, whether a wedding or everyday office life, you can upgrade the look with perfectly coordinated leather accessories. In detail, this means that the belt, watch, wristband, and the bag should be color-coordinated. There should be a certain harmony between the pieces. And one more thing: of course, you should also consider the color of your shoes.
Here you will find some samples of modern leather jewelry for men.
Leather Jewelry for him
Here is a stylish engraved ID bracelet for men, a gift to remember. The fine leather cuff features a washer connector that can be engraved with a handwritten message for a truly personalized touch. Just send me a photo of a handwritten text and I'll make the accurate copy of it.
Lightweight high quality bracelet for men. This braided leather cuff features a trendy design and is ready to become yours.

The double bracelet is handcrafted of genuine leather in blue, black or brown colors. Gold accents make it even more distinctive. Two layers wrap around the hand and finish with a magnetic clasp. This would be a perfect piece to any men's outfit! Gift idea for your special man to birthday, anniversary, Father's day etc.
Cleaning shoes is more than just polishing them

Anyone who owns a pair of sensible leather shoes knows that they have to be cleaned and cared for regularly. At least if you want to enjoy wearing them for a long time. As good shoes can be an investment for life and, like any investment, you should also take care of your shoes. The foundation for their endurance is laid in brushing and polishing the shoes regularly.
Furthermore, the treatment with a suitable shoe-polish contributes to the fact that the shoes not only shine, but also that the leather remains supple and soft, so it is more comfortable to wear them and at least they stay a little better protected against water and dirt thanks to the protective layer that comes with regular polishing. So you should definitely consider that cleaning shoes has more benefits than just a shiny appearance.
Leave a comment
Comments will be approved before showing up.