7 Best Gifts for Dad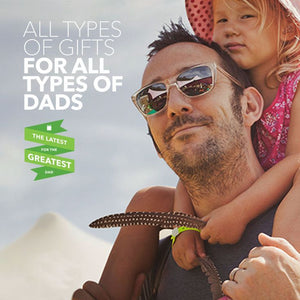 Dad's the the dearest person for his daughter, no matter what they say! So, when it comes to get him a present, look for that special one you know he'll love. Here are 7 great ideas for you to choose from!

1. Personalized gift
From beer mugs to pocket knives, it's possible to personalize everything! Put your message on the accessory for the greatest dad ever! This can be a keychain - a thing that is always with him. Personalize it with the touching words to show your love or attention!
If your dad is fond of sport, you may personalize his sport tools. Thus you may get golf balls - each with a funny message. You may also choose a unique clock for his table with the quote saying that you appreciate the time you spend with him.


2. Noise-Canceling Headphones
Choose quality noise-canceling headphones — perfect for dads who want to shut out the world and relax a little. A collection of his favorite music could be a nice addition to the gift.


3. Portable Grill
Do you like family picnics? If so this would be a nice gift not for dad only but for the whole family too! Choose a perfect grill for tailgating that folds up and rolls wherever you need it to go.
Gift for Dad


4.Hawaiian Tie
Does your dad have a good sense of humor? You may choose a tie with a funny print. Thus it could be a Hawaiian print with a Hawaiian T-shirt to make a statement, if you know what we mean.

5. Leica Camera
If there is a special occasion for your dad you want to keep in memory, make a symbolic gift for keeping moments. Leica Camera isn't a cheap gift. But it's worth attention cause it provides a great quality and there are a lot of models that are lightweight and great to carry them wherever one is not to miss the moment to remember.

6. Jewelry
Choose a minimalist masculine bracelet or necklace for dad that he can wear every day with the thought of you. This can be a special engraved piece with a secret message for your dad only.

7. Spend an Evening With Him
Sometimes all your dad really wants is just to spend more time with you. He loves you, and an evening for two of you would mean more to him than anything you could buy. Talk to him or just keep quite looking to his eyes and giving him a hug.
What gift would you choose for your dad? Surprise your father with a fine personalized jewelry piece. Show your attitude, when sending an appreciation message. He will be touched, believe me!
4 Responses
Leave a comment
Comments will be approved before showing up.