5 Top Tips: How to choose best gifts for your boyfriend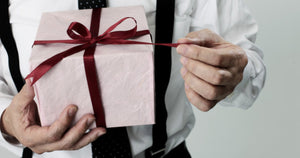 Do you want to surprise your boyfriend with a gift to remember? 
It's a plenty of ideas for romantic gifts for women to make them feel special; but what sweet things would make a man smile? Let's talk about it in this article! So find best gift for your boyfriend with the tips! 

Surely you can just buy a box of chocolates, a new DVD or his favorite drink. But don't forget, that a good gift is "something that he dreams of, but would not buy for himself."
When choosing the next gift consider following points:

Remember what he dreams of for long time
You surely spend much time with your boyfriend, so that you begin to understand what he likes. What does he watch at when you are in the store together? Or maybe when you're watching some commercials on TV? Pay attention to the things that he is going to buy all the time, but postpones for different reasons. Sometimes he may speak it loud, about what he'd like to buy next year or in the next months. So even if it is something beyond your current budget, try to get the thing before he buys it by himself, which will confirm that you pay attention to his wishes. It's such a joy to fulfill his wishes and dreams, isn't it?
Unique personalized gifts for him

Get him a thing that he even doesn't know, he wants it
This may be a little more complicated, you may need a strategy to fulfill it. Look for similar things to those he likes. Does he like detective stories? Ask a bookseller for new books of a kind. Choose his favorite songs, put it in Apple's iTunes and ask to suggest similar songs to download and make his next favorite playlist. Do you know his favorite dish? Find a restaurant famous for cooking this particular dish!
Give something personal
Nowadays considering that busy lifestyle, probable the most valuable gift you can ever give him is your attention. So make this gift for him, spend some time with him as he (not you) would like to spend it. If you go to the cinema, choose his favorite film genre. If you're going to spend "romantic evening" together, pay attention to his idea of ​​the romance. Sometimes just a spontaneous message telling him about your feelings or dreaming of you together can make an incredibly sweet gift.
What not to give your boyfriend
It's perhaps as well an important point as that what to give. Here are some mistakes that may be done with the best of intentions:
Replacing his favorite items. Does he have a favorite bag he goes to play football with? You decided to give him a new one - and you wonder, why he still goes to training with the old one? If he has his very special "friends" he is loyal to, don't even try to replace them (especially don't throw old things away in any case!). This may make a surprise, but not a pleasant one. Leave his favorites with him!
Don't make any gifts that may show you are awkward for him, or you want him to change something in himself, not liking some of his habits. If you want, you may talk to him about the issues. But don't express that with a gift. This may bring unpleasant emotions, and this is not what you want to give him, isn't it?
Don't buy something that you not he want in fact. This is the most common way to spoil a gift. Like: let's buy those cute curtains for our room! Well, maybe your room will really be better..but let's be honest, it's a gift that would make you happy, not him.

Consider the Occasion
A particular occasion may be a fundamental thing to consider while buying the gift for boyfriend. Some essentials may be appropriate for birthdays or casual days; but if it is the Valentine's day or your anniversary, the gift deserves to be romantic and that special. Such a gift should contain more emotions and feeling, or your dreams about the future.


So think of him and share your love! Show how much you care!
And what is the most wonderful gift you've ever given to your boyfriend? Share the ideas!
3 Responses
Leave a comment
Comments will be approved before showing up.