5 Top Modern Men's Bracelet Styles. Personalized Jewelry for Men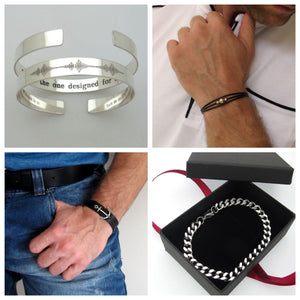 Bracelets are one of the most popular men's accessories today. Bracelets are a sexy accessory for any casual or formal style. They can dramatically improve your style or make some little still significant improvements to complete your outfit. Modern bracelets can be worn one at a time or combined to create a stylish layered look. How do you find out which bracelet style suits you best? This is exactly what we are going to discuss here.

I will tell you about the five most popular bracelet styles and describe each style in terms of its advantages and general use. I'll also provide some examples to show the typical elements of each style. So you can also choose directly the bracelet you like most.
5 Bracelet Styles
1. BEADED BRACELETS

Bead bracelets are one of the classics and so most commonly chosen type of bracelets. They come in different designs and sizes and are easy to combine. Their advantage is affordability. They don't cost much but look fine. Such a bracelet consists of a stretch cord and several beads of different materials. The highest quality bead bracelets are made from natural stones or metals (gold, silver, copper, etc.). Most commonly the beads are round in shape, but they may have a different shape too. Many men choose beaded bracelets, cause they have proven to be one of the most versatile bracelet styles. They can be worn paired with a leather jacket, a casual summer style, and can also be chosen for formal occasions. If you are looking for a versatile bracelet that can be easily combined with multiple bracelets, the bead bracelet is a great choice.
2. CHAIN ​​BRACELETS

Chain bracelets are also very popular with men. They lend that masculine look that most men are looking for, and in general, they look really cool. Most chain bracelets are made from metal alloys or precious metals such as stainless steel, sterling silver, copper, and iron. Chain bracelets are not often combined with other bracelets because they look best on their own. However, they look great and complement your style every time you put on the bracelet.

The durability of chain bracelets is their big advantage. If you'd like to have a bracelet that you want to use for a long while, this is the obvious good choice for you. Chain bracelets come in both expensive and affordable categories. Some are expensive because of the brand names, but you can find many high-quality chain bracelets online for a reasonable price. The main thing you should pay attention to is the quality material. All the rest is the matter of taste and the size of your wallet ; )
Here is a solid antique silver chain bracelet for men. Metal bracelet to become his favorite accessory. This chain bracelet is handcrafted of Stainless Steel metal.
The high quality material band will keep its original look. The massive bracelet comes with a durable and safe clasp that is closed with a double click. You won't lose it!
Steel Chain Bracelet

Classic curb-link bracelet, the perfect choice to any occasion! The design of the band is simple yet distinctive. The finish is polished. In silver or gold color, the band keeps its shiny look, even if you wet it or swim with the band in a pool. It doesn't rust or fade.
Curb-Link Bracelet
3. PERSONALIZED BRACELETS

Custom bracelets are very popular today. In fact, they are so many different kinds that they represent a separate category of bracelets, not just a shape or part of a design. If you are thinking of a one-of-a-kind jewelry piece, not just a regular one but the one that could add a special note to the personal style, or even transfer your personal message to people around, custom bracelets are perfect for you. Such bracelets are usually made with a metal element to add the engraving. You can find great quality bracelets at an affordable price to complete your casual or formal look.

In this decade, the concept of personalized bracelets is on the upward trend. This is largely due to the trend of emphasizing the individual style. They represent a new generation who makes a statement and wants to express the personality by all means.

What to engrave? There is a great variety of concepts. This can be a name, ID bracelet, as well as motivation, inspiration, protective one. The bracelet can be engraved with a moto, powerful mantras or symbols, words to follow.

Custom men's jewelry also makes a wonderful gift to any occasion. One can engrave words of love, appreciation, a wish, or even a sound message, a picture, logo etc. So you get a really unique piece to make the gift to treasure.

Here you can find wonderful samples of personalized jewelry.
Soundwave Cuff
One-of-a-kind sound wave or custom text bracelet. The cuff is crafted in quality Sterling Silver. It can be uniquely customized for you. Record a message on your smartphone, then make a Print Screen of the message (record it as an image) and send me it after ordering the bracelet. Keep the message in such an unusual form for yourself or to make a gift to remember! The personalized band bracelet can also be customized with a message you wish accurately made in a fabulous Old English font.
Custom Mens Bracelet
Unique custom bracelet, a leather cuff that can be personalized with your signature. You send me a photo with a signature or a handwritten name or message - and I engrave the cuff accurately. This may also be the signature of a famous person, a great gift idea!
Personalized Leather Wristband
4. LEATHER CUFFS

Leather bracelets are very stylish details to add to the look. They are available in different colors and therefore can be easily combined into any set. Like bead bracelets, leather bracelets look great in combination with other cuffs. Many men combine different leather bracelets. In terms of durability, they sometimes don't quite meet chain standards, but if you choose high-quality genuine leather, you can use it in everyday life for years to come. They also give a comfortable touch and are comfortable to wear. In terms of material, there are genuine leather bracelets and faux leather bracelets.

When looking for the best men's bracelet, you should definitely pay attention to leather bracelets. Leather is one of the most common materials used to make bracelets today. I have listed here some fashionable leather cuffs for you.
Leather Cord Bracelet
Leather wristband, a men's accessory to make a statement. Everyday leather bracelet for him. The handmade bracelet is handcrafted of top quality leather and stainless steel. Comfy accessory for everyday wear. Looks great with any style, to any occasion. A lovely gift for men, the accessory that will be surely appreciated!
Cord Bracelet for Men
Bracelet with Anchor for him
Anchor bracelets are inspired by marine vibes. If you are looking for a bracelet for casual wear, the anchor bracelet will fit you perfectly. Commonly, anchor bracelets consist of either leather or rope as the strap material. You can wear the bracelet together with a wristwatch and sunglasses for the complete casual summer look.
Braided bracelet

5. WELLNESS BRACELETS

With the beginning of the 21st century, wellness bracelets are becoming more and more popular. They are also known as balance bracelets, cause they are meant to add some balance and stability to your life when you wear them. Most wellness bracelets are made of different beads, each one has a different purpose, and together all the pieces create balance and well-being. Some parts may also be magnetic. Many wellness bracelets come from Buddhist culture and elements associated with that culture: earth, fire, wood, water, and metal. Some of them are associated with the seven factors of enlightenment. Although there is no scientific evidence for their functionality, still some people claim that they felt a positive effect after using the bracelet for some time.
Wearing wellness bracelets isn't necessarily fashionable, but rather a reminder to stay calm and relax. Whether such bracelets are trendy or not, these may be more that just one more accessory and make a lovely gift idea to the ones you care for.
What bracelet style do you prefer?
1 Response
Leave a comment
Comments will be approved before showing up.